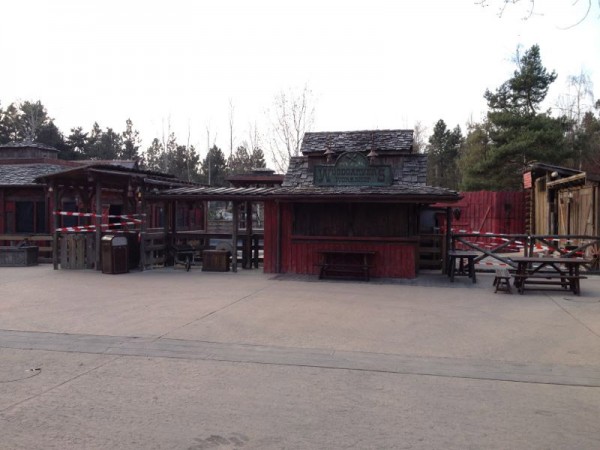 Mickey Mouse's new home at Fantasy Festival Stage won't be finished quite in time for the 20th Anniversary launch, we know that much for sure. But until the vague Spring 2012 opening date of his new magician-themed meet 'n' greet (or 17th May 2012 if you believe the rumours), the mouse will still find himself a temporary Meet Mickey Mouse location over in Frontierland.
Work has now started at the former Woody's Roundup Village in the Cottonwood Creek Ranch area of the land, most recently used for the St David's Day and St Patrick's Day celebrations, to create an intermediate version of the attraction. Although, that "work" so far mainly consists of cordoning off the entrances to the old Critter Corral area with what @InsideDLParis rightly captions these photos as "red and white caution tape that should never be used in a Disney Park". Beautiful!
The original "Woody's Roundup" signage and photo locations have now been entirely removed from the area (most taken away before Halloween/Christmas), to make it a more generic character spot, perhaps a rare example of Pixar characters being removed from a land.
Heavier construction work continues in Fantasyland, meanwhile, with latest visible progress from outside the theatre showing walls going up around each of the bay windows. These were previously spaces at the back of the theatre's seating which could be opened up in warmer summer weather. Now, the window on the right will form the attraction's entrance while that on the left will be used as the exit and part of the photo sales counter.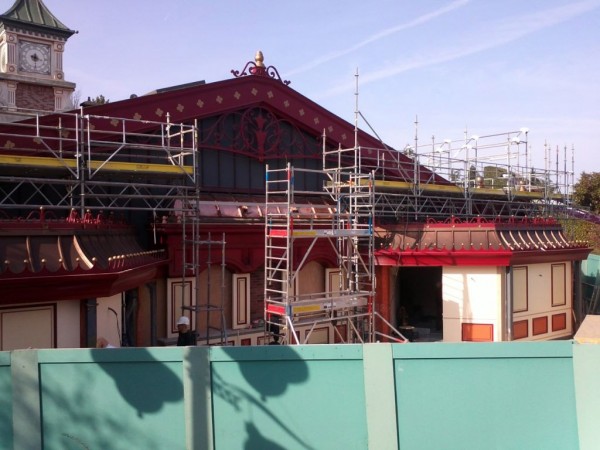 More rich red gloss paint has also been applied to the façade, which has lost its Fantasy Festival Stage signage. As for the inside, we can reveal that the layout will largely stay true to its theatre origins. Guests will queue back and forth roughly along the former rows of seating, with the centrepiece being the stage itself, where a projection screen will be installed.
Following the queue line up into the theatre's real backstage area, they will enter a vestibule area before finally encountering Magician Mickey Mouse himself, in his backstage dressing room, littered with props similar to those seen in his Florida meet 'n' greet. Exit will be via the left-hand side of the theatre, past the souvenir photo wall and sales area in the left bay. Numerous other details, accessories and "animated posters" will complete the attraction.
We can also confirm that "Magician" Mickey here really will employ some special magic tricks, allowing him to shorten the queue time by as much as two or three times, depending on attendance…