Hey howdy hey!
Get that snake out 'your boots, reach for the sky and head on over to Woody's Roundup Village to meet all your favourite roundup pals, before somebody poisons the waterhole!
The sleepy farmland around Cottonwood Creek Ranch recalls a later period in the landscape of the old frontier, when the goldrush had subsided and agriculture became the way of the West.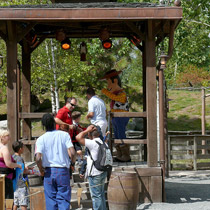 Originally guests could visit Critter Corral here, a petting farm with live animals, but waning popularity and increasing maintenance saw this series of outbuildings given over in late 2007 as a home for Woody and his friends from the classic Woody's Roundup television series, at the heart of Toy Story 2.
As well as adding a couple of new outbuildings for seasonal photo locations, the Disneyland Paris Entertainment department also devised a new central, covered meet 'n' greet platform and two fun, permanent photo backdrops. At one, guests can hold their nose to step inside Stinky Pete's box, whilst next door an old farm building is now home to a full-size Bullseye the horse, his stable plastered with clever memorabilia taken directly from the film.
Thematically, the computer animated world of Sheriff Woody seems a world away from the dramatic realism of Thunder Mesa's landscape and the intertwined backstory of Phantom Manor, but given it recalls a slightly hokey black and white television show from the 1950s, it's perhaps not so far after all from the childhood memories of Davy Crockett and Western TV specials many adults already attribute to the classic Frontierland. Woody and his roundup friends bring new purpose — and many more visitors — to this quiet corner, otherwise only given life by the whistles of passing railroad engines.