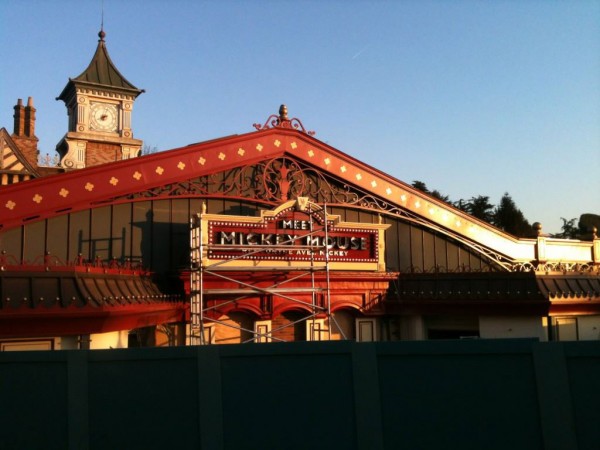 The sun rose on a new age in Fantasyland's British quarter this morning, with the new marquee for Meet Mickey Mouse now installed atop the former Fantasy Festival Stage. Clean lettering and bright, theatrical, electric lights evoke a slightly later time period for the land than seen before. Perhaps stepping from the Edwardian era towards the 1920s, when Mickey Mouse himself came into being, it takes this ornate pavilion into an electric age where theatres and music halls became picture houses.
This set-up will be continued inside where, as we revealed in a descriptive walk-through of the new attraction, the old theatre stage will now house a projection screen, allowing guests queueing along the aisles of the theatre to enjoy classic Mickey Mouse cartoons. This sort of "modern" innovation contrasts well with the Disneyland Railroad Station behind, which already blends two periods of British history: a Tudor-style cottage with exposed beams and the Victorian station building, platforms and clock tower of the railway. Looking at the way buildings in Great Britain were so often chopped and changed for the latest trends through the ages, the eclectic mixture here seems wonderfully British.
What doesn't seem wonderfully British? The words "Rencontre avec Mickey", hastily stuck underneath the illuminated letters. For a start, we have to wonder if French visitors could really be so confused by "Meet Mickey Mouse" that they need a translation. But more importantly, this disrespects an unwritten rule of Disneyland Paris regarding the languages of attraction marquees.
You might have noticed that you eat at Auberge de Cendrillon, to reference the French Charles Perrault, but ride Peter Pan's Flight, to fit the English setting and author J.M. Barrie. Similarly, the whole of the American Main Street, U.S.A. and Frontierland are named in English, while elements of Adventureland and Discoveryland use French where more appropriate.