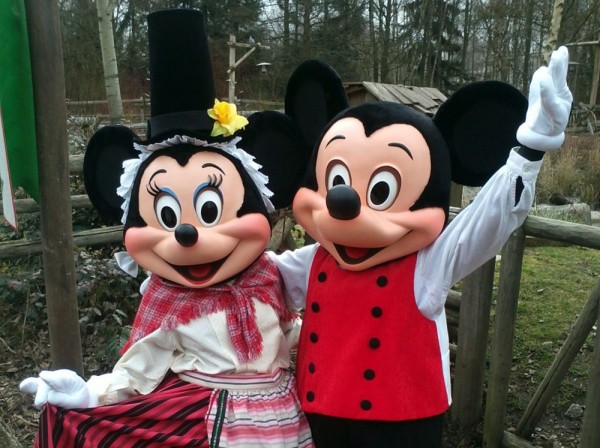 Disney doesn't have a Welsh dragon in its repertoire of characters, but Mushu is only too happy to get his face on the cover of today's special programme for St David's Welsh Festival, a three-day event happening at Disneyland Paris this weekend. Though the festival officially runs from the 9th to 11th this year, providing the perfect weekend package for visitors from Wales, the main day of events within Disneyland Park itself is today. The programme itself is similar to previous years, though with Meet Mickey Mouse seeing the end of Fantasy Festival Stage's days as an actual theatre, the traditional Welsh folk choir has been displaced to the somewhat less fitting Chaparral Theatre in Frontierland.
In fact, the whole Cottonwood Creek Ranch area has been overrun by green, red and white; now the base for face painting, the Waun Ddyfal Choir and meet 'n' greets with Mickey and Minnie in their very exclusive Welsh folk costumes, above; a real rarity for character spotters that you'll only see here.
At 4.30pm, before the main Disney's Once Upon a Dream Parade, the traditional Welsh Festival pre-parade saw Mickey and Minnie travel down Main Street, U.S.A. in the bright red fire truck, decked out with Welsh flags, daffodils and leeks. In Disney Village, the avenue is filled with wooden market stalls selling all manner of Welsh crafts and merchandise. Then, as the park closes its gates at 10pm, the sky above Sleeping Beauty Castle comes alive with the special firework display to mark the occasion… albeit over a week late — St David's Day itself always falls on 1st March.
The event is somewhat of an oddity in the annual calendar of the resort; one of only three national holidays recognised by the parks, including St Patrick's Day and the Bastille Day fireworks, yet nowhere near as globally recognised as either as those. Falling conveniently in early March, however, it no doubt helps to fill a gap in the year, drawing in coach trips and extra custom from Wales, providing something fresh before the new Disney year in Paris traditionally begins each April.
Last year, Disneyland in California held a similar series of events at its comparable Big Thunder Ranch under the Family Fun Weekends name, with some nice branding and design work that Disneyland Paris could do well to be inspired by for its own celebration days.