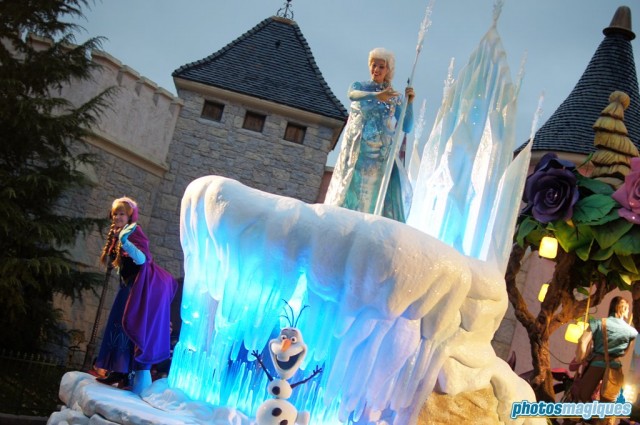 Such surprise, relief and excitement when, for the first time in forever, Disneyland Paris was right on the Disney movie schedule ball in featuring Frozen so heavily during the last Disney's Enchanted Christmas, a perfect match for the season.
A landmark spot in Disney Dreams! of Christmas and a new redecorated float with Anna and Elsa in Disney Magic on Parade! were the talk of the season, appearing even before the film's release. It felt like the old days of the '90s, when Disney's latest animation releases from Aladdin to Hunchback and beyond were always featured in the park through their year of release.
Fast forward to the thawing days of March, Frozen has just achieved an incredible double: two Academy Awards, for Best Animated Feature Film and Best Original Song, and — no doubt even better to Disney's eyes — passing the heralded $1bn worldwide box office total.

Frozen in Disney Dreams! of Christmas
Back at Disneyland Paris meanwhile, Disney Dreams! has reverted to its regular self — with new scenes The Lion King and Brave added last year.
Anna and Elsa still appear on their Disney Magic on Parade! float, shared with similar Walt Disney Animation Studios successes Rapunzel and Flynn, but they've still yet to step down from that float to actually meet and greet their increasingly adoring public.
That means, for all the hundreds of thousands of guests visiting the park during Frozen's finest hour, their one and only chance of getting a glimpse or even a photo of these new heroines is a blink-and-you'll miss it appearance during the parade.
And would anyone thinking about visiting even know they're there? The parade's page on the official website, for example, doesn't feature any photos of them or, err, any actual text whatsoever. There's nothing official anywhere to actually tell people they're there.
In classic style, they've seized an opportunity yet completely missed it at the same time.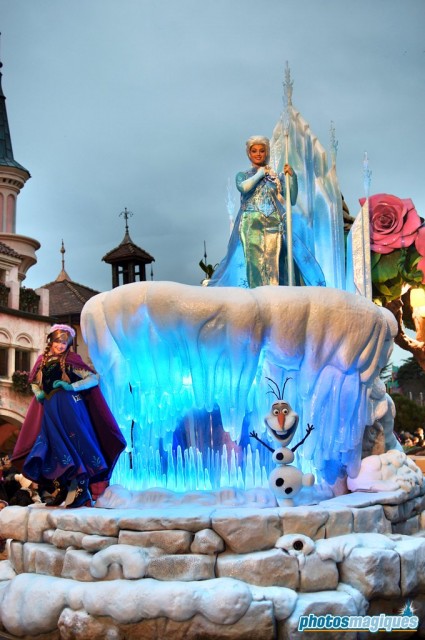 Anna, Elsa & Olaf in Disney Magic on Parade!
Disneyland Paris is constantly trying to create a pressing, immediate intent for people to visit. A reason why people, who've often thought about visiting but hesitated — until their kids are older, until *ahem* a new attraction date is announced — would finally get up and go.
Given the astounding success of Frozen and "Let It Go", the sheer number of people who must have seen and loved this brand new Disney tale, could this not be a good enough reason?
Doesn't that parade appearance deserve promoting? Don't Anna and Elsa deserve an actual meet 'n' greet? Wouldn't it be a fantastic draw to bring the Christmas "Let It Go" scene (or a new scene) to the regular Disney Dreams! show, if only for this year?
When there's an opportunity like this, don't let it go…