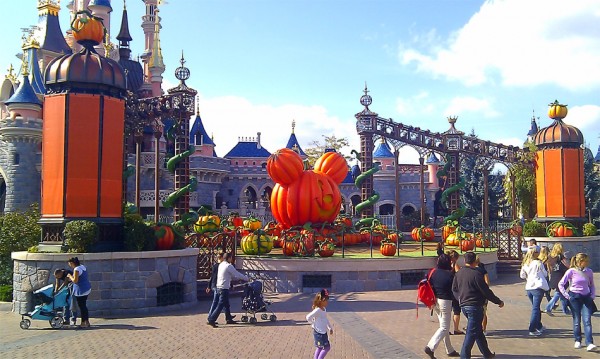 Halloween 2011 Preview — Something strange has come over Disneyland Paris. As we approach the launch of Disney's Halloween Festival this Saturday, you'll see not a hastily-crafted static Pumpkinman in sight. Instead, the decorations are new, the pumpkins have ears and Castle Stage… has come back to life. At last this season appears to be heading in the right direction. After years trailing around misguided creations such as the Pumpkinmen, Pink Witches and Stitch, Paris — the Disney resort which pioneered the Halloween season in 1997 (before trashing it all with orange paint in 2003) — has now looked to Disneyland in California for inspiration. This year, we're seeing brand new decorations lifted directly from the Anaheim park's popular HalloweenTime. High quality, considerately-designed and most importantly more "Disney" in their execution as well as their style, they should go a long way to giving Disneyland Paris guests the Halloween they expect from the park.
For fans, it's a double surprise. As well as a park plussed rather than spoilt by the season, the majority of those new decorations have so far arrived at Le Théâtre du Château, which will be coming back to life to host the new Mickey's Halloween Treat in the Street event. Vines wrap their way around the bronze columns, pumpkins top the towers and a giant Mickey-shaped pumpkin head (similar to that on Town Square in California) is the centrepiece. The mini-show will feature the full line-up of Mickey and friends in special costumes and dialogue in both French and English. After highlighting several times this year what a wasted opportunity the stage is, it's a delight to see it fully decorated and back in use.
Plans for Main Street, U.S.A. seem a little lower spec, with just colour-coordinated flower beds, Mickey-eared pumpkins and a spot of bunting on the concept we've seen, but it's still a step up from last year's near complete lack of Halloween decoration on the street. Hopefully now that Disneyland Paris has finally found the right path for its Halloween decorations, Main Street will gradually begin to match the warm and vibrant Harvest "Pumpkin Festival" theme seen in California (below).
Meanwhile, one old decision hangs on, for a little while longer at least: Central Plaza Stage. That behemoth will at least be hosting a big new show, titled Disney's Maleficious Halloween Party, which amongst other surprises is said to see Snow White's Evil Queen transform into a Witch, courtesy of the stage lifts, and Dr Facilier from The Princess and the Frog return to the park.
Rumour suggests Disney's Once Upon a Dream Parade won't feature its usual Halloween pre-parade this year, although Jack Skellington and Sally from The Nightmare Before Christmas will be making a return for meet 'n' greets, despite not being mentioned in any publicity. It remains to be seen if Halloweenland will return to Frontierland in any form. In truth, the land has felt more like a boneyard for discarded decorations rather than a proper overlay for the past few years, anyway. A cleaning out of the junk and a shot in the arm in quality is exactly what the festival needed.
• More: Disney's Halloween Festival preview guide on DLRP Magic.com
• Next: We preview each of the three Halloween parties in detail!