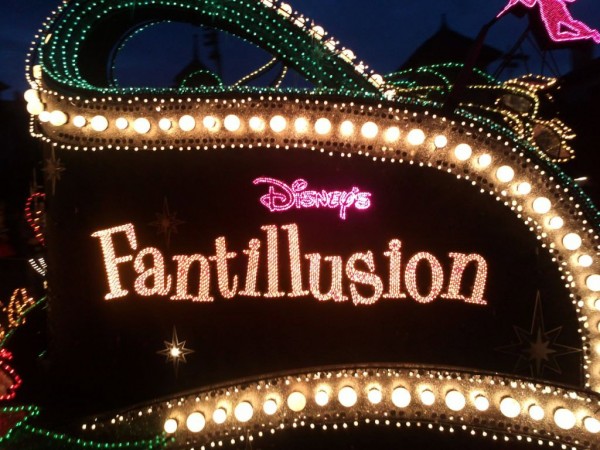 This past Saturday 7th July, the night was "turned to light" at Disneyland Park. Not just by the spectacular, state-of-the-art effects of Disney Dreams! but now also by the more traditional twinkling bulbs of Disney's Fantillusion, returning for its tenth summer season at Disneyland Paris. Scheduled for 22:15 each night, with Disney Dreams! at park closing time (23:00), Disney's Fantillusion appears to have retained the same format and floats as its previous summer and winter 2012 seasons, with the only noted changes being some refreshed costumes.
However, as now seems to be customary before each season, there's some doubt about its future. According to RadioDisneyClub.fr, the parade will not return as usual for the upcoming Disney's Enchanted Christmas season. So far Disneyland Paris has confirmed only the dates for this Christmas — 9th November 2012 to 6th January 2013 — and none of the events contained within.
Earlier this year, before its current season to 2nd September 2012 was confirmed, it was rumoured separately both that the parade would precede Disney Dreams! every single night, all year, and that it had been cancelled completely.
Meanwhile, the essential live Disney stage show has also returned to the park with The Tarzan Encounter, beginning an eleventh season at The Chaparral Theater in Frontierland back on 9th June. Resident at the theatre since 2000, with a two year hiatus in 2009 and 2010, the musical acrobatics show continues to be a guest favourite after its 2011 resurrection, performing five times daily at 12:30, 13:30, 14:30, 16:45 and 17:45 to strong crowds.
While it seems ungrateful to say it when we have something as beautiful and big as Disney Dreams!, it is still true that both parks — and particularly Walt Disney Studios Park, with its slightly lacklustre Disney's Stars 'n' Cars parade — lack these daytime entertainments, shows and streetmosphere which add life to the lands throughout the day, not just for 20 minutes before park closing time.
At least for the next two months now, Disneyland Park offers the full line-up: stage show, daytime parade, electrical parade and nighttime spectacular. That's a day only Disneyland can give you.