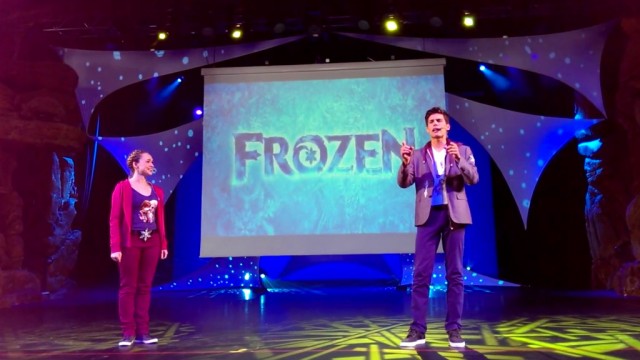 Disneyland Paris has trialled a live Frozen sing-along event at the indoor Videopolis Theatre in Discoveryland. Taking place five times daily only this past weekend on 13th and 14th September, the 18-minute show — of sorts — saw a duo of live hosts take to the stage and encourage the audience to sing-along to popular songs from the hit movie including, of course, the inescapable smash "Let It Go".
Using only English versions of the film's songs, played out with film clips and classic sing-along subtitles on the large projection screen, the tests at least saw the two highly competent, energetic hosts engaging the audience in both French and English to some surprising success, given Europeans' usual dislike of participation shows.
• Previously — Disney's Oscar-winning, billion dollar Frozen is not just for Christmas anymore
That said, and as announced in advance, the shows featured no live characters from the film and ultimately play out rather too much like watching the sing-along version of a DVD in a music class, right down to the awkward overhead projector.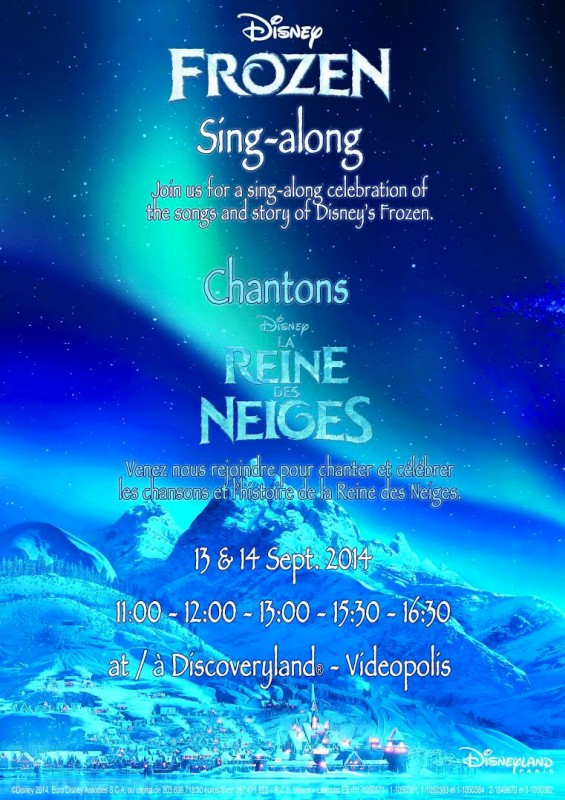 For a lesson in how it should be done (or perhaps, how it will be done — see below), Disney's Hollywood Studios at Walt Disney World already hosts the catchily-titled For the First Time in Forever: A Frozen Sing-Along Celebration as part of its surprisingly shrewd Frozen Summer Fun season.
• Photos Magiques – Walt Disney World: Frozen Sing-Along Celebration
Though still not the full stage show many desire (and will likely have to visit Broadway to see), the event at least feels close to the film, rather than some unlicensed cash-in, and features the characters you'd expect.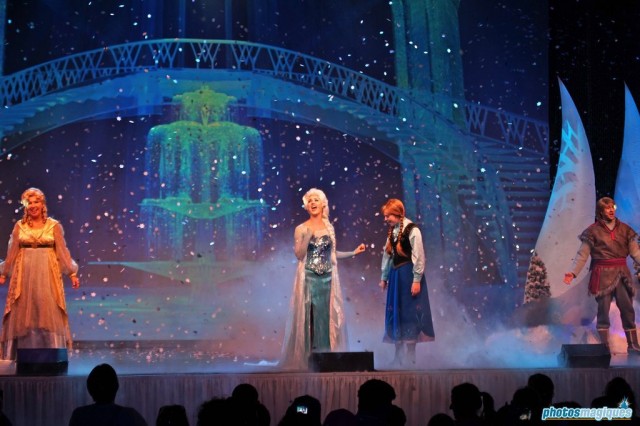 We don't know where Disneyland Paris might take the concept for themselves — whether they'd decide to include the characters instead of these generic hosts or perhaps perform shows with the songs in other languages — but we do appear to know the location that such a show could end up: The Chaparral Theater in Frontierland.
As noted by @InsideDLParis, the theatre is currently behind green construction walls.
Another currently wasted performance space, the former home of The Tarzan Encounter has the benefit of being bigger and, well, slightly more rustic-y. The stage has even previously had a snowy overlay for the long-running Mickey's Winter Wonderland that wouldn't look entirely out of place as Wandering Oaken's Trading Post and Sauna.
What do you think — should Disneyland Paris run with this concept of a fully-fledged Frozen Sing-Along show or let it… well, you know?
Watch a complete video of the Frozen Sing-Along tests by InsideDLParis below
And for comparison, video of the Walt Disney World event