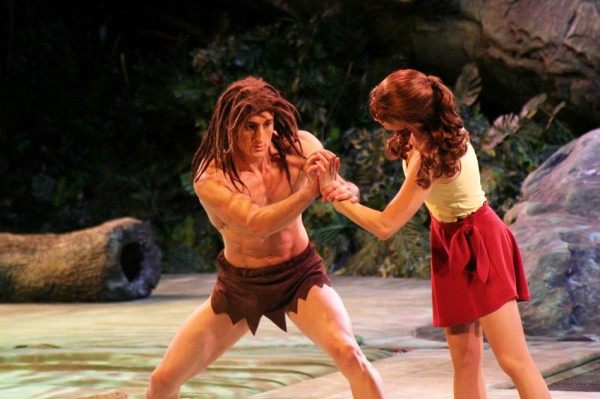 Can you swing through the trees like an ape? Are you a talented gymnast with a passing resemblance to Jane Porter? Disneyland Paris is giving you another chance to make your big break — and for thousands of new park visitors to watch in amazement — as it confirms: The Tarzan Encounter will return again!
Official casting notices (PDF) have just gone out for the high-flying acr0batic stage show, with contracts running from late April to early September. Last year, the show performed from 11th June to 4th September with contracts beginning early May, so it looks like the show's 2012 return to The Chaparral Theater will follow broadly similar dates, perhaps beginning a week or two earlier.
Auditions were launched this same week last year and the show returned to positive acclaim in June, ending a two year hiatus and finally giving the production, which began in 2000, a long-awaited tenth season. In 2009 the Frontierland stage presented the less popular Goofy's Summer Camp, while in 2010, despite efforts to bring Tarzan back, it remained empty through the summer. Its 2011 return was therefore hailed by Disneyland Paris as quite the event, even boasting a special video trailer at the annual shareholders meeting and listing it as one of the key "highlights" at the end of the year.