It emerged last year that The Legend of the Lion King at Videopolis Theatre could be heading into the park's entertainment archive perhaps sooner than we expected. And so it did — for now, at least — going on what the American Disney Parks often call "hiatus" since 4th January 2009.
Just this week, however, there are suggestions from some — apparently including the African Tam Tam players, who now have the stage all to themselves this Winter — that the show will return, as a high season-only affair, possibly from as early as May onwards.
Another, arguably even more popular large-scale entertainment production hasn't been so lucky. It has now been confirmed that The Tarzan Encounter will NOT return to The Chaparral Theater in Frontierland this year at all. The entire production has been cancelled just this week, and the show will not see its tenth season play out in 2009 as planned.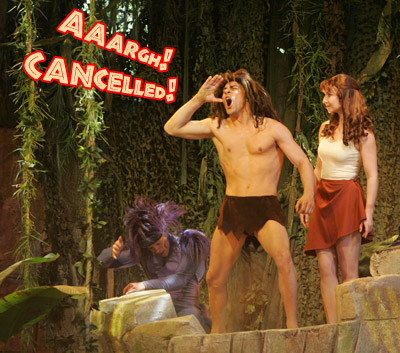 The Tarzan Encounter has remained the most popular live stage show at the resort, possibly only beaten by its snowy cousin Mickey's Winter Wonderland, which continues to play until March, performing to a huge audience of 1,350 guests in the resort's second-largest park show space after the Moteurs… Action! arena (capacity 3,000).
So, whilst The Legend of the Lion King has been suspended mostly due to the very limited capacity of Videopolis' theatre seating not making budgetary sense for the entertainment department to continue running the expensive show 5 days a week for just a few hundred guests, why cancel a second show, for an entire year?
If we're to believe the latest information from posted online, the entertainment department had a decision to make — a very last-minute one, apparently. The Mickey's Magical Party event 'It's Dance Time… in Discoveryland' was originally only due to be performed on five days each week. By cancelling The Tarzan Encounter, it can now be a full 7-days-a-week production.
A strange decision, if true, since the cost of running Tarzan versus two extra days of DJ Stitch must be slightly imbalanced — not to mention it being unlikely that that same 1,350 people who could see each Chaparral Theater show will be able to crowd around the outdoor location of the dance-along in the streets of Discoveryland…
It's a bad announcement for many fans, then, but not necessarily for those still holding out hopes that a water-based attraction along the lines of Splash Mountain could one day arrive at the back of Frontierland as originally planned. Rumour has it this cancellation will also allow preparatory work for a new attraction where The Chapparal Theater currently stands.
Though yes, true, we've had such unlikely things happening as a jungle ape-man on-stage in an American Old West setting, Euro Disney SCA going ahead with a hugely expensive new attraction in Frontierland would be pushing the believability scale a little too far for now… wouldn't it?