Just like that, the nights are dark and the leaves are falling. And since the Saturday just gone, 4th October, Disneyland Paris is back in the Halloween spirit for — with great coincidence — its 13th season.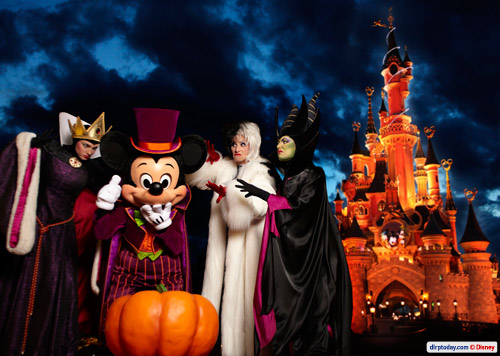 So what's new? For the past two years the festival had to coincide with the eternal 15th Anniversary celebrations. This year, it has to battle Mickey's Magical Party for airtime. In this great big roundup of all things Halloween, we've quotes from DLRP Magic!.com's interview with festival director Emmanuel Lenormand and some fresh videos pulled from YouTube along the way.
This is Halloween – let's hope we've no need to scream.
Jack Skellington & Sally move to Cottonwood Creek
The Nightmare Before Christmas pair were so popular during their inaugural season in 2008 that they've had to be given a wider area than Phantom Manor's Boot Hill. This year, they're over by Cowboy Cookout Barbeque instead…
Halloween Opening Parade
…but do again appear in the rather dull-titled "Halloween Opening Parade". The pre-parade to Disney's Once Upon a Dream Parade this year features lots of Pumpkin Men (or Pumpkinfolk), a horse and cart carrying the couple and the old Carollers/Snow White/Seasonal float carrying Cruella, Gaston, Stitch and other "Villains", all set to the music of Florida's HalloWishes fireworks "This Is Halloween"/"Grim Grinning Ghosts" remix.
Here's the pre-parade moving past (40 seconds in):
And a show stop on Town Square:
Anything to add? Oh yes, definitely don't look at Hong Kong's Halloween parade.
It's Party Time… with Mickey and Friends… and the Disney Villains
…and a Ridiculously Long Name. This is only one performance mind — the first three shows of "It's Party Time…" each day run as normal, with only the final show (currently at 7pm) being given a light Halloween touch.
Emmanuel Lenormand wasn't being modest when he described it as "only a camera" in his recent backstage interview. Just as the show is wrapping up, thunder claps and the usual Halloween sound effects herald the arrival of Maleficent via the stage lift usually reserved only for Mickey.
(jump 5 minutes 35 seconds in)
Apparently the witch is there because she's upset not to be invited to Mickey's Magical Party (clearly she hasn't had to stand through "It's Dance Time…" like the rest of us). The purpose of her arrival will be lost on a vast majority of guests, however, since she speaks only French. Yes, it's Goofy's Summer Camp all over again. Not all that long ago, Entertainment would have ensured a mixture of languages and then possibly a repetition of what's happening from each language.
But huh, who cares. Soon enough, rather than doing something, er, "villainy" as you might expect, the now collection of baddies suddenly begin to take part in yet another rendition of the so-called "Mickey Dance". You can't deny it's funny to see the Old Hag from Snow White bopping away to the rock-pop theme song, but for the past few years the festival was been built around a centrepiece show here on Central Plaza. Now that focal point is just a silly dance.
A touch which feels more special, though, is the addition of pyrotechnics to the stage as Mickey disappears towards the end (which can be seen at 10 minutes 15 seconds in the video above). They produce a whole lot of smoke but make for a great finale. Apparently they were meant to be there for every show, since April.
It's Dance Time… in Discoveryland
Though not marked on the Programme as being part of Halloween, Emmanuel Lenormand does comment: "There will also be a similar cameo at the end of It's Dance Time… in Discoveryland.". Naturally, we're all expecting Gaston and Cruella De Vil going wild to the show's quintessentially Disney number "Shake Your Booty", and nothing less.
If you've seen the real "cameo", do comment below.
Minnie's Halloween Party Train
Now on version number 2,561 of this meet 'n' greet train, the park has redecorated the carriages with thorny vines and pumpkins, adding Halloween sound effects over the already saturated soundtrack. The bigger change, though, is that the train now only makes it as far as Town Square, doing a loop around the Gazebo before stopping for the characters to step down.
There's a bit of a blunder with the introduction, however, as the train is announced as the old "Disney Characters Express", yet later, Minnie's ear-piercing voice of 2009 continues to play, so guess away at how that mix-up happened. D'oh! And to think Minnie's Party Train so nearly got away with guests thinking it was a "brand new" event!
Disney Witches Dancing Spells Party
The difficult name might not exactly inspire, but from Emmanuel's words this new show on the temporary Trick or Treat Stage near Cowboy Cookout Barbeque sounds like it might be the hit of the season. The stage has been redressed, given a proper set — even special effects. Maleficent and the Old Hag from Snow White battle it out with the help of placed audience members.
"In this show, Maleficent and the Old Hag from Snow White arrive in a cemetery during the night to have fun with their cauldrons and spells to invent new potions. Four children/dancers passing by are going to be choreographically transformed according to the Hag's and Maleficent's potion ingredients.
"For that show, Jérôme Picoche came up with some superb scenes, with the transformation of the tombs into cauldrons, with effects everywhere, and a cool ambiance!"
Unfortunately nothing appears to have made its way online yet, so we'll keep you posted.
Mickey's Not-So-Scary Halloween Parties
This year, the extra-ticketed events take place on 9th, 16th, 23rd and 27th October and have thankfully been extended beyond Fantasyland to also include Frontierland and Pirates of the Caribbean. Last year, everyone was kept inside Fantasyland for the duration.
Emmanuel elaborates: "It was such a success last year that we decided to fully open Central Plaza and Frontierland for the occasion. There will be a brand new show in front of the Castle with Disney Characters, in which each good character with confront his or her evil counterpart! And again, there will be lots of candy and sweets handed out."
"There will also be a Disco Party in Frontierland. The whole place will be filled with dance and fun everywhere! With all of our dancers and Disney Characters, it's going to be terrific!"
Disney's Halloween Party (31st October 2009)
And on the big night itself… there'll be not a bang in the sky. The big talking point for 2009 is what amounts to the cancellation of the usual Halloween Soirée fireworks show. Over the years, they've been good and they've been underwhelming, changing almost every year. But this year, there'll be nothing at all after midnight.
Instead, Emmanuel has been helping to prepare a brand new "Light and Sound Show". Getting that sinking feeling? Don't judge too soon — as Emmanuel revealed, "we're going to revisit the elements that made last year's show such a success — projections, dancers, etc — but enhanced a million times! You'll have up to 60 artists, projections, pyrotechnic effects and the Castle transformed into a stage itself!"
Last year's finale show, in case you didn't catch it online or in the park, was one of the most impressive to date, using the old Central Plaza stage for dancers and a very rare appearance by Sorcerer Mickey — who even did his special pyrotechnic trick usually reserved for Fantasmic! in the States.
Beyond possible noise or cost issues, there's one good reason to scrap fireworks in the unwelcome early closures it brings to the whole back half of the park. "The idea is to have Mickey confronting the forces of evil with lots and lots of surprises: black light effects and lots of projections."
"In fact, we've got a new projection system which is really effective, so you'll be able to see giant characters and news ways to animate the walls and the windows of the Castle. It'll look really different." All things considered, maybe this kind of imaginative, one-off show is actually better than the same old low-level squibs we'd see otherwise.
And finally…
The Decorations
Oh, Halloween at Disneyland Paris. It's love/hate. You'll mostly see the same old things around the park this year — that means Main Street trashed by orange paint and Frontierland turned to Halloweenland with a hodgepodge of items from across the years. At worst, these creations still unfortunately treat Disneyland like a lifeless canvas, rather than actually complementing its themes and bringing extra life to the lands.
However — the poorly-judged (or quite simply poor) Pink Witches are entirely gone, as are most of their most awful remnants (the astonishingly bad "Travel Agency" desk, for example). Jack and Sally have begun to be represented in several places, most notably on the former "Pink Witches Academy" arch, and several other assorted new pieces have popped up that are really rather pleasing. Some of the older items, like the crypt arch, have been repainted in nicer new designs, finally incorporating purple into the colour scheme.
It seems like they finally know the direction to take Halloween in, but the issue yet again is money. For such a key season, now one of, if not the most important season for markets like the UK, Halloween in Paris is sorely under-funded when it comes to decorations. Everything is rehashed over and again. Hopefully sometime next decade they'll finally be given the cash to invest in proper, comprehensive overlays in the more sensitive style of those seen in California.
And what about Halloween at Walt Disney Studios Park? After all, even Tokyo DisneySea launched a "rival" Halloween event to its next-door neighbour this year with great success. Well, Emmanuel is posed that very question — but isn't exactly forthcoming.
• Read the full interview with Emmanuel Lenormand here!
• Buy your tickets for the Halloween Party Nights at www.disneylandparis.com!