That shiny new image used to launch the resort's print advertising campaign for this year's events was just the first of many, DLRP Today can now reveal.
Floating in a calm blue sky was a silver balloon "reflecting" an image of It's Party Time… with Mickey and Friends, the new signature Central Plaza show. It was certainly a different approach to the saturated, really quite garish marketing images we'd seen earlier.
Now, there are three more images in the same style — is Mickey's Magical Party being magically re-marketed before it even begins?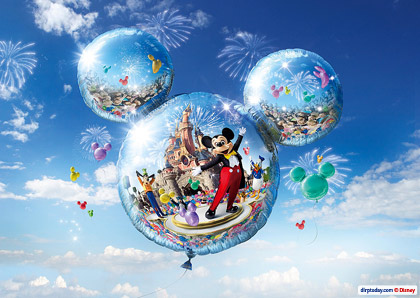 The first image, above, is the original image used in the magazine advertisements, featuring "VIPs" Donald Duck and Goofy alongside Mickey Mouse on the stage, rather than the secondary Timon and Aladdin of the earlier visual.
Below, Minnie's Party Train gets another Photoshop re-imagining, this time adding more polka dots and plenty more characters to its carriages.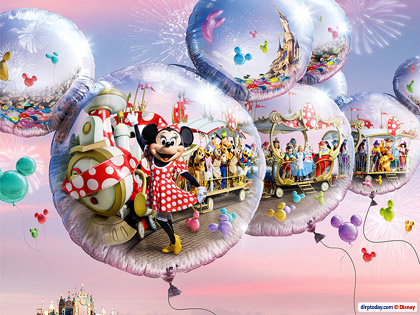 Though, as yesterday's early preview in the park confirmed, the actual final design of the train is still rather different indeed.
Finally, Stitch gets another fairly nondescript visual to advertise It's Dance Time… in Discoveryland, continuing to show it more alike a modern, rock concert atmosphere than the actual scfi-kitsch of the real show.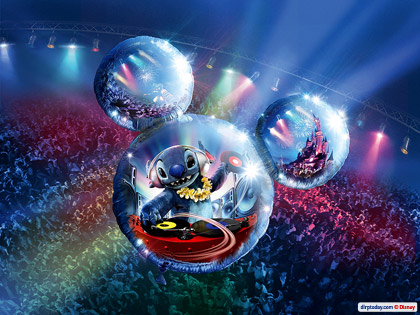 It's interesting that these visuals are available from Disneyland Resort Paris alongside the earlier poster-style images — they haven't been replaced, but they certainly look rather less appealing than these new designs above.
Just a shame, perhaps, that these weren't available sooner, when the original brochures for this year went to press, rather than two weeks before the event begins…
Images © Disney.