First — the location! We thought we had it pinned down when the construction walls went up between Star Tours and Star Traders…

Photo: PhotosMagiques.com
But then they came down to reveal a fresh floor (and not much else), and the TV spot threw a mixtape into the decks (or something hip like that) by showing DJ Stitch in front of Space Mountain…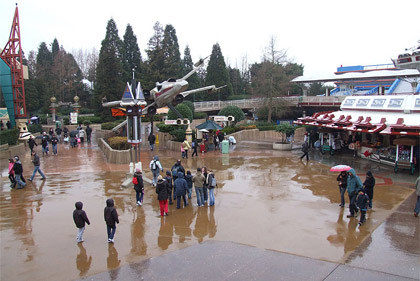 Photo: Disneytheque.com
Now, thanks to creative director Kat de Blois, we've got the confirmation: It's Dance Time… in Discoveryland will be performed right next to Star Traders, at the back of the land.
From our interview with Kat de Blois:
All day long, at certain magical times, special events will happen in both parks. For instance, if you're passing by Star Traders in Discoveryland, you'll be able to see Stitch jumping in with his ship and his Star-Trek-like dancers to invite you to the dance. The party will be everywhere!
Everywhere the Party may be, but it will still have its limits. In fact, as the latest official texts released by Disneyland Resort Paris announce, this new dance-along show will only be performed from 4th April to 8th November 2009.
"A new entertainment experience, It's Dance Time… in Discoveryland (Disneyland Park) will be held 5 days a week several times, from April 4th till November 8th 2009…"
After Sunday, 8th November 2009, the cold weather will likely make the prospect of Dance Time, outside in Discoveryland, less attractive, and the extra entertainments of Christmas season will command more of the Entertainment budget. The quote above raises another query about the show, though — will it be five days a week, or seven?
It was recently clarified that the recent "cancellation" of The Tarzan Encounter (the show will now return for July and August only) was apparently actually down to a plain budget cut, rather than extra resources being required for these Mickey's Magical Party shows, with the promotion of It's Dance Time… in Discoveryland to 7-days-a-week performances then merely filling a gap in the show schedules.
The press release quoted above stating "5-days-a-week" was published just this week, but could itself be out-of-date with this development in the time taken to pass through the resort's departments. Watch this space…
• Read the full Mickey's Magical Party interview with Kat de Blois here!
• Discover our updated guide to the new attraction here.
Photos as credited.