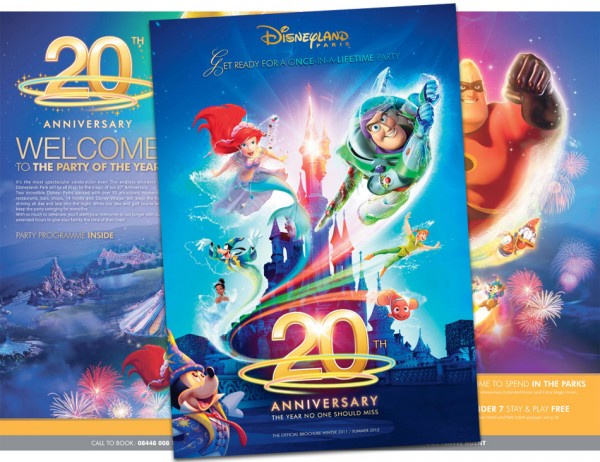 Here it is: the 20th Anniversary Disneyland Paris brochure! The multicoloured edition has been spotted out in the wild at travel agents in the UK since its limited launch a couple of weeks ago, but now it's available online for all to see. Check it out here. Of course, there are new prices, new options and yet another new design for all the pages, but it's the 20th Anniversary events and images we want to see. The final line-up to make the brochure cut is modest but promising. Star of the show in 2012 will no doubt be Dreams – the "magical, immersive" nighttime spectacular that's due to take over the Castle, Central Plaza and even Main Street with projections, special effects and — yes — at least a few fountains, as it plunges guests inside a journey through classic Disney dreams.
Also given top billing is Disney Magic on Parade!, actually a reworking of Disney's Once Upon a Dream Parade that will see the 15th Anniversary's showstopper (certainly the best parade ever to be seen in Paris) given new costumes, music and characters. The current Dreams of Romance Finale float will be turned into a mountain ledge for Sorcerer Mickey, with the gang expected to appear in their spangly multi-coloured outfits seen throughout the brochure, while the original opening float will become home to the fairies, wizards and sorcerers of the Disney world. Oddly, that appears to oust the Princesses from the parade almost entirely, although Rapunzel and Flynn are said to be taking over from Aladdin and Jasmine on the smaller Romance Prelude float to freshen up that aspect.
The new magician-themed permanent meet 'n' greet for Mickey is advertised simply as Meet Mickey Mouse, while the fourth and final 20th Anniversary event is the mysterious Main Street, U.S.A. Celebrates. The brochure blurb is suitably blurry but its references to "twinkles" and "glowings-on" are spot on with our sources, suggesting a gold theme for the street and certainly a lot of lights…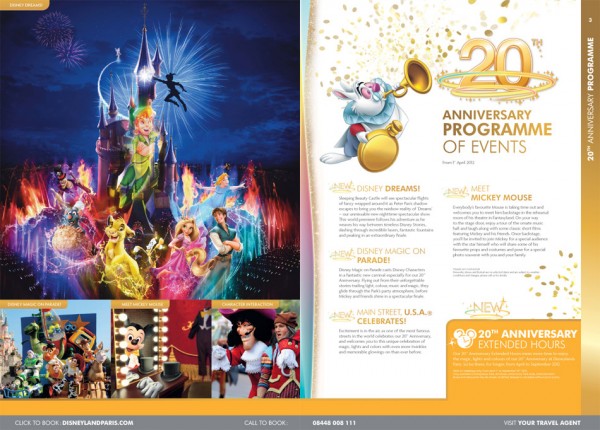 As we revealed in September, longer opening hours for Disneyland Park are due to be one of the big bonuses of the year. Advertised as 20th Anniversary Extended Hours, they're confirmed to be in operation from 1st April to 30th September 2012, although there's no mention of just how many extra hours we can expect beyond the usual closing time. Presumably, just as many as it takes for the park to see nightfall, providing a suitable canvas for Dreams.
Whilst the 20th Anniversary doesn't coincide with any major attraction investments, the chance to stay in the park until nightfall every day of the year represents a big gear-change for Disneyland Paris. Add to that a real, signature finale to each day with Dreams — produced by Disneyland California entertainment legend Steve Davison and the team behind World of Color, did we forget to mention? — and the culmination of a huge investment in refurbishments. Looks like an E-Ticket year here.