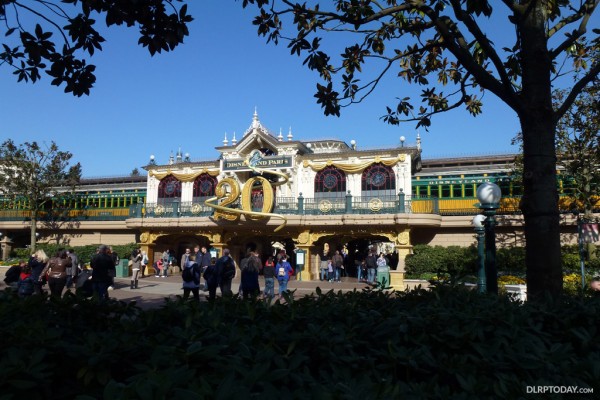 Wow, what a weekend! From Friday through to Monday, DLRP Today was at Disneyland Paris for the 20th Anniversary launch weekend, collecting over 2,000 photos and several hours of high definition videos (using a brand new camera bought just for the occasion). Amongst the sights, sounds and surprises we've got lined up to share with you: no less than THREE high definition videos of Disney Dreams!, including the real World Premiere on Saturday evening and a spectacular up-close view of the very first public performance on Sunday with a fantastic crowd.
We also had the honour of being present for both the morning and evening inauguration ceremonies, featuring the Disneyland Paris Ambassadors, Philippe Gas, Salma Hayek, Zinedine Zidane and Fabienne Bergmans, winner of the Dutch version of The Voice Kids, who sang the new parade theme "Magic Everywhere!" live. Speaking of which, two videos of Disney Magic on Parade! are also on their way: both the premiere performance on Saturday and the opening day performance the following day. We've also taken video and photo tours of the beautiful Main Street, U.S.A. Celebrates! decorations and the temporary Meet Mickey Mouse in Frontierland.
Speaking of which, we were lucky enough to be given a "hard hat" tour of the real Meet Mickey Mouse, in Fantasyland, by Imagineer Laurent Cayuela. No photos or videos were allowed there, as it still technically a construction site, but we were all impressed by the new interior for this meet 'n' greet experience — we'll tell you all about it in vivid detail soon!
Finally, we had the privilege of joining a special presentation at Plaza Gardens Restaurant given by Kat de Blois, Katy Harris and none other than Steve Davison himself! Even better, we recorded the full 45-minute question and answer session on video, so you can see it too — including the official reaction to the question: "When did you decide to remove Central Plaza Stage?" It's coming…
This week, we take YOU to the 20th Anniversary of Disneyland Paris!