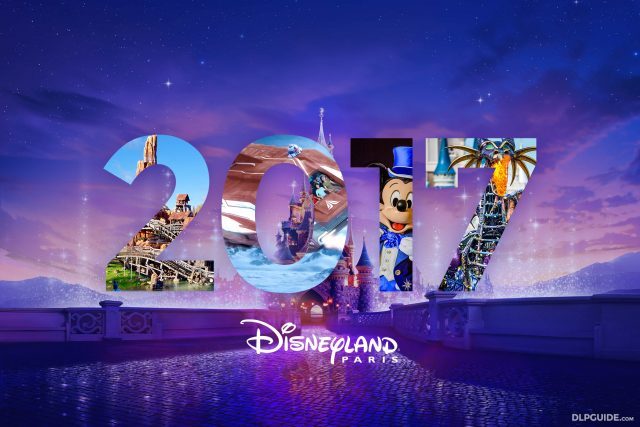 Waiting for the best time to visit Disneyland Paris? This is the year. New additions, rolling upgrades and a root-and-branch refocusing on Disney quality are coming together to present the best time to visit Disney's European resort in… 25 years?
Here are just some of the highlights ahead in this 25th Anniversary year.
—

—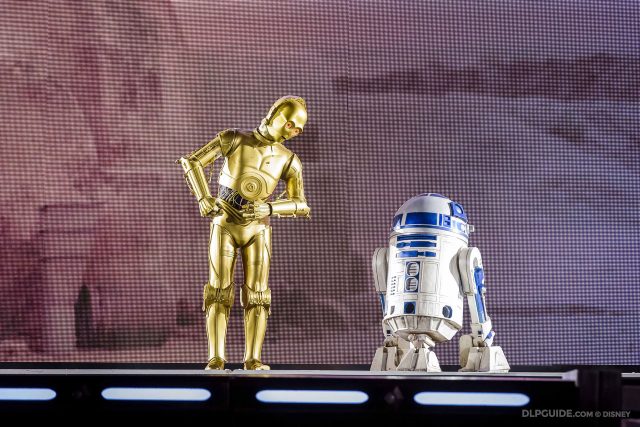 Star Wars finally has a place to live in Europe
Events throughout the year
Disneyland Paris might not yet be getting a Star Wars land of its own, but what we are seeing is a full-scale ownership of this endlessly successful saga like European fans of the Force have previously only dreamed about.
Season of the Force kickstarted 2017 with a great reason to visit of its own, but its daytime Star Wars: A Galaxy Far, Far Away stage event featuring all the famous characters will actually continue right through until 30th September. Along with the new attraction openings and nighttime spectacular featuring the franchise, this'll give a Star Wars feel to the whole year. That's quite a new thing for a resort that has previously failed to capitalise on its popularity.
Cementing this feeling of Star Wars living here will be Meet the Dark Side of the Force, a chance to encounter Darth Vader — daily, 365 days a year, at a new permanent meet and greet.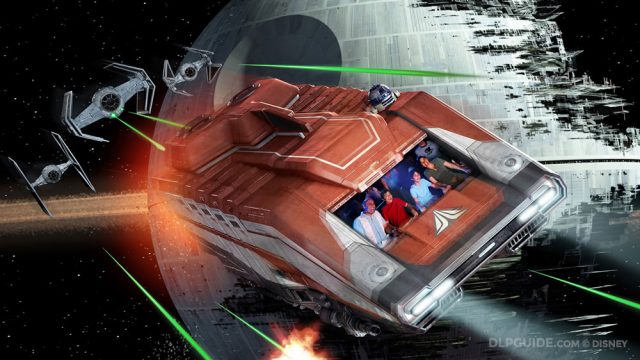 Europe can finally discover the newest Star Tours destinations
From 26th March 2017
There's now no need to leave Europe to ride the world's most up-to-date Star Wars theme park attraction: your Starspeeder 1000 flight will take off from right here in Discoveryland.
Taking in randomised new locations such as the Jakku from Star Wars: The Force Awakens, the Star Tours: The Adventures Continue upgrade is so big and so thorough that it'll finally feel like Disneyland Park has a brand new, top-drawer E-ticket for the first time in perhaps over 20 years.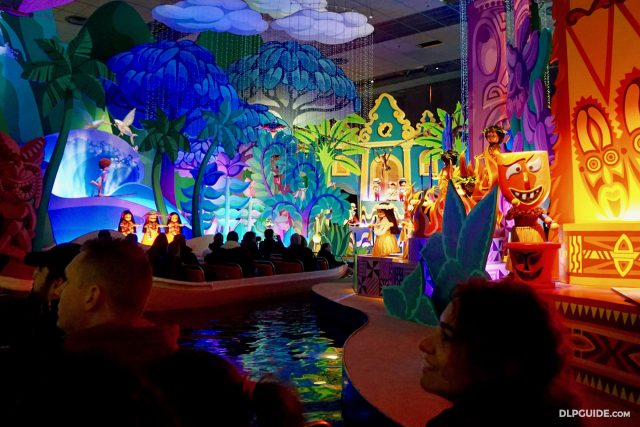 Classic attractions that Disneyland Paris always did best are better than ever
Many refreshed and re-open now, some still to complete
If you're reading this, you're probably as biased as DLP Guide, but let's face it: Disneyland Paris has the best versions of several of the most heralded Disney rides. And now, thanks to several years of pain and upheaval, they're "sparkling" better than ever.
If that sounds like marketing speak, and you've yet to see the fruits of the Experience Enhancement Programme for yourself, just wait until you arrive at the parks. Even the ground gleams. The refurbishments are all-encompassing, well-considered and genuinely noticeable everywhere you look. There has been so much passion, determination — and money — invested in these assets and it is clear to see.
From "it's a small world" to Big Thunder Mountain, Alice's Curious Labyrinth to La Cabane des Robinson, the faithful restorations of these Disneyland Paris icons were much-needed but no less worth applauding.
Does the park look better than it did on opening day? Possibly, yes — but 25 years have at least certainly allowed the greenery to grow in, practices to be refined and hopefully, from now on, upkeep to become the top priority it should always have been.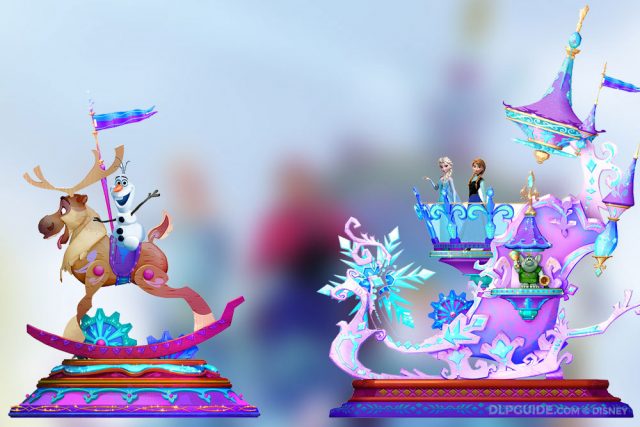 A totally different — if familiar — new daily parade, for the first time in 10 years
From 26th March 2017
Frequent Disneyland Paris visitors must learn not to take a new parade for granted. True, Disney Stars on Parade contains several floats inherited and inspired by other resorts' productions, but this is still the biggest change on the Disneyland Park parade route in ten whole years.
That said, boxes must still be ticked, and favourite characters still included. The guest list of Peter Pan, princesses, Frozen, The Jungle Book and The Lion King offers little new variety, but hopefully the parade as a whole, with its far more vibrant, modern array of floats will feel fresh. And, when you can pretty much still count the number of "whole new daily parades" — not reworkings or renamings — for this park on one hand, this is quite the event.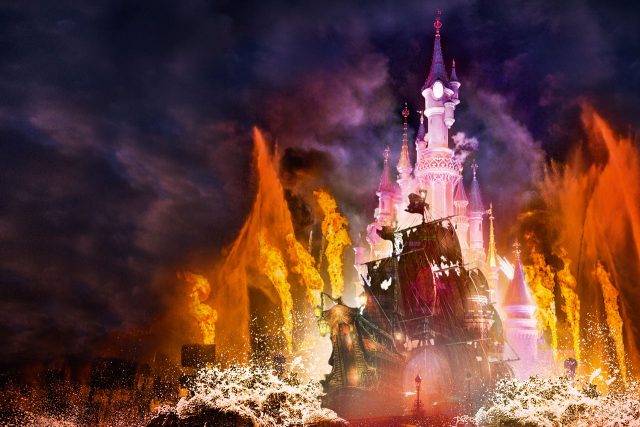 Disney Illuminations attempts the impossible
From 26th March 2017
How do you replace the glorious Disney Dreams? Why would you want to? Disney Illuminations has the hard task of answering those two questions. Either way, Disneyland Park is getting a brand new nighttime spectacular this year, attempting one of the most impossible follow-ups in Disney parks history with a more modern and wide-ranging variety of scenes.
Live-action films will be particularly well-represented. As well as Pirates of the Caribbean, we'll get to see a Star Wars battle take on Sleeping Beauty Castle and the fully-up-to-date live action edition of Beauty and the Beast brought to life for the first time in a Disney park.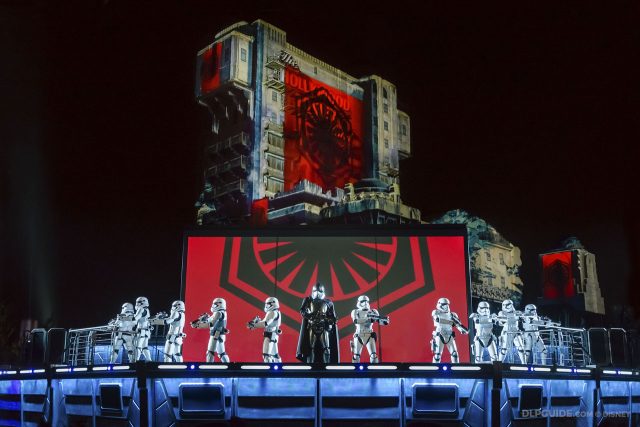 Now Walt Disney Studios Park has an amazing nighttime spectacular, too — for a limited time only
Only until 26th March 2017 (and January to March 2018)
That's a sentence none of us would have believed could appear here just a year ago, but this is really happening: Walt Disney Studios Park has an awesome — a truly, truly awesome — nighttime show that even goes above and beyond its American counterpart.
Star Wars: A Galactic Celebration combines stunning projection mapping with fantastically choreographed lighting, lasers, pyrotechnics and even live stage actors for a full experience quite unlike anything before. Even Warwick Davis recently said "words can't describe how amazing that show is" — an Ewok seal of approval.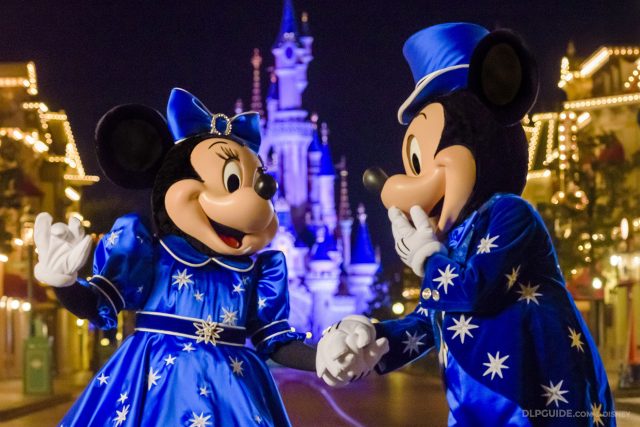 Mickey and Minnie have fresh faces and gorgeous 25th Anniversary outfits
From 26th March 2017
Get ready to see a whole lot of royal blue and silver across the resort once the 25th Anniversary rolls in, including special decorations all along Main Street, U.S.A. Keeping right on trend, Mickey and Minnie themselves — with their recently refreshed character faces — will look dazzling in specially-created new outfits, exclusive to the celebration.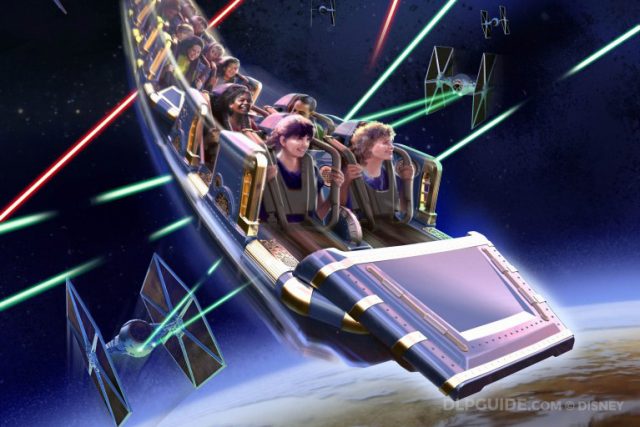 From sometime in May 2017
Remember when Space Mountain was built as a breathtaking, retro-futuristic love letter to the imaginations of European visionaries such as Jules Verne and his prophetic (yet fantastical) "From the Earth to the Moon" novel? Sadly, Discoveryland lost much of that storytelling cohesion in 2005. While what's about to happen after Space Mountain: Mission 2, which closed earlier this month, will only make that particular element (much, much) worse, it should still give us a much improved ride.
For a start, the resort's signature roller coaster will reopen with brand new trains, finally reducing the ear-numbing bashing of the originals, and making the attraction so much more re-ridable. Added to this, there'll be new projections, new effects and, of course, that stirring John Williams score to take us on a new "Rebel Mission".
We probably all still want to return to the moon someday (and see some proper, new Star Wars attractions built elsewhere), but until then let's just be glad the thoroughly stale Mission 2 is no more.
—

—
The triumphant Disneyland Paris Half Marathon returns for another truly unique weekend
From 21st to 24th September 2017
Last year's inaugural runDisney event was a fantastic success, allowing entrants to run through the parks and around the local landscape in a course like nothing else seen on Europe, introducing many new visitors to the resort for the first time. Another event we've watched other Disney resorts enjoy for years from the sidelines, Disneyland Paris has now again stepped up to their level.
As well as highly prized medals and other goodies, the races themselves include amazing character meet and greet stop-offs with plenty of rare faces. Now we know what to expect, and just how good Disneyland Paris can be at pulling off an event like this, expect 2017's Half Marathon Weekend to entice even more to take up training — will you?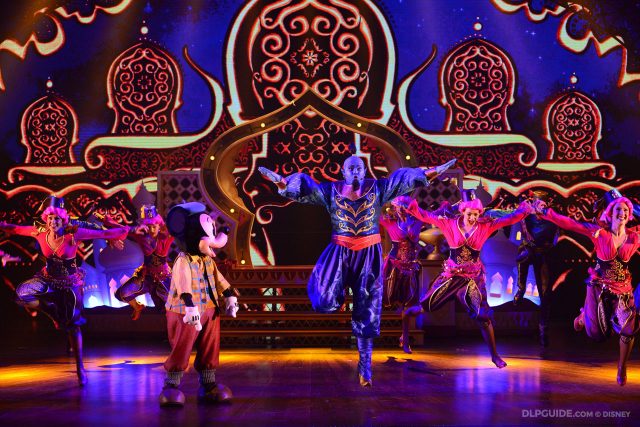 One of the best Disney park stage shows ever returns for its second season
From 18th March to 3rd September 2017
Mickey and the Magician has quickly earned its place as one of the most unmissable highlights of Disneyland Paris. In fact, if you're a Disney character and animation fan, it should probably be No.1 on your list. The award-winning stage show combines West End and Broadway-quality performances with a genuinely magical stage set and real magicians' illusions.
Frankly, if you're not weeping with joy at the closing tune of "Let the Magic Shine" then you probably shouldn't even visit at all. Though new in 2016, the show — probably the best in the history of the resort — replaced Animagique as part of the wider enhancements ahead of the 25th, and returns from a brief hiatus for another full season of daily shows from March.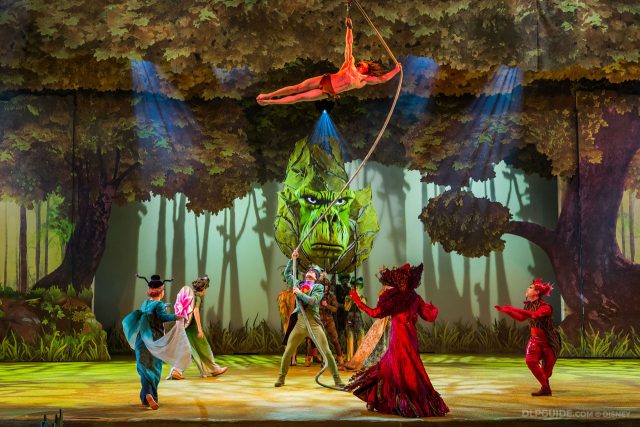 In fact, every available park stage has a show happening on it
From 1st July to 3rd September 2017
Visit during the two months that The Forest of Enchantment makes a welcome return to The Chaparral Theatre and you'll actually be lucky enough to experience entertainment happening on every stage across the two parks. From a low point of just one daily show (if that) at the last anniversary, that's some turnaround.
As well as this fantastic show, which features Tarzan, Pocahontas, Tangled, Brave and The Jungle Book musical numbers, there's Jedi Training Academy at Videopolis Theatre, allowing children aged 7 to 12 to wield a lightsaber and learn the power of the Force — also great fun just to watch from the sidelines for adults.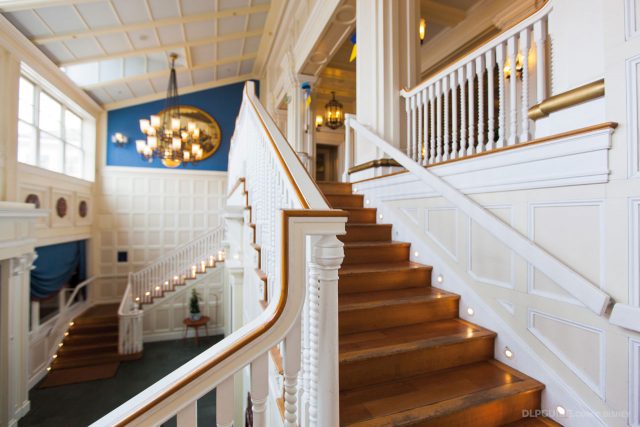 Disney Hotels are hitting new standards; six are seeing Disney Characters return
Disney's Newport Bay Club complete now; Disney Characters from 29th March 2017; Disney's Hotel Cheyenne complete from Summer 2017
Several years of upgrades to accommodation across the resort are finally coming together to provide a real upgrade to Disney's room inventory. Free Wi-Fi is no longer a mythical beast, standards are much improved and those room rates — though still wallet-shattering — seem more proportionate.
Now complete, the refurbishment of Disney's Newport Bay Club has seen the hotel gain a star in its rating and so much more. The unparalleled Disneyland Hotel aside, this is now without a doubt the best hotel on-property, oozing style and charm with a much warmer, more vibrant interior and more modern amenities.
For a budget option this anniversary year, the new Texas rooms at Disney's Hotel Cheyenne are the ones to grab, with refreshed furniture and a Toy Story sheriff vibe that actually works — compare and contrast with Shanghai Disney Resort's budget Toy Story Hotel.
Altogether, after over-building the number of rooms to begin with, it feels like the Disney Hotels have finally come into their own, 25 years late. The only one perhaps missing the joy is Disney's Hotel New York, awaiting much-needed revitalisation sometime from 2018 onwards.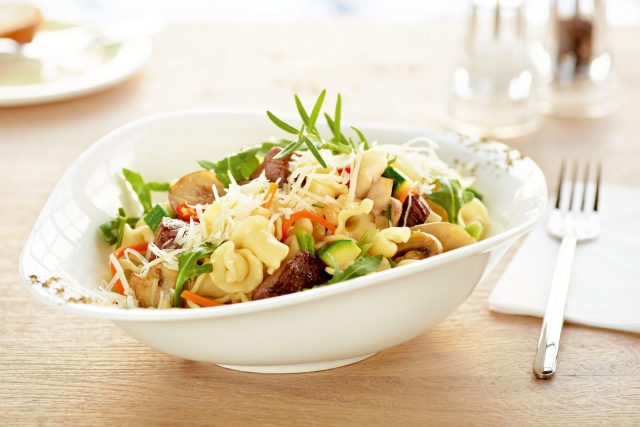 Disney Village finally has some new, affordable dining variety
From around March 2017
For somewhere with the footfall of Disneyland Paris, its remarkable how little Disney Village (or Festival Disney as it was originally known) has actually kept up with demand and tastes.
This year sees a good leap forward, however, with two brand new dining options at the resort: Vapiano, the "fast-casual" and very fresh counter service Italian restaurant, and Five Guys Burgers & Fries — the love-it-or-really don't see the point of it burger chain taking over the world. Careful, Annette — there's competition in town.
Pirates of the Caribbean gets a timely upgrade for Jack Sparrow's fifth adventure
From July 2017
Having missed the opportunities of the original trilogy and the fourth adventure, Disneyland Paris finally gets on-board with adding Jack Sparrow to its own Pirates of the Caribbean, just in time for this summer's new release Dead Men Tell No Tales.
The title's quite apt for this major upgrade, too — very little is known except we'll see "characters" from the films joining the ride, with new special effects. Considering Paris' version of the attraction has always been quite unique (though perhaps not as much so now as Shanghai's), will we see any new exclusives of our own?
Either way, this enhancement is not before time — so long as most of the music and the unbeatable atmosphere stays the same, this Adventureland classic will hopefully be even better than before come July.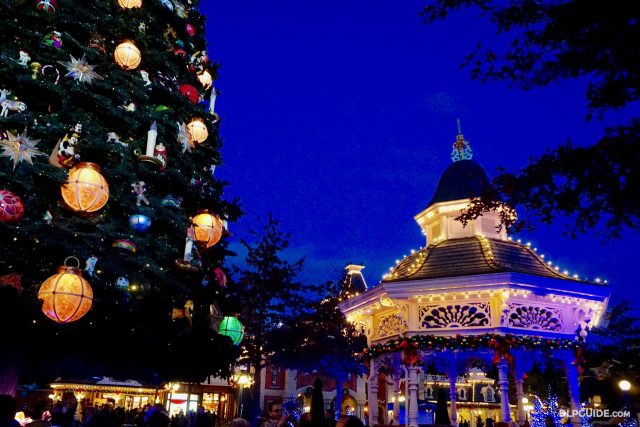 Halloween and Christmas are almost an added bonus
October 2017; from mid-November 2017 to early January 2018
Disneyland Paris has always focused on its seasonal entertainment as a more cost-effective way to entice visitors to return. Now, after several years building up these seasons with shows, parades, characters and decorations, they're the best they've ever been.
Perhaps you've seen Christmas at Disneyland Paris already, but have you seen a blue, silver and sparkling 25th Anniversary Christmas?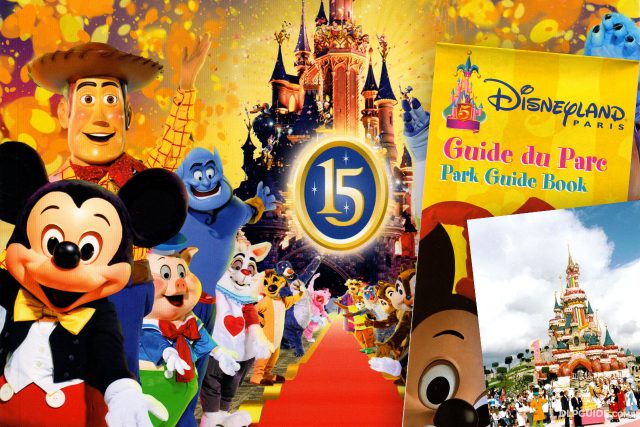 Practically everything is "limited-time" — even if we don't know how limited
If you're the type of Disney obsessive who even saves the branded napkins from your counter service meal (don't worry, you're not alone), then an anniversary year is a dream come true. Everything — just everything — is a "limited-time" feast for the archives. Park tickets, park maps, merchandise — anything with a "25" will instantly become Disneyland Paris memorabilia the moment the celebration ends. You'll either have it in your collection or you won't.
Even the photos you take around the park will be capturing history. Inspired by California's Diamond Celebration, we've seen hints of special 25th Anniversary attraction photo locations for the likes of Dumbo the Flying Elephant.
Just how limited-time the celebration proves to be remains to be seen. There's no end date attached whatsoever. The previous 20th Anniversary in 2012 became the imaginatively-titled "20th Anniversary – Extended!" in 2013, so it's highly likely something similar will happen again. But experiencing the 25th Anniversary in the resort's 26th year will never be quite the same.
Between Season of the Force and Christmas, there are so many different openings, entertainments and events that there simply isn't just one "best time" to visit Disneyland Paris in 2017 (though anytime after 26th March 2017 might help).
Pull out a 2017 calendar, stick a pin it. You've just chosen the best time to visit Disneyland Paris in 25 years.