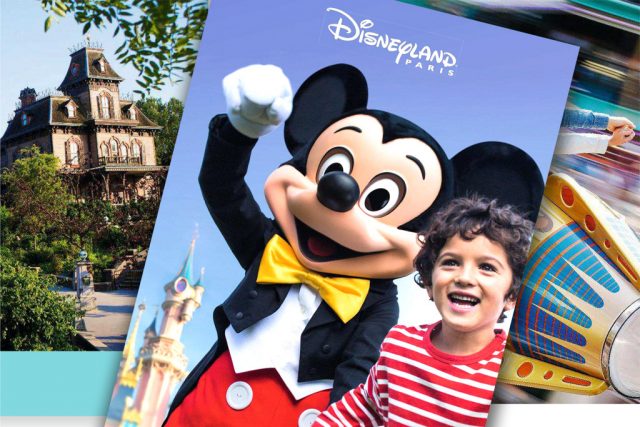 With every new Disneyland Paris brochure, every avid fan must scour the pages cover-to-cover for additions, changes and updates to keep their Disney resort knowledge fully up-to-date. From new room types to new seasonal events, price increases to (the occasional) price decreases.
But, to save you time and make sure you don't miss a thing, here are 9 important things we can learn from the new 2016/2017 Annual Brochure (UK edition):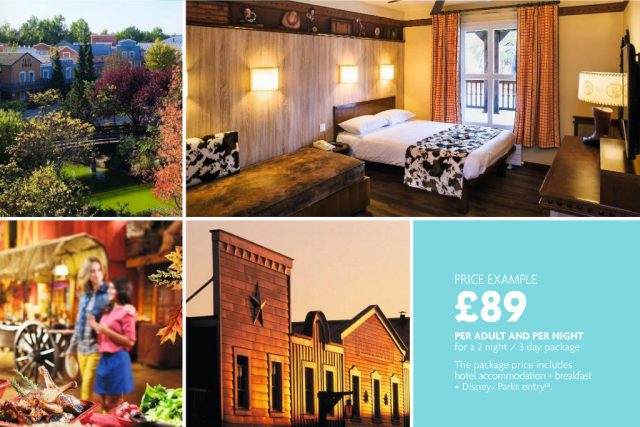 1. Sheriff Woody 'Texas' rooms come to Disney's Hotel Cheyenne from next summer
From summer 2016, you'll be able to enjoy newly-refurbished rooms at Disney's Hotel Cheyenne, titled 'Texas' rooms, themed around Toy Story's Sheriff Woody. The standard will now be a stow-away bed rather than bunk beds, with alternative rooms housing two double beds available from autumn 2016.
—
2. Seasonal Events are all sorted up to 2017
With bookings now open to 30th September 2017 and this brochure covering to 28th March 2017, dates for the next Spring, Summer, Halloween and Christmas seasons are already sorted (find them in full here).
In fact, the next seasonal dates we see after these (depending on whether Spring returns in 2017) could likely be the 25th Anniversary! (Bets already placed on Saturday, 1st April 2017, surely?)
—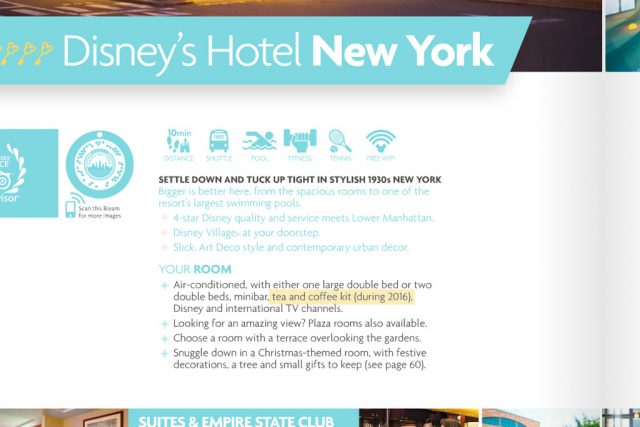 3. Hot drinks could soon be in your Disney Hotel room as standard
What's likely to be a very popular upgrade can be noted on the pages of three Disney Hotels: at Disney's Newport Bay Club and Disney's Hotel New York, a "tea and coffee kit" (from sometime in 2016); and at Disneyland Hotel, "tea and espresso facilities" (from end of 2015). Of course, you're currently able to request a kettle upon checking in, but putting the facilities in rooms as standard is a logical and welcome upgrade to remove this hassle.
We can presume Disneyland Paris might have kept hot drinks out of its hotels to promote guests visiting the hotel bar or spending more time (and money!) outside their rooms, but in real terms this likely provided very little financial boost and more likely just looked "stingy" (as a tea-loving Brit would say).
Since they're spending so much time and money upgrading the rooms, it would have done a disservice to all that investment to continue with that ungenerous and unpopular decision. The Nespresso machines at Disneyland Hotel are a particularly smart upgrade to ensure that hotel keeps up with what its audience expects.
—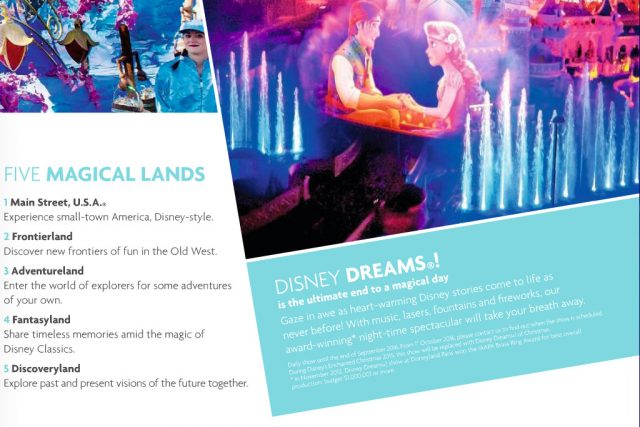 4. Disney Dreams! is safe for another year
As if we expected any different, but Disney Dreams! is now confirmed as happening daily until end of September 2016 (except during Christmas when you'll see the entirely different Disney Dreams! of Christmas instead). After this date, as usual, the resort is keeping options open, but it's unlikely we'll be saying anything different again next year.
—

5. Christmas Rooms and Compass Club are coming to Disney's Newport Bay Club
The freshly-refurbished Disney's Newport Bay Club will join Disneyland Hotel and Disney's Hotel New York from next year (Christmas 2016) in offering a Christmas Room upgrade option, including decorations, a tree and small gifts to keep.
With its recent improvements, Disneyland Paris seems keen for the hotel to be seen as closer to these two premium properties than the more mid-range Sequoia Lodge. This can be evidenced with its application to upgrade it to a 4-key rating, noted on the hotel page with an extra white key. From early 2016, it will also get its own premium-tier "club" to match: the Compass Club will offer a range of extra benefits and privileges including a private lounge.
—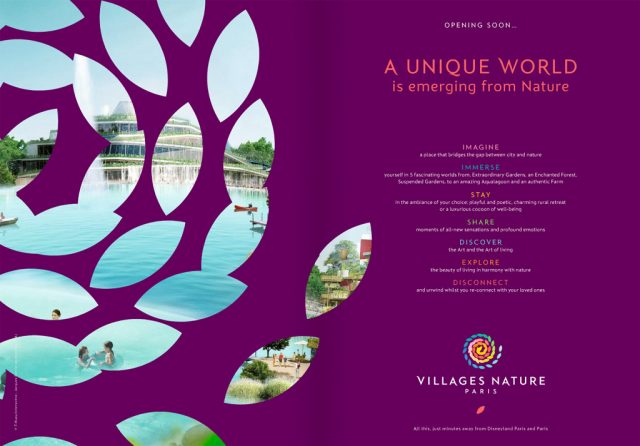 6. Villages Nature is making its first sales step
Despite now being under impressively heavy construction next to Disney's Davy Crockett Ranch, the Villages Nature accommodation project retains something of a mysterious air. Being developed jointly with the Pierre & Vacances Centre Parcs Group, the project is teased to the general Disneyland Paris-booking public for the first time on two pages at the back of the brochure. It already looks like a refreshing and well-branded accommodation option — let's hope it's not too long now before it's available as a real booking choice.
—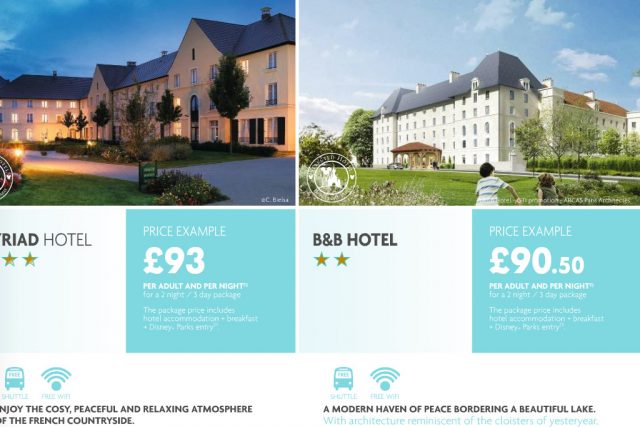 7. The new B&B Hotel will be the cheapest of the lot
Located next to the four other Selected Hotels in the Val de France district, the new B&B Hotel due to open late this year, part of a growing French chain, will now be the cheapest accommodation to book via Disneyland Paris, coming in just below the nearby Kyriad Hotel. Looking at the hotel facilities chart, the only difference between these two- and three-star hotels (besides room and hotel décor) appears to be the provision of a hairdryer.
—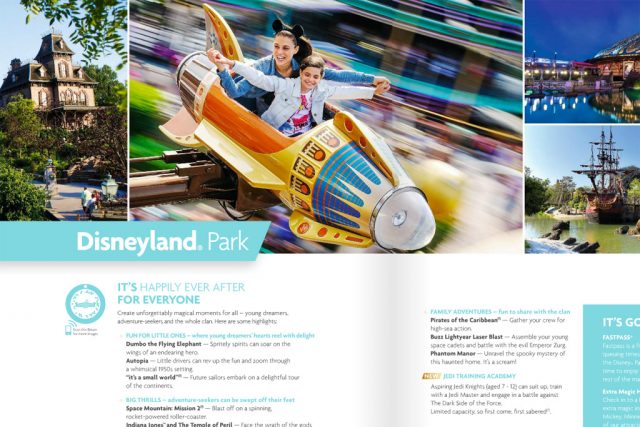 8. Big Thunder Mountain is missing for the year
While there is no clear mention whatsoever of the wide-ranging Experience Enhancement Plan refurbishments currently taking place and due to continue for the next year, Disneyland Paris is being careful to minimise some disappointment by ensuring certain attractions are also nowhere to be seen. Big Thunder Mountain, scheduled to be closed until January 2017, is the most obvious missing attraction, but there's also no mention on the park pages of Star Tours, Animagique, Peter Pan's Flight or Studio Tram Tour: Behind the Magic.
—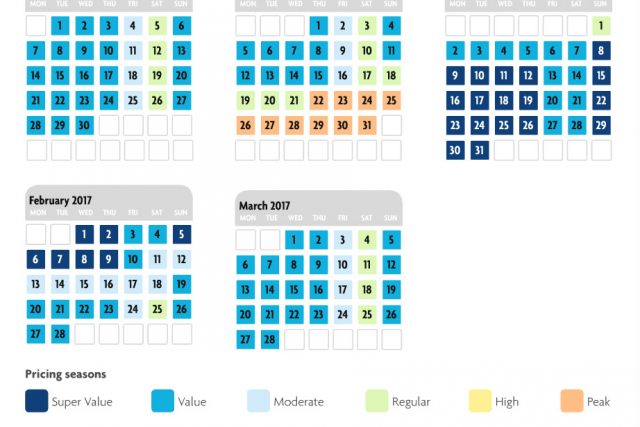 9. There are now six (6!) hotel pricing seasons
Not long ago Disneyland Paris used only three or four price bands or "pricing seasons", but after a fifth was added last year they've now gone one further and added a sixth. Named Super Value, Value, Moderate, Regular, High and Peak, they define what price you'll pay for your package based on the arrival date (see them now on our updated Calendar).
Adding more bands might be a good thing, allowing for less of a sudden jump between prices from one day to the next, though the immediate impression is that the "new" 'Peak' pricing season has been applied surprisingly copiously throughout the calendar. Not just Christmas holidays but late spring and October half-terms, the first half of August and Saturdays throughout much of spring and autumn are now classified as 'Peak'. The upside is that for most hotels the new 'Peak' price from 24th March 2016 is less than the current price; only the upgraded Disney's Newport Bay Club will see sharp increases.