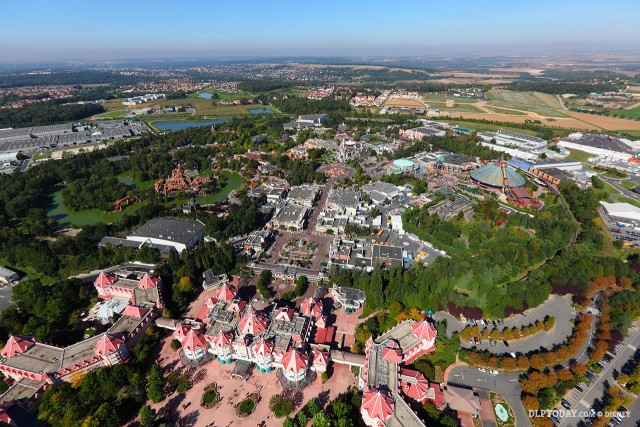 Disneyland Paris has formally revealed a four-point renovation plan to "reinvent the magic", covering ten key attractions in both parks. In planning for several years with the codename "Project Sparkle", the major slate of refurbishments and updates will both restore lost details and add fresh new features, aiming to bring the Disneyland Paris experience fully in line with its American counterparts.
The ten attractions are: Space Mountain: Mission 2, Videopolis, "it's a small world", Big Thunder Mountain, La Cabane des Robinson, Peter Pan's Flight, Pirates of the Caribbean, Animagique, Studio Tram Tour: Behind the Magic and Star Tours.
The first works are already underway, of course; green refurbishment hoardings being an unfortunate feature of 2015 across the resort. And visitors have been warned of the first closure dates themselves under the heading Experience Enhancement Plan (EEP). But today at a Cast Member forum, Disneyland Paris finally elaborated what's next for these ten attractions in the lead-up to the 25th Anniversary.
"Ten attractions and shows over three years – this is the ambitious program of reimagining and new features launched in view of our 25th anniversary, to create new magic for Disneyland Paris."
Four key points make up the plan, as worded by Disneyland Paris:
INNOVATE: Creativity and technological innovation are at the heart of the Disney difference. Attractions such as Big Mountain Railroad and Pirates of the Caribbean will be reimagined to ensure an innovative experience.
REFINE: Attention to detail and quality are staples of Disney magic. With these same principles, iconic attractions such as "it's a small world" and Peter Pan's Flight will be reimagined with all new colour palettes and special effects.
OPTIMISE: We remain committed to the Four keys including Cast Member and Guest safety throughout all theme parks and resorts. Space Mountain: Mission 2 will now feature renovated rail systems and new equipment, such as innovative ride vehicles, and a new Single Rider queue line.
AMAZE: Putting a twinkle into the eyes of children and adults by always creating new surprises. Many of the attractions at Disneyland Park and Walt Disney Studios Park will be reimagined to create new magic.
Though the rough outlines of the plans have been rumoured for some time, numerous precise confirmations have now been given at the Cast Member presentation today (oddly, a joint information event for fan websites was cancelled, despite this still going ahead).
Let's take a look in detail at the timelines and transformations confirmed for these major attractions:
Space Mountain: Mission 2
Phase 1: Closed first half 2015; re-opening 25th July 2015
Phase 2: 2017
Already entering its final phases, the headline EEP project sees some much-needed improvements to the Discoveryland icon as it passes its 20th anniversary. Sadly, a sensible renaming to simply "Space Mountain" doesn't appear to be part of that just yet, if we're to trust the accompanying document, though the entrance marquee is currently missing the "Mission 2" subtitle during works. A new Single Rider line is a major bonus, while renovations to the ride system itself will culminate in brand new vehicles, confirmed for a second phase of works in 2017.
Concept art within the document, below, reveals their new design — dropping the deep "bucket" seats of this Vekoma roller coaster for something more modern.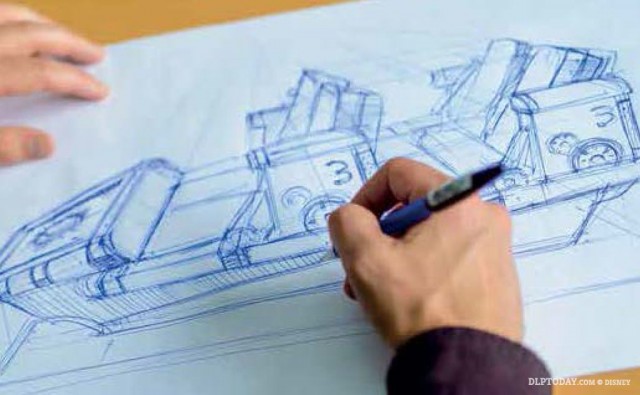 SPACE JOURNEY REVISITED

First unveiled on May 31, 1995 and reimagined to Space Mountain: Mission 2 in 2005, this attraction has undergone extensive renovations over the past few months. Stage one will be completed by July 27, 2015.

The iconic mountain in Discoveryland will soon have a few exciting changes: the huge roof, cornice, imposing catapult and emblematic Columbiad are to be restored along with a number of decorative elements (wall paintings, banners and control towers, etc.).

The renovation will focus on three aspects:

Accessibility: new access counters for Light Speed Photography.
Safety: all internal stairs revamped.
Efficiency: all existing lighting replaced by LEDs and a Single Rider queue introduced for better Guest flow.

The renovation work will also impact the Nautilus and its lagoon. The lagoon will be emptied, cleaned and repainted along with restoring the swirling water effects.

COMING SOON

There are more surprises in store: new vehicles will arrive in 2017 – re-designed in terms of ergonomics and technology – for an even more immersive experience!
Videopolis
First half 2015; re-opening 11th July 2015
Also behind construction walls in Discoveryland right now, the vast Videopolis complex, incorporating Videopolis Theatre and Café Hyperion, has been undergoing a complete repaint and refurbishment — including a desperately needed cleaning-up of the Hyperion Airship icon itself. Changes inside appear to be minor, more cosmetic and operational (detailed in this official article), but the re-opening on 11th July will at least provide a fresh experience on the stage as it becomes home to the new Star Wars Jedi Training Academy.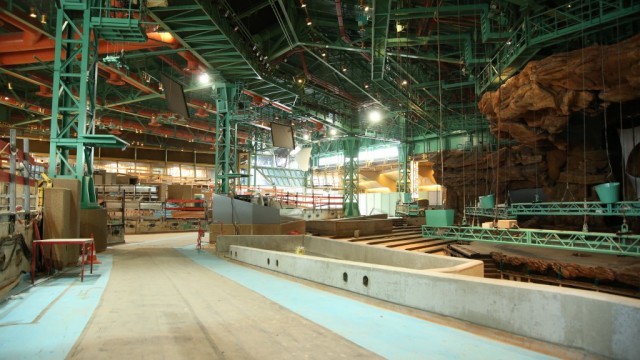 A MYTHICAL THEATRE

A new and gigantic airship terminal accommodating the Café Hyperion and Videopolis will be unveiled this July, when Jedi Training Academy, a new interactive show open its doors to the public.
"it's a small world"
Second half 2015; closes 27th July, re-opening late December 2015
The big question, will we see the same Disney character dolls as California and Hong Kong, goes without mention, though "all new dolls and costumes" is a feature amongst "some new surprises". A re-mastered musical score is also promised, as well as a new colour palette for the classic façade.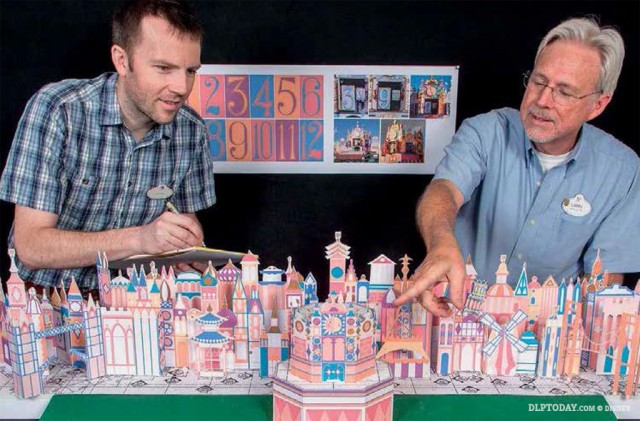 REIMAGINING THE HAPPIEST CRUISE THAT EVER SAILED

Celebrating children throughout the world with an international tour of singing and fun, Fantasyland's delightful musical boat tour – hosted by the children of the world – is closing for a makeover in August 2015 and will be re-opening at the end of December.

With its classic anthem to world peace and its artfully costumed dolls representing the peoples of the world, "it's a small world" is one of the most popular attractions at Disneyland Paris. Paying true homage to the union of cultures, a subject dear to Walt Disney, this attraction will be receiving a major facelift starting in August. Some of the work to be done includes a new façade color palate, all new dolls and costumes, a re-mastered musical score, and some new surprises- all to bring new magic to the adventure!
Big Thunder Mountain
Early November 2015 to late 2016
Set to be one of the star attractions of the enhancement plan, Big Thunder Mountain will be closed for an entire year to renovate and update the ride. An "explosive surprise" promised will surely be the spectacular new "Fire in the hole!" scene introduced on the final lift in California, where sparkling fuse wires lead up the walls of the mine to a burst of smoke as you make the drop.
THE "WILDEST RIDE IN THE WILDERNESS"

The main attraction of Frontierland and much loved by our Guests, Big Thunder Mountain Railroad will be closing at the end of the year for an amazing reimagining while unveiling new surprises for Guests climbing on board its wagons. For the first time in its history, this iconic attraction is set to undergo major refurbishment at the end of 2015, aimed at bringing new magic to our Guests including an explosive surprise!
La Cabane des Robinson
January to September 2016
Finally, some real attention for this overlooked classic and the real icon of our Adventureland. Remarkably, this project is all about restoring the original décor: no added franchise characters, no watering down the concept. But speaking of water, fans of the Swiss Family Treehouse will be overjoyed to hear the fantastic waterfalls will see renovation — will this include the full waterwheel and irrigation system, lifting bamboo cups of water from the spring up into the living quarters of the tree? Please!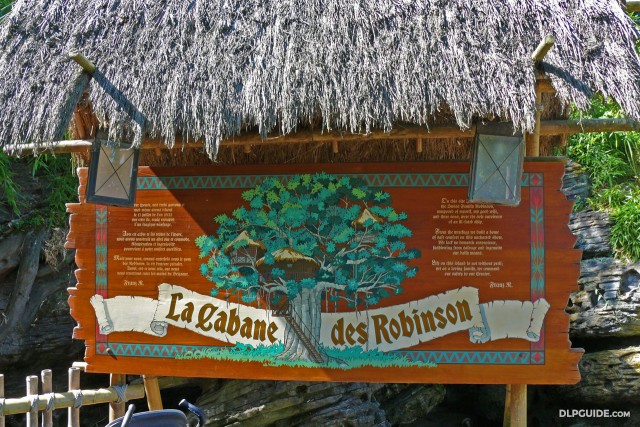 The Swiss family Robinson Tree House will be undergoing a major renovation starting early 2016 until the second semester.

The Swiss Family Robinson Tree House was built in the branches of a majestic banyan tree by the Robinson family after they were shipwrecked on an island. The work will focus on restoring the Swiss Family Robinson Tree House to its original décor. This will include new paint, horticulture, effects and the renovation the waterfalls.
Peter Pan's Flight
Seemingly one of the more minor updates, with no mention of the fantastic "interactive" queue recently debuted at Magic Kingdom in Florida, the ride will nevertheless receive a make-over including new colours and improved lighting. Hopefully those occasional pirate galleon flights through near pitch darkness will be a thing of the past, though given the never-ending daily queues for this Fantasyland dark ride it's disappointing the lacklustre queue experience isn't a priority.

Adored by dreamers of all ages, Peter Pan's Flight takes us to Never Land over the rooftops of London. The fairy-tale journey is to be suspended for a while, but will be back in a few months' time, offering an even more magical experience.

The Never Land adventure has 11 scenes directly inspired by the Disney classic, ranging from the children's nursery in the Darling's home to Captain Hook's galleon to a flight over the city of London and the island of Never Land with its sparkling lagoons and Skull Rock. The whole voyage will have a make-over, including a fresh color palate and revamped lighting. The London scene will look even more amazing than we remember!
Pirates of the Caribbean
Jack Sparrow is coming — it's confirmed. The addition of these new Audio Animatronics was first rumoured after their American debut, for Paris' 15th Anniversary, and then again for the 20th Anniversary before apparently being cancelled. Ten years later, the 25th Anniversary will finally see the hit blockbuster character added, bringing the attraction in line with every other edition around the world, as well as "a few surprise characters". The attraction has been subject to numerous minor incremental updates in recent years and months, which it seems will come together in this relaunch with genuine new effects for the "hurricane" and "treasure room" scenes.
With Jack Sparrow arriving just in time for the expected 25th celebrations, not to mention the fifth film Pirates of the Caribbean: Dead Men Tell No Tales, we can also assume that this and other enhancements will actually be advertised and promoted to guests, just as similar "plussing" is promoted in the States.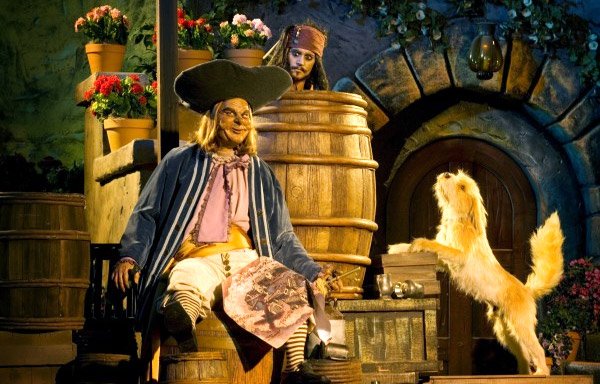 Pirates of the Caribbean is a true Disney Park classic, taking Guests on a thrilling voyage with a crew of swashbuckling pirates. This attraction will be undergoing major reimagining work during the first half of 2017. The changes will bring the Guests a more immersive experience.

To make the experience even more fantastic, Captain Jack Sparrow will join the attraction along with a few surprise characters. The whole pirate crew will be brought back to life with new lighting and re-mastered audio. New effects – mainly for the hurricane scenes and treasure room – will be added for a totally immersive experience.
Animagique
This revamp just slipped of the EEP closure schedule on the Disneyland Paris website, so it's a relief to still see it here. While a "re-imagined" show, hopefully incorporating at least one Pixar scene, is more than welcome after so many performances, hopefully there's also a plan for the very plain and dour façade and waiting area, perhaps now one of the parts of Walt Disney Studios Park most lacking in magic.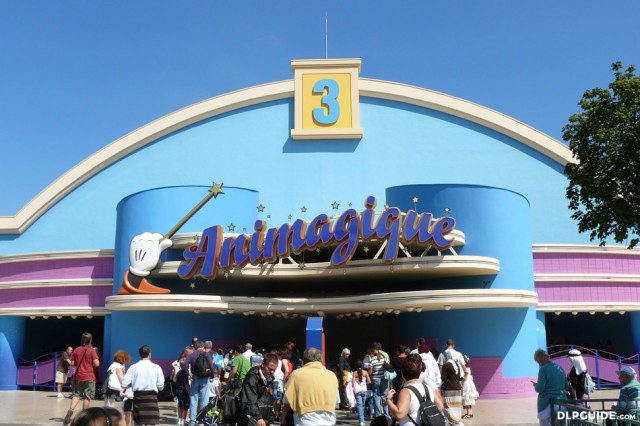 This much-beloved blacklight theatre attraction located in the Walt Disney Studios Park at the entrance of Toon Studio, will be completely re-imagined to deliver a brand new and even more enchanting experience.
Studio Tram Tour: Behind the Magic
Late August 2016 to Spring 2017
Hurrah — a genuine update for the biggest Walt Disney Studios Park attraction. Three new scenes are confirmed but not named — though rumours strongly suggest the currently pointless Dinotopia gate will be given a Star Wars overlay, Catastrophe Canyon's oil tanker could gain a face to give the scene a Cars overlay, and the impressive (yet still always somehow disappointing) Reign of Fire London scene will use a Marvel property to give it a new lease of life. Surprisingly, the press release name-checks Jeremy Irons — will he really re-record the commentary for the new scenes? — surely it's a chance to introduce some fresher hosts.
Given the recent investment in new tram vehicles, Disneyland Paris thankfully believes in its backlot tour much more than Disney's Hollywood Studios in Florida, which closed last year. The attraction has both huge capacity and potential, let's hope this puts the latter closer to being realised.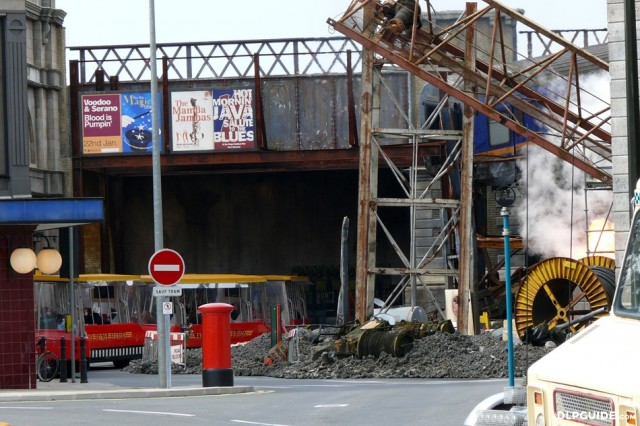 This attraction makes you board a high-tech tram, with the voice of Jeremy Irons guiding you around the magic of Walt Disney Studios Park, with the visit of full-scale movie sets. 3 new scenes will be unveiled to deliver even more Disney magic.
Star Tours
Late February 2016 to early 2017
This means only thing: Star Tours — The Adventures Continue is absolutely coming to Disneyland Paris! Though not mentioned by name, a "re-imagined" "new thrilling experience" will without doubt see the circa-1987 ride updated with the 3D, multiple-destination update first introduced overseas in 2011. Could Disney's new ownership of the Star Wars universe, and its new upcoming movies, influence any new, additional ride scenes to the eleven random segments already seen at California, Florida and Tokyo? And what of the previously-rumoured "Star Wars Land" make-over of this corner of Discoveryland?
An unfortunate consequence of this schedule, of course, is that the ride will close next February, just after the release of Star Wars: The Force Awakens, to ensure it re-opens in its new guise for the resort's 25th Anniversary. Yet the very last flight on the Endor Express, scheduled for sometime in February 2016, will surely be a major worldwide event for both Disney theme park and Star Wars fans as it represents the last time to experience the original 1987 attraction. Let's hope Disneyland Paris capitalise on that Star Wars fever before the closure.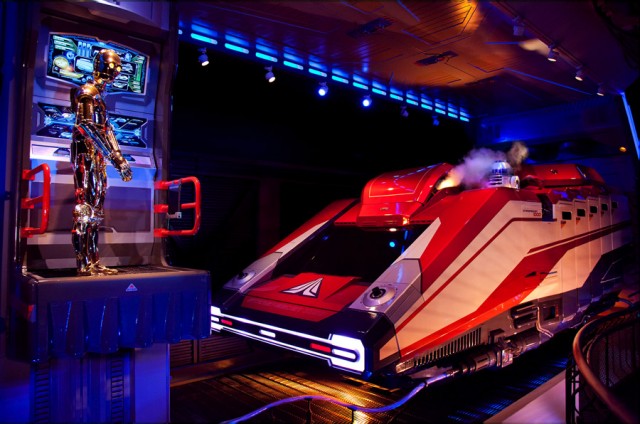 The epic flight to the forest moon of Endor will be re-imagined and full of amazing surprises for a new thrilling experience.
And beyond…
Some other announcements and confirmations about upgrading the Disneyland Paris experience were made as part of the Cast Member presentation (source: ED92). Two highlights…
The geysers beside Rivers of the Far West in Frontierland will be refurbished by 2017 — these spectacular erupting water jets used to be a great feature of the landscape, today they're broken and rapidly becoming overgrown; fixing them will make many fans very happy.
Disney's Hotel Cheyenne will be the next hotel for a revamp after the current Disney's Newport Bay Club works end — oddly announced as "something completely different", the renovation will be done on a building-by-building basis without closing the hotel.
When you follow years of rumours about a project, the final reveal can feel like an anti-climax. There's nothing announced here for Phantom Manor, which at one point was looking like receiving the most major story upgrade, nor for lacklustre experiences such as Armageddon: Les Effets Speciaux. Indeed, Walt Disney Studios Park will see only two attractions improved, in arguably the most modest ways, and nothing done for its many thematically-lacking walkways in-between.
But perhaps their time will come in the years to follow.
To reinvent the magic, and pave the way for wholly new magic, Disneyland Paris really has to go back to the beginning now. To ensure the big, key experiences at the resort are the best they can be — and crucially, as good as they are in the United States. Now that the resort is so tightly under The Walt Disney Company's financial and managerial wing, there's no excuse for it being "stand-out" for all the wrong reasons.
We will no doubt come to judge each refurbishment and enhancement individually, on its own merits, but that ten (ten!) of these projects all at once reached the stage of this becoming a very definite (Experience Enhancement) plan, happening over the space of just a couple of years, is unprecedented and has to be congratulated.
Even if the years of decline and under-investment that led us here shouldn't be forgiven so easily, the leap in quality happening already coupled with this well-rounded schedule of renovations, upgrades and some effectively brand new attractions makes for an incredibly exciting time at Disneyland Paris. Just pardon the pixie dust while it happens…
• Follow the latest detailed Attraction Closure dates on DLP Guide