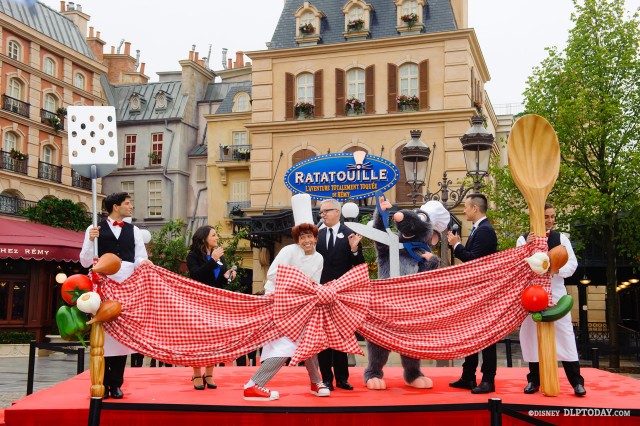 It's open! Today was the day, 10th July 2014, that La Place de Rémy and its key attraction, Ratatouille: L'Aventure Totalement Toquée de Rémy, officially opened to the public following several weeks of previews with a special inauguration ceremony shortly after 10am.
Hosted by the Disneyland Paris Ambassadors, Jonathan and Antonella, the opening ceremony welcomed Fleur Pellerin, Secretary of Commerce, of Tourism Promotion and of the French abroad, to Disneyland Paris.
The resort's new chief operating officer Daniel Delcourt also took to the stage, while several elements of the earlier Grand Opening ceremonies for the press made a return to Walt Disney Studios Park, including that gingham ribbon, Rémy himself and even a surprise reappearance by the real-life Linguini.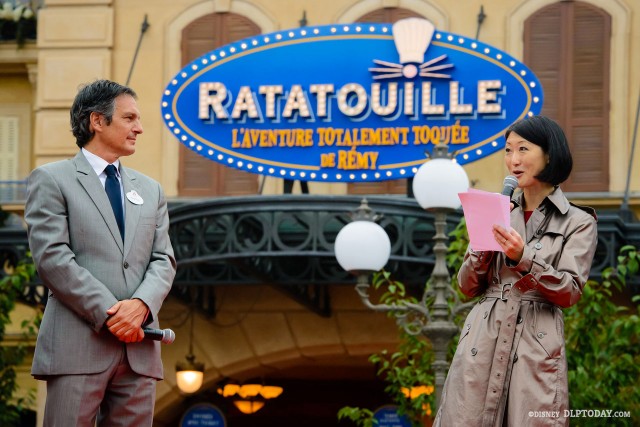 Once opened, lines quickly reached blockbuster levels with guests filling the exterior queue, a roped extension area in front of the Fastpass distribution, and lining the full length of Rue Auguste Gusteau, with the queue beginning somewhere back in Toon Studio. Good thing today was also the first day the park remained open until 9pm, extending its operating day by a whole two hours, a milestone in itself.
A 120 minute wait time was posted on the park's electronic tips board, which now lists the attraction, simply calling it "Ratatouille". However, at one point temporary signage advised guests that, from the entrance to La Place de Rémy next to Toy Story Playland, a wait time of 190 minutes was possible.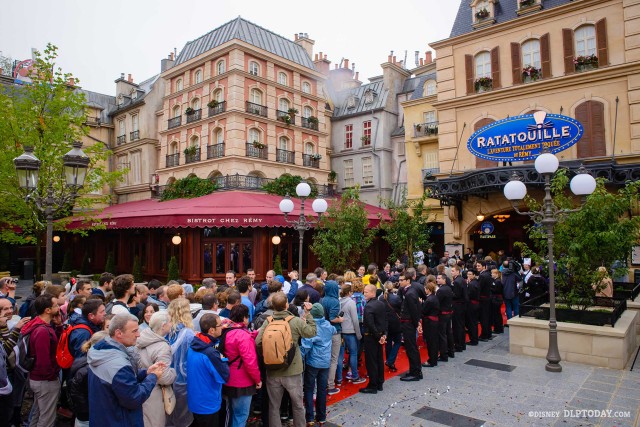 Wait times for other popular Studios attractions appeared unaffected, particularly Crush's Coaster which continued to offer up to an 80 minute wait. Of course, as much as Ratatouille could draw guests away from those attractions, it will (hopefully) be bringing more people to the park altogether, unfortunately mitigating any dramatic change.
But here's the important fact: those lines aren't due to bad planning, at least with this attraction. Ratatouille actually (just about) has the capacity to cope with its popularity on a normal day. It's not quite a Pirates of the Caribbean juggernaut, but the packs of Ratmobiles were thankfully specced pretty well in their ability to cycle guests through.
As we concluded on Twitter, Ratatouille is officially a "blockbuster" attraction for Walt Disney Studios Park, and that's down to quality, not poor capacity.
Seeing guests queueing round the block, clamouring to experience La Place de Rémy for themselves, says a lot about the demand for investments of this scale or, perhaps even more so, the rest of the park which those guests are turning their back on.
Complete video: Ratatouille Opening Day Inauguration Ceremony
Fun facts from today's opening day press release
Including the attraction, restaurant and upcoming boutique, the new Ratatouille area has created 200 new and permanent jobs.
The project required the skills of more than 4000 craftspeople, 80% of which were French. A total of 44 French companies helped to create the attraction, including 34 from Île-de-France and 11 from Seine-et-Marne.
A special ultrasonic cleaning system was developed for the attraction by Fisa, a company based in Essonne, which allows 22,000 pairs of 3D glasses to be cleaned in five hours.
With 370 seats, Bistrot Chez Rémy is the largest table-service restaurant at Disneyland Paris. 80% of the produce used is of French origin, and the meat is sourced from within Europe (Scotland or France).
Disneyland Paris has generated more than 55,000 direct, indirect and induced jobs since its opening. In 2014, the group signed 8000 employment contracts, of which 1000 are permanent. Almost 15,000 people are currently employed at Disneyland Paris.
Disneyland Paris contributes on average 6.2% of the French tourism industry's foreign currency revenues and contributes €50 billion in added value for the French economy.
Disneyland Paris is Europe's number one tourist destination, with more than 275 million visits since its opening. Within a tourist sector elevated to the ranks of "national priority", according to François Hollande during the Tourism Forum in June 2014, Disneyland Paris takes pride of place.
Over the past five years, investments centred on maintaining and developing Disneyland Paris have amounted to €510 million.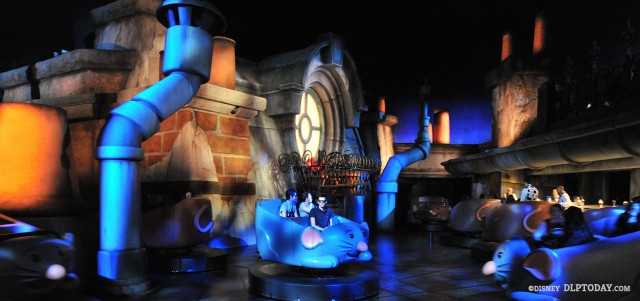 Explore all DLP Today's Ratatouille: The Adventure content and features: