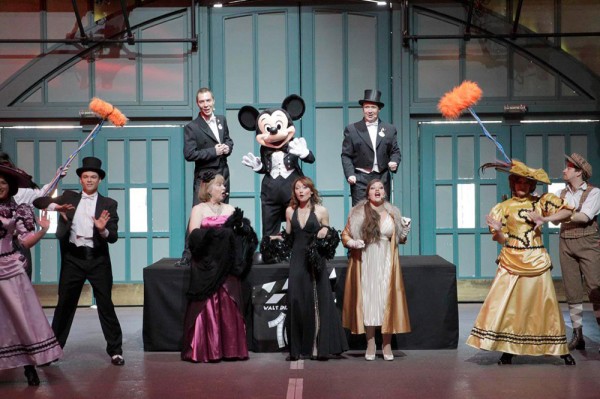 Happy birthday, Walt Disney Studios Park! The second park at Disneyland Paris has celebrated its 10th anniversary today in a characteristically somewhat muted day of special events. That wasn't going to stop the Disneyland Paris Ambassadors giving it their all, though. Following their stint as Frontiersmen for the rededication of the Molly Brown and gentlemen of the royal court for the inauguration of the Princess Pavilion, Osvaldo del Mistero and Régis Alart raided the costuming workshop once again with an eye on Hollywood glitz.
The result looks superb for such an intimate event: dancers, singers, boom mics and rolling cameras — not to mention Osvaldo, Régis and Mickey Mouse all looking like they've just stepped out of the Oscar-winning best picture The Artist. A special clapperboard has been decorated with "Walt Disney Studios 10 ans" — the "10" made out out of a celluloid film reel. It's a welcome throwback to the kind of Hollywood-that-never-was glamour which the still sorely-missed CinéFolies streetsmosphere shows in this same Disney Studio 1 used to provide.
Inside, the park's Cast Members are wearing special badges to mark the occasion. From a paltry 10 attractions at opening on 16th March 2002, the park has grown to count 17 attractions within its studio lots, six of which are entirely unique to the park. After a lacklustre opening which forced the resort into a second financial restructuring, the first seeds of change were only sown in 2007 with the Toon Studio Placemaking project and two new attractions, Crush's Coaster and Cars Quatre Roues Rallye.
Though additions such as Stitch Live! and Playhouse Disney Live on Stage! have sought to revitalise initially unpopular areas, the park has failed to see the implementation of any kind of wider improvement programme. Piecemeal, self-contained developments such as the colourful Toy Story Playland have continued to create pockets of Disney quality while other areas remain unappealing and lacking. The cold, windswept asphalt of Backlot has seen barely a single change since 2002, besides the half-hearted redecoration of Disney Blockbuster Café.
Nevertheless with its very first dark ride finally on the way in 2014, in the form of the world-exclusive and by all accounts state-of-the-art Ratatouille Kitchen Calamity! (rumoured working title), the whispers of further change continue to echo around these fictional soundstages. By the end of this decade, as it's twentieth birthday nears, the second park might just be nearing a more complete park…
In the meantime, the park's Cast Members gathered for a souvenir photo.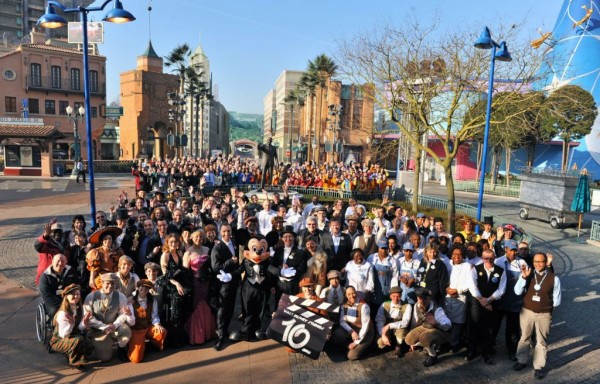 Dix ans — c'est dans la boîte!