We reported last week that, for three weekends in late November and early December, both parks would be opening at 9am rather than 10am, as has been custom since the introduction of those two Extra Magic Hours (EMH) at Disneyland Park.
Better than that, there were hints of those extra hours making their way to Walt Disney Studios Park for the first time. Hints that are now… confirmed! From the official Disneyland Paris website:
NEW
Walt Disney Studios will be exceptionnally opened from 8am to 9am for Extra Magic Hours on November 28th and 29th, and on December 5th, 6th, 12th and 13th, 2009.
So, if you're visiting on those six dates (and qualify for EMH), you'll get to enjoy a world-premiere: one hour of exclusive ride time in the Studios, from 8am to 9am, before other guests.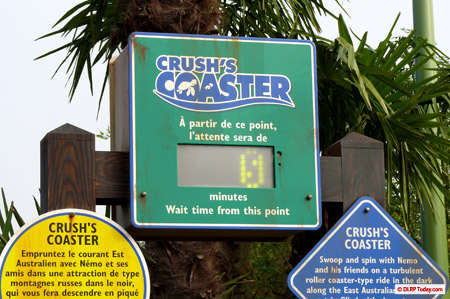 Coming soon to a Studios near us?
The attractions to be opened for the trial haven't been publicly announced anywhere, but it appears generally agreed upon that they'll be the most prominent ride-based favourites: The Twilight Zone Tower of Terror, Rock 'n' Roller Coaster starring Aerosmith, Flying Carpets Over Agrabah and of course, Crush's Coaster.
Riding the EAC may no longer take an hour or more of queueing, but it remains to be seen what effect this has on regular, non-EMH-qualifying guests. Since it became the norm to run straight to Crush as soon as the park opens, how will these regular visitors feel if they arrive only to find the Crush's Coaster queue already populated by more privileged ride fans?
Finally, park hours for the rest of December have now been published. Though they're not as generous as these three weekends, we do see the opening time at Disneyland Park giving way slightly to regular guests — now set at 9.30am, rather than 10am, making EMH a still-respectable hour and half window. This is the first time in almost 10 years we've seen park hours go into half-hours, and the flexibility is very welcome indeed.
• Check the December 2009 park hours
• Find out more about Extra Magic Hours