Another year, another set of sky blue banners? Spot on. For the fourth year running, we're welcomed onto the resort hub — and again and again through Fantasia Gardens and Front Lot — by banners featuring the year's theme logo and the word "Welcome" in a variety of languages: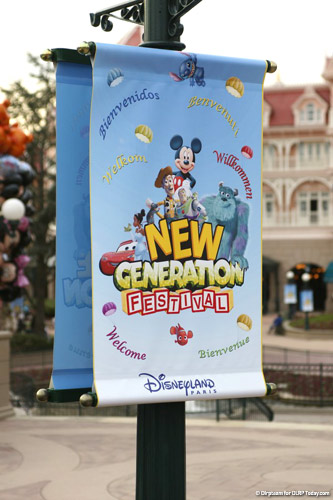 The almost identical in design Mickey's Magical Party banners have been switched out for these new canvas banners on every lamppost in sight, alternating between the French and English logos.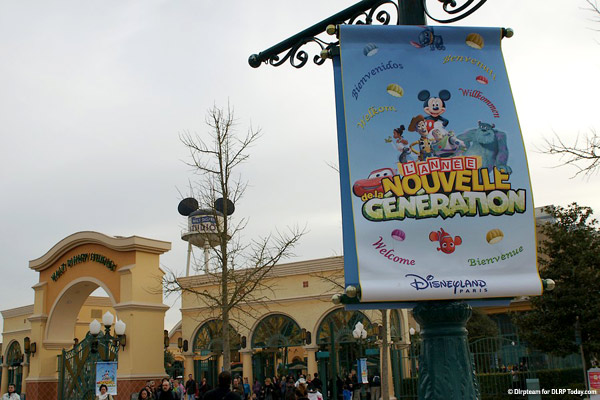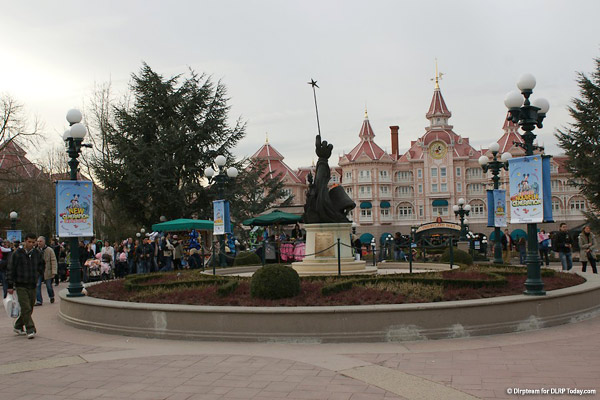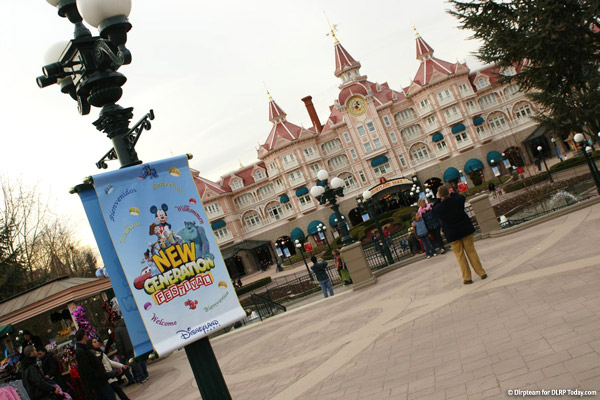 Are these just unoriginal, or is blue just a nice, neutral colour that works for both parks?
Either way, there's one plus for this year's batch of near-identical banners — they're slightly less identical. In Front Lot, there are several designs featuring just the New Generation characters, such as Mike Wazowski, Buzz Lightyear and that ten-year-old alien who won't ever take a break, Stitch.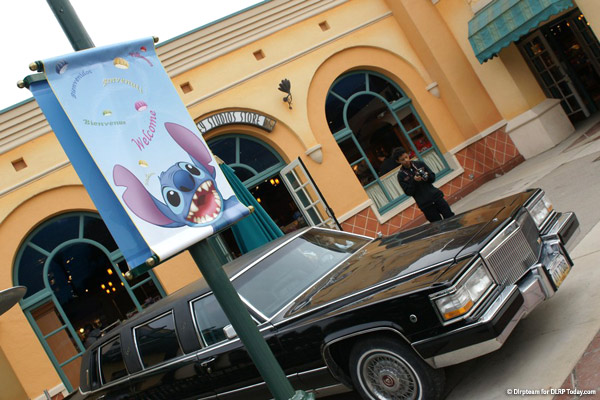 Different designs or not, it's quite an overwhelming invasion…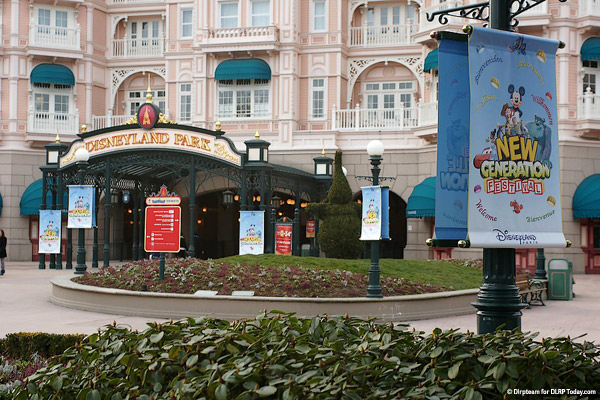 What is this festival called again?!
Back at Front Lot, we're seeing the Walt Disney Studios Store entrance being "toyed" with again, as the first temporary marquee in over a year has appeared to tempt more people inside the boutique. It's the first New Generation Festival store decoration so far, coming just days after the old Magical Party marquee disappeared from The Emporium.
Though the Little Green Men and Stitch are flat 2D designs, Slinky Dog is partially in 3D, his springy body wrapping around the entrance. Inside, you can of course pick up your very own Slinky toy.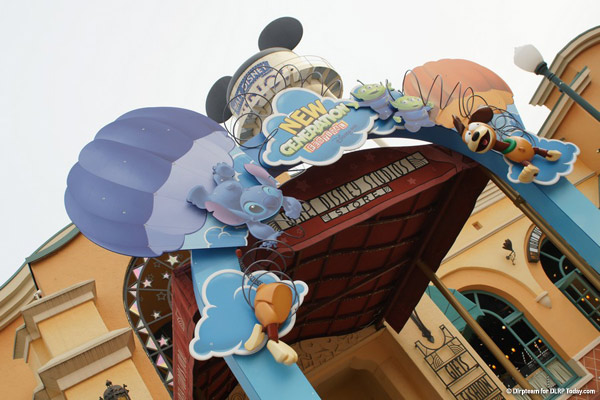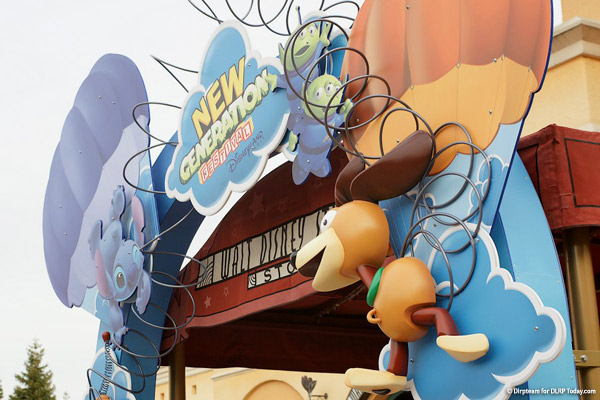 Inside the park, the Monsters Inc. Scream Scene near the entrance of Toon Studio has been closed for several weeks to allow preparations for its starring role in the year ahead. The 'Scream Monitors' signage has been taken away and returned for refurbishment, and the fun yellow floor markings have been completely repainted.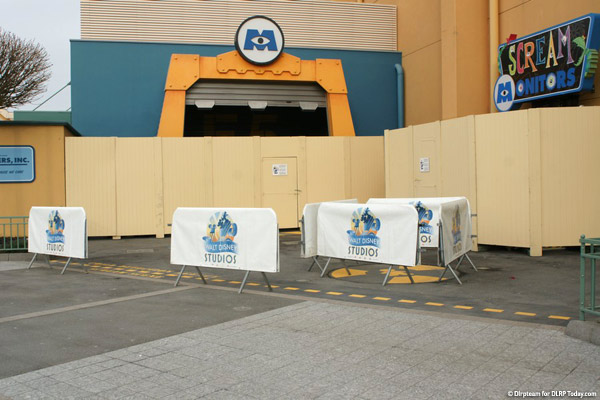 In fact, though the corner is being included in the "new" features for the year, it has been in place for so long (since 2006) that the "Child Detection Agency – Scream Scene" paint had completely worn away.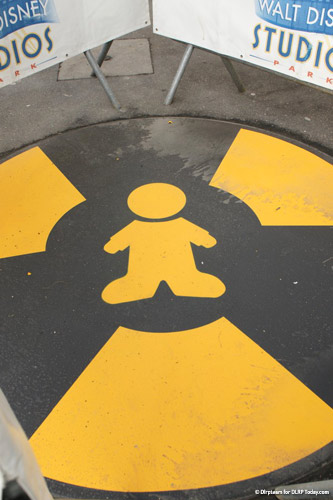 As we reported at the end of January, the 'Monsters Inc. Scream Academy' listed in brochures and press releases was originally meant to be a brand new show that was cancelled just days before auditions. We've since leant that the show, which would have featured a live host inviting guests to dance and scream with the Monsters, was actually set to happen not in this tight corner but on a separate travelling stage, similar to the High School Musical shows.
Though the 'Monsters Inc. Scream Academy' hasn't been removed from advertising, we now have to assume that's the new name for the photo location, the preview videos have been made incredibly vague and all mentions are very careful never to mention the word "new"…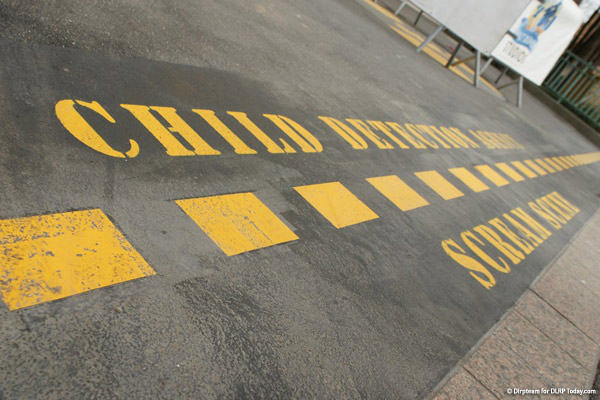 At least with Sully (the only live Monsters character we've seen at Disneyland Paris since 2002), expected to be rejoined by Mike and — for the first time — Boo (dressed up in her Monster disguise) for the Disney Showtime Spectacular over at Disneyland Park, these extra characters could hop over in between to provide something "new" here after all.
Photos by Dlrpteam for DLRP Today.com