Our previous construction update on the Parachute Drop of future Toy Story Playland provoked an unprecedented response. In one corner of the playroom, those apparently disgusted by the appearance of this steel pylon in a Disney theme park. In the other, those who are just pleased to see some new rides finding their way into the Studios.
A couple of weeks later, construction has progressed quite a bit more and our photo reporter Dlrpteam has captured some new angles showing how the tower fits into the existing park.
Stepping out of Disney Studio 1 into our mini Hollywood Boulevard…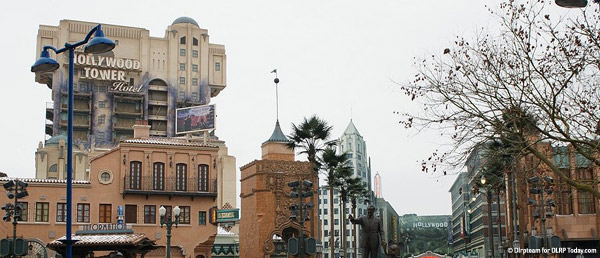 …no Toy Soldiers Parachute Drop here. Even as you continue up the short stretch of street already in place, the façades built in 2007 are thankfully towering enough to completely block out any visual intrusion from a certain structure behind Art of Disney Animation on the right.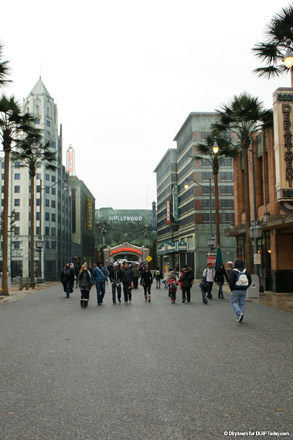 In fact, you only see the camouflage-patterned tower once you reach the junction with 'Vine Street', the route which crosses diagonally in front of The Twilight Zone Tower of Terror. Here it looms large ahead, yet to be joined by the 25-metre orange halfpipe of RC Racer.
Although, at least in the first photo above, the view could be completely hidden simply by adding another piece to the right of that flat cut-out backdrop.
Since the last update, all six of the winch mechanism platforms are now fixed in place atop of the tower, giving it a far more solid look — if not exactly "toy-like" at present.
They're painted in a similar green to the camouflage spots on the tower itself and will hold the cables of each parachute, feeding them down the tower itself into the ride machinery which "bounces" the parachutes up and down. Note also in the other photos here that the steel framework of the Slinky Dog and Toy Soldiers queue buildings have been painted a similar dark green.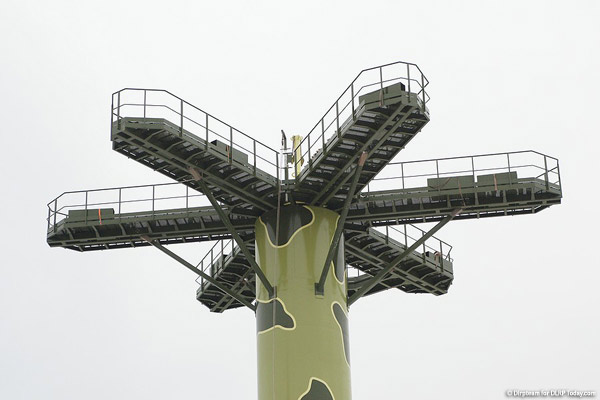 Speaking of those parachutes, WDSfans finally got confirmation of the actual ride capacity, which we've been unsure of for a while. While the main Toy Story Playland concept art showed parachutes with three seats back-to-back (total 6), other concepts and models showed a set-up more alike Jumpin' Jellyfish at Disney's California Adventure, with only 2 seats per parachute. Luckily, that original concept art was accurate — there will be SIX seats per parachute, in rows of three back-to-back, adding up to a grand total of 36 riders per cycle.
This means that with just one (unsightly?) tower, the ride will have a capacity much larger than the 24 riders held by two towers in California, which has to be a good thing. The ride cycle itself will run for exactly 1 minute in Paris, compared with 1 minute 30 seconds for Jumpin' Jellyfish, increasing throughput and further shortening queue times, which had been a big concern for many.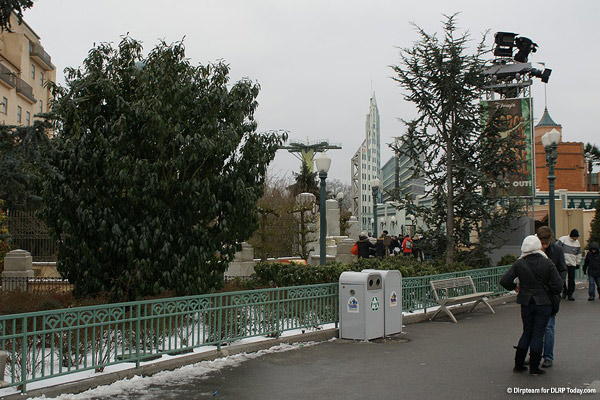 With capacity perhaps not such an issue after all, that (for now) just leaves the looks and height of the tower to be questioned. Whilst the Parachute Drop is quite neatly hidden and almost unnoticable through the thick gardens of Tower of Terror (above and below)…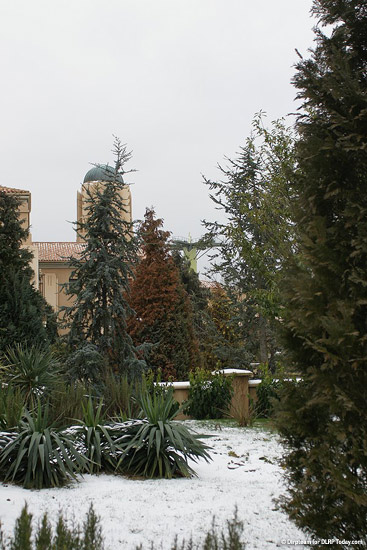 …The least flattering angle looks to be the view from the side of Tower of Terror, across the always-unappealing tarmac of the Studio Tram Tour loading area, as pictured below: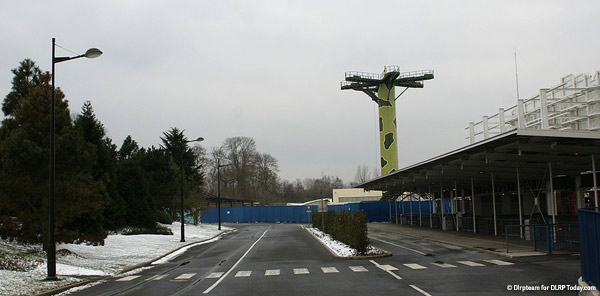 But what about when Hollywood Boulevard finally expands? Of course, that's probably years away, but with a boulevard slicing through here bringing towering new buildings either side, the Parachute Drop would be easily hidden from this angle and many others. Think about it.
Just like the Toy Soldiers, Walt Disney Imagineering surely have their mission all planned out, right?
Pictures by Dlrpteam for DLRP Today.com