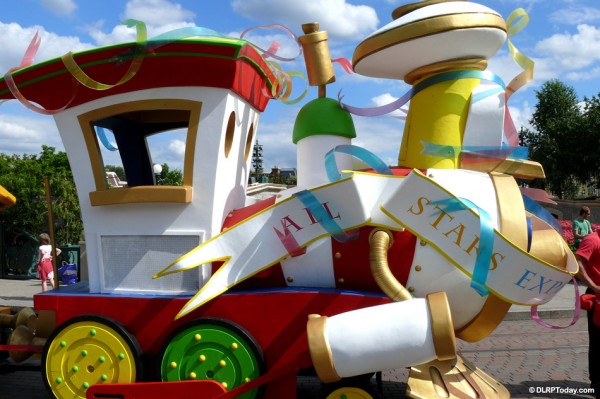 You've only just over two weeks to enjoy the Disney New Generation Festival that began way back on 2nd April 2010 at Disneyland Paris, but if the one draw for you is Disney All Stars Express, better get to the park extra quick. The new park programme published today (PDF) confirms the colourful character train will be departing a little early — it's final roll up Main Street will be this Sunday, 27th February — presumably to allow for its transformation into Disney Dance Express — the, er, "new" event due to begin on 6th April for Disney Magical Moments Festival. In all likelihood, if you've wanted to see this mini character meet 'n' greet parade you'll have done so already. This is now the fourth time we've seen the extended parade float depart for a new look, from its origins as a Wonderful World of Disney Parade float to the Disney Characters' Express, Minnie's Party Train and this current Disney All Stars Express.
However, if rumours are to be believed, Disney Dance Express could be a slightly different event to what we've become accustomed. Music is rumoured to be taken from Walt Disney World's "Move It! Shake It!! Celebrate It!!! Street Party" — not we presume yet another remix of "Tous en train" — and those meet 'n' greet scrums could be a thing of the past as the train turns into more of a moving show stage, with a live host. So, it's "goodbye" but definitely "à bientôt!" again.
In the meantime, the gap left in the timetable will be filled this week by a cavalcade of characters titled "Good Morning, Disney New Generation" at 11.15am, 12.15pm and 1.15pm.