Of a greedy disposition? Still keeping up with your New Year diet? Best skip this one.
The world-renowned, Parisian luxury cakes and pastries brand Ladurée is, surprisingly, a fan of that Mouse out in Marne-la-Vallée. For this Paris institution and tourist must-taste, famed for its "double-decker macaron, fifteen thousand of which are sold every day", has teamed up with –yes– Disneyland Resort Paris.
The very Parisian "Chef pâtissiers" are helping to launch the very American resort's new year-long event, Mickey's Magical Party, by creating… the Mickey macaron.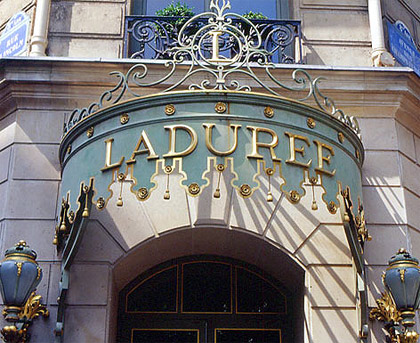 Now, "what's a macaron?", you ask…? Ladurée's creation sees two outer shells — crispy on the outside, soft and chewy like a cookie on the inside — sandwich a thick, rich layer of ganache filling. They come in over 20 varieties — with a new one added each season — and in all the colours of the rainbow.
Disneyland Resort Paris has captured the entire process for us to feast over…
First, a stencil for the base needs to be created. Then, the "pâtissiers" fill it with three circles of thick, raspberry macaron mixture.

Next, the creamy raspberry-flavoured ganache (imagine the inside of a chocolate truffle) is smothered all over the bright red base, with three separate, circular macaron shells added to finish this special creation — one rich chocolate, one vanilla and the largest raspberry.
The creators at Ladurée appear to be rather proud of their special creation — 17 years on, has Disneyland Resort Paris finally become "acceptible" in the mean, disparaging streets of Paris?
If the intoxicating sweetness of the Mickey macaron itself wasn't enough, it comes wrapped in possibly the sweetest gift box ever seen, featuring a child-like Mickey Mouse in black and white above the Ladurée logo.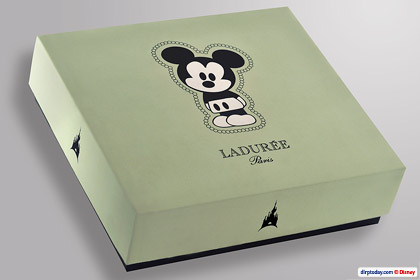 And to taste their final creation, the Mouse himself even travelled into the city to the luxurious flagship pâtisserie of Ladurée…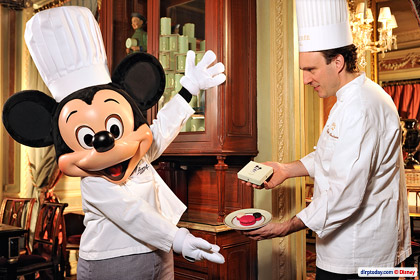 How can you get a taste of the Mickey macaron? It'll be on sale in that cute gift box at Disneyland Resort Paris, in Walt's – An American Restaurant in Main Street, USA and California Grill at Disneyland Hotel for two months from 4th April 2009, costing 12 euros.
Then, for a limited time from 4th to 10th May 2009 (perhaps they're not that keen on promoting the Mouse after all), it'll be on sale in the spectacular Ladurée boutique on the Champs-Elysées itself, setting you back a slightly inflated 14 euros.
Now, get a cloth and wipe that drool from your keyboard, will you?
Pictures © Disney/Ladurée.