We've been used to slightly more interesting cups of coffee in the parks for some time now, since The Coffee Grinder in Main Street, U.S.A. and others began offering a squirt of cream on top of your cup. Rather a long way from the creations of a regular city coffee shop, sure, but the new Café Cafés looks to be taking it another step closer…
Top of the menu for this new semi-covered eatery in the corner of Production Courtyard is the option to "Personnalisez votre café en 3 étapes" — or, as the English translation less eloquently says, "Do your own coffee in 3 steps".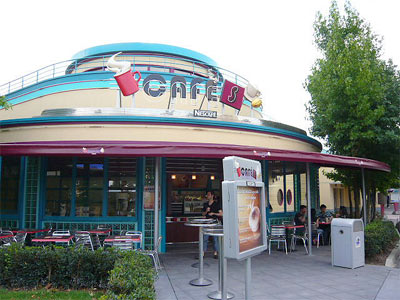 What does that mean? First, (1) you choose your coffee — such as Latte, Cappuccino and others — then, (2) your recipe — add flavoured syrups — finally, (3) your topping — chocolate powder, cinnamon, etc.
After the "themed" smoothies and faux cocktails of Hollywood & Lime at La Terrasse Perrier, the Studios are again trying something new for the parks.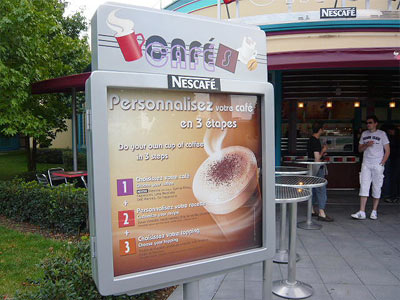 The location also sells sweets such as the standard brownies and cookies, which you can enjoy on seating inside (either side of the counter) or outside. The tables are identical to those at La Terrasse and the new Café Mickey extension, only with new designs on top, whilst the chairs actually appear to be recycled from the original La Terrasse.
Overall, the installation appears to be a great success in turning a dead area of the park and an underused portion of Rendez-Vous des Stars into a busy miniature coffee shop.
[Pictures: Mousy.be's latest photo trip report]