Sometimes these days, you really think you're seeing things at Walt Disney Studios Park. You have to look twice. A 75-minute wait for Flying Carpets Over Agrabah? The billboard finally removed from Disney Studio 1?
Over in Production Courtyard, however, Nescafé's new signage for its 'Café Cafés' …err… café really will make you do a double-take. Installed just last week, it arrived just days after fans were wondering whether the old signage above the location, reading 'Rendez-Vous des Stars Restaurant' would confuse guests into thinking that this small new coffee stand is infact that restaurant.
Problem solved — replaced by Café Cafés!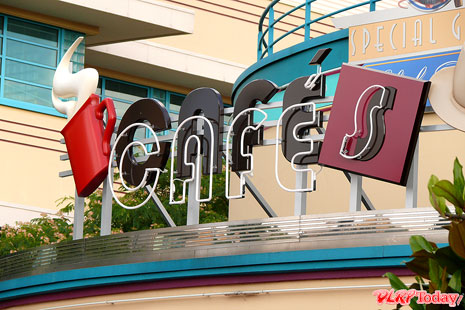 Though the name itself is perhaps somewhat strange for a location that borders so closely on the park's "Hollywood" area — and indeed may become part of it in the future, the signage has clearly been designed with a few quirks of the building's art deco style in mind. The rounded letters, stylised drawings and old-fashioned white supports all lend it a good overall style.
Now, fans may suggest, the 'Chef Rémy' sign for the restaurant next door should be moved or removed to avoid clashing with the new signage below.
Inside the semi-circular area still surrounded by construction fences, countless wires hang from the ceiling and work continues throughout the week. It is as yet unknown whether guests will be able to walk inside this area to order, or what kind of seating — if any — will be provided.
The new refreshments stand is due to open in August, as listed on the latest park guide. The guide also gives an interesting clue about its products. We're used only to small paper cups of Nescafé, perhaps with a squirt of cream on top, around the parks. If this listing is anything to go by, however, Café Cafés will be the first location to sell flavoured coffees.
[Pictures: DLRP Today, Photos Magiques]