Check your calendar, it's not April 1st. Yet DLRP Today can this morning confirm that Mickey Mouse will be given a starring role in Buffalo Bill's Wild West Show.
In fact, this news broke online just yesterday evening, only hours after it was announced to Cast Members and the resort's sales offices. But we can go a little better than that…
Want to *see* Mickey Mouse in his new Western role?
Hold onto your hats and glasses!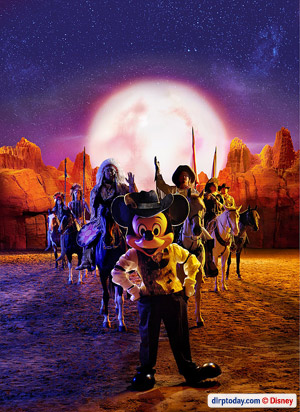 Mickey Mouse stands proudly in the spotlight in these brand new images released today, with Buffalo Bill, Annie Oakley and Sitting Bull behind.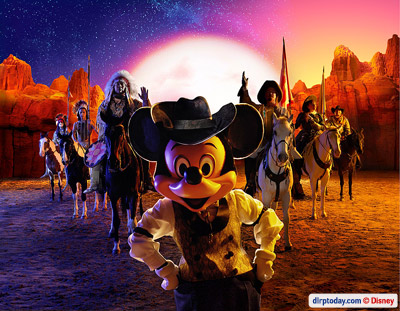 So, will we be seeing "Mickey's Wild West Show" in the not-too-distant future? Absolutely not! This is still Buffalo Bill's classic event, simply reworked with the addition of the Mouse to give the show a wider appeal amongst Disneyland Resort Paris guests and make it more pleasing to families who might otherwise not see much reason to cough up the high dinner price.
OK, sure, this may not come as the best news to those die-hard fans of the resort's Old West experiences — particularly just days after Buffalo Trading Co. next door closed. But, with the show now reaching 17 years old and guest satisfaction levels said to be sliding somewhat, it looks set to be a modest change that will at least allow Buffalo Bill to keep the Wild West Show playing.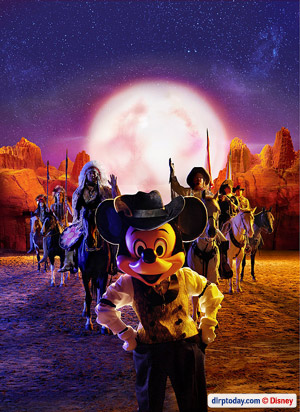 And when can Old West diners expect to see a mouse roll out into the buffalo ring? No date has been set — indeed, no official text of any kind accompanies these images just yet — but the change is said to be happening around the same time that Mickey's Magical Party launches, the weekend of 4th April 2009, which would helpfully allow for a wider relaunch of the show generally.
Then, who knows what we'll get to experience… the West being won by a Mouse?
You saw it here first, folks!
Visuals © Disney.