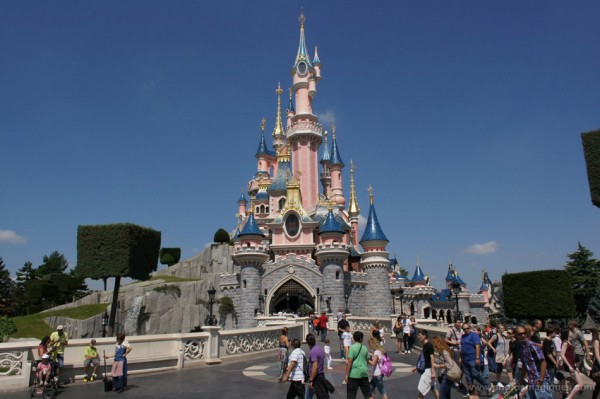 2011 Refurbishments — How do you say "stunning" in French? The restoration of Sleeping Beauty Castle still has a month or so to go yet, but this is already a glorious summer for the Disneyland Park landmark. Having been lifted off to be restored and re-covered in gold leaf backstage, the morning of Tuesday, 12th July saw the first, lower, golden tower spotted back in place with the second following just 24 hours later. For the first time since the refurbishment of 1998 took away their full shimmer in favour of a dull blue gradient, these two unique, slender towers are making Le Château de la Belle au Bois Dormant shine in the Summer sun.
There's been huge progress since our last full update on the project, with all scaffolding around the castle now completely removed just in time for the busy Summer season. That means completion of the moat, castle walls, the walkways to the right of the drawbridge and the two wings which wrap around the Castle Courtyard, connecting onto the two boutiques either side. Even the wishing well and its bridge have reopened, after months of closure. Almost all the rooftops have their new blue palette, meaning the most visible change yet to happen is the rooftop above the main window, still retaining its tired yellow gradient. As shown in the concepts for the restoration, this will eventually match the roof of the tallest tower, returning to its original blue colour, with gold reserved only for the edging.
Another big piece of the project was completed just a week ago, when scaffolding came down from the rear balcony and roof of the Gallerie walkthrough on the mezzanine level within the castle. You can compare the minor changes here with an older photo, but the main difference is simply a much cleaner, fresher appearance with crisp paint colours and a renewed copper-coloured rooftop. Fans of the beautiful stained glass windows and tapestries within will be pleased to know the balcony walkthrough itself has at last re-opened as a result.
At night, as in day, it really pops. It glistens like we're back in 1992 all over again, so striking it makes your heart leap. It's easy to forget how long we waited and wished for this to happen — for the grubby paintwork, patchy towers and faded walls to be brought back to their medieval splendor. The Summer of 2011: when this Sleeping Beauty, the most beautiful Disney castle in the world, woke up.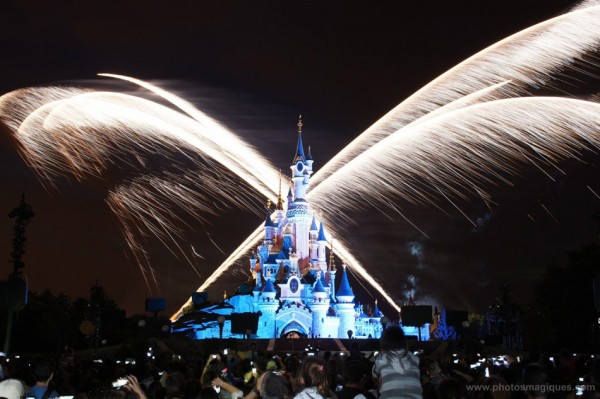 Stupéfiant!