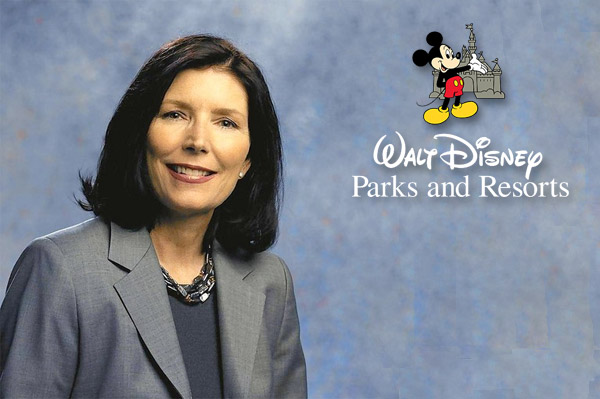 Eighteen months into his role as chairman of Walt Disney Parks and Resorts, Tom Staggs has announced a big reorganisation for the department that appears to bring Disneyland Paris more tightly under Disney's managerial wing. The former President of Worldwide Operations position has been eliminated following the retirement of Al Weiss; in its place a new expanded role for Walt Disney World President Meg Crofton, pictured above, who will now not only oversee the resort and four parks in Florida but serve in a new position as President of Operations in the US and France. Reporting to Meg will be George Kalogridis of Disneyland Resort in Anaheim, California (and previously chief operating officer in Paris) and our own Philippe Gas of Euro Disney SCA, the group which operates Disneyland Paris. Meanwhile, previous Euro Disney CEO Karl Holz will add Disney Vacation Club to his current role overseeing Disney Cruise Line and Adventures by Disney.
In a memo sent on Tuesday Tom Staggs writes,
"Meg's strong leadership abilities and broad experience make her the perfect person to lead resort operations in our established markets in the United States and Europe. Meg will report directly to me and become a member of my executive committee, allowing us to continue the great work of sharing best practices and leveraging our operational expertise across our properties. Meg understands and respects the unique heritage and characteristics of each of our theme park resort locations, which gives me great confidence in her ability to fulfill this role while preserving and enhancing what makes each of our properties so special in their own right."
Whilst crossovers between Disneyland Paris and the American resorts have been noticeably increasing in recent years (the UK even had a joint Paris/Florida TV campaign earlier this year), this appears to be the firmest move yet in bringing their trans-Atlantic management closer. In fact, the Orlando Sentinel reports that it is all part of an initiative known as "One Disney", which has been seeking to merge functions and responsibilities between resorts. What do you think — Is it a good thing for Disneyland Paris to be brought closer to the American resorts? And is Meg the right person to do it?