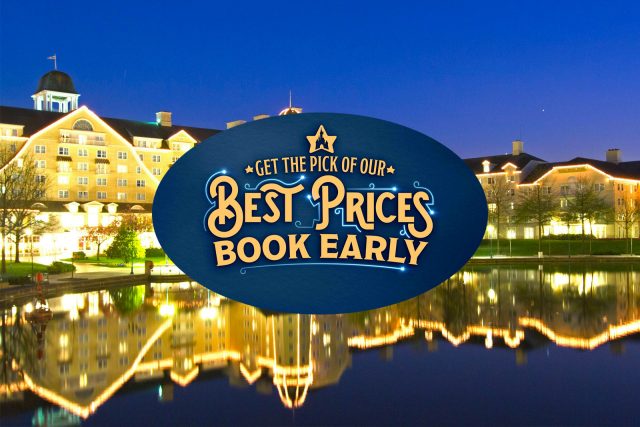 Disneyland Paris has opened bookings for resort hotel and park ticket packages through to summer 2022, right up until 30th September 2022, allowing many to book their planned return to the Disney resort after two years of upheaval.
The release of rooms and rates through the main summer season of 2022 will be a big moment for international guests in particular, many of whom may not have visited since early 2020 or even earlier.
While the Coronavirus pandemic continues to change everything and new COVID-19 requirements including proving vaccination status just for theme park entry, it's to be hoped that the summer of 2022 might see an eventual settling into the new normal: or at least, knowing what to expect from one month to the next.
With hopefully a majority of most local European populations set to be fully vaccinated by then, it should open up freer travel and a stronger feeling of safety for far more potential Disneyland Paris visitors.
So if you've been aching for a dose of Disney magic to look forward to, is it best to secure your return to magic and get a trip booked well ahead now? I'd say so. Next year will hopefully be a boom time for the resort.
Besides the newfound feeling of confidence, 2022 will of course mark the 30th Anniversary of Disneyland Paris. (Where did all that time go?!) Though nothing has been confirmed yet, the occasion will surely be celebrated in grand style just like every previous 5-year anniversary.
A key element will be the opening of Avengers Campus at Walt Disney Studios Park, including its brand new Spider-Man attraction, the re-imagined Rock 'n' Roller Coaster with a new Marvel storyline and the Pym Test Kitchen restaurant themed to Ant Man. The first edition of the land was recently opened at Disney California Adventure park.
No date has yet been set for the Paris opening, which was originally set for 2021 and where it replaces the park's former Backlot land, but it appears on track to complete sometime next year.
At Disneyland Paris, Marvel fans will of course be able to stay at Disney's Hotel New York – The Art of Marvel for a complete super hero experience.
Goodbye, deep discounts; good riddance?
Remember when it seemed like Disneyland Paris was running a constant high percentage discount on all its holiday bookings?
From 15% right up to a staggering 40%, it was not a great way to run a business and gave the impression that room rates were over-priced only to then be discounted as a "deal". Not ideal when you're trying to sell a product as a premium, high quality offering.
One of the biggest changes since the COVID-19 pandemic hit was that the resort almost immediately dropped all such deep discounts. For the past year, it hasn't offered any special offers to the UK market at all.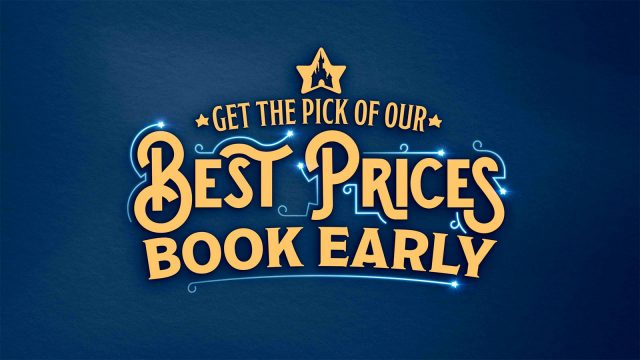 Now, it does have a deal, but with quite a different tactic: Best Price Guaranteed is being offered on "thousands of rooms", meaning that you'll never see a better price for a selected Hotel & Park Ticket package than at that moment, no matter when you search for it.
There's quite a handy online calendar showing when the "best price guaranteed" is valid with a gold star. It seems to vary quite a lot between different combinations of hotels and room nights, which some significant gaps suggesting further discounts could still return, for those dates, at some point.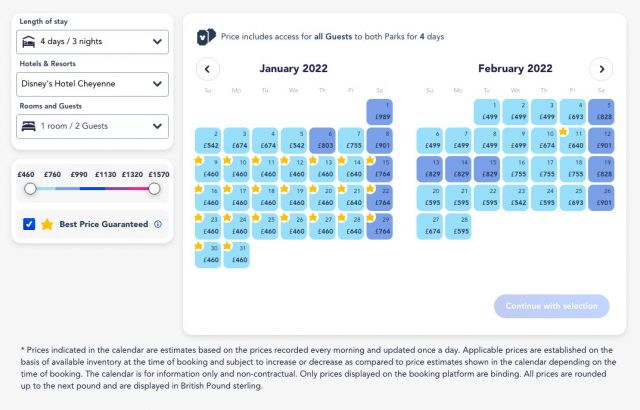 This change no doubt also coincides with the Walt Disney Company assuming full ownership of the resort. Disney is not really in the business of offering high discounts on holidays, preferring at least to add value with freebies.
Does this mean a trip to Disneyland Paris now costs more? It shouldn't, necessarily, and yet almost certainly, yes. Not least because, for many visitors, at least two years will have passed since their last visit, and we all know how prices creep up each year without fail.
Add in to this that the resort's constant "Free for Kids" deal was ended many moons ago, and a recent push for up-charging such as the new Disney Premier Access replacing free Fastpass tickets, and a visit to Disneyland Paris has suddenly become a pricier proposition all-round.
But still, the Best Price Guaranteed and a Price Match Promise feels like a better, more honest way to run the resort's hotels than last minute discounts, which could see your room rate sold off cheap just as you're packing your bags.