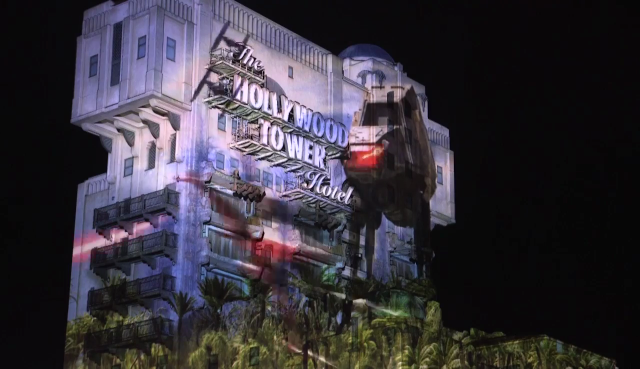 Season of the Force is almost upon us and Disneyland Paris is ready to transmit its Star Wars goodies. A brand new nighttime spectacular, a daytime show featuring all the famous characters and Stormtroopers aplenty — a new behind-the-scenes video gave our first look at it all today.
Principal director Serge Kypriotti leads the video, only available in French but containing more than enough visual Star Wars goodness to please anyone. For the first time, we get to see The Hollywood Tower Hotel used as a spectacular, towering projection surface for Star Wars: A Galactic Celebration, as well as elements of the First Order March featuring The Force Awakens' Captain Phasma.
The new stage in Production Courtyard and its large LED screen are clearly used to great effect, even during A Galactic Celebration. While at times the action on The Twilight Zone Tower of Terror is the main focus, at other points its used as a clever backdrop to "expand" a classic movie scene being played on the LED screen below.
While the show is obviously much lighter on fireworks than the comparable "A Galactic Spectacular" at Disney's Hollywood Studios in Florida, this extra element on on-stage characters, and the taller, more impressive projection surface, could actually give it an edge.
Tying together many classic scenes from the entire Star Wars movie catalogue, the show serves as a real tribute to the franchise. Already here we see scenes featuring Finn, R2D2 and C-3PO, Darth Maul, the Millennium Falcon, TIE fighters, Kylo Ren, the First Order and even the AT-ACT beach battle from the newest Rogue One: A Star Wars Story.
There will clearly be endless Star Wars nuggets for fans to discover, so it's great to hear that the show will apparently be presented twice nightly on busy weekends and holidays. That's an amazing boost for Walt Disney Studios Park, all the while as Disneyland Park continues with its regular nightly Disney Dreams! show.
Though filmed at night to allow rehearsals when the park is closed, the video also features daytime show Star Wars: A Galaxy Far, Far Away, notably with Kylo Ren on stage. This already appears to match closely with the show of the same name in Florida, with similar on-stage flame effects.
Star Wars: Season of the Force officially begins at Disneyland Paris from this Saturday, 14th January, with soft opening previews reportedly from Thursday, 12th. Explore our full guide to learn more here.