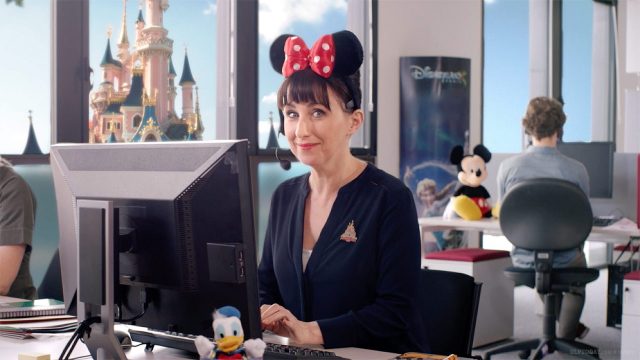 How do you book your Disneyland Paris adventures? For a majority of visitors not au fait with intricacies such as Annual Passports, it might mean going via a travel agent with only limited knowledge of the parks and resort. Now, a tongue-in-cheek new campaign is attempting to draw more limelight onto Disney's own central reservations office.
Created by marketing agency Yes&Pepper, the new package of branding, video and stills for Disneyland Paris Direct focuses on a female Cast Member who road tests everything the resort has to offer, while mostly still wearing her Minnie ears call centre headset.
Our gallant CRO employee is named "Jean" for the UK market, "Noortje" in the Netherlands or "Raquel" in Spain.
She rides The Twilight Zone Tower of Terror and RC Racer, dines at Bistrot Chez Rémy, jumps on a Disney's Newport Bay Club bed and meets Mickey Mouse, before returning to her desk with a slightly improbable view of the castle.
On the official website, the main "contact us" page now features her adventures.
The campaign is fun and light-hearted, giving an important element of personality to the people actually behind the magic, who can help potential customers to visit the resort.
Ultimately, the resort is presumably hoping for an upturn in direct bookings, avoiding losing money to travel agent commission, and also with the in-house knowledge to improve up-selling of packages and options. Every customer who goes "direct" to Disneyland Paris, rather than a travel agent covering numerous other destinations, is probably much more likely to be converted into an actual booking.
The agency described the challenge as "nobody knew they existed":
Disneyland® Paris has its own team of holiday experts called Disneyland® Paris Direct. You can contact them about anything to do with the resort, from booking a stay to reserving a table in a restaurant to having a chat about what rides are right for your children. Research showed that this service had excellent customer reviews. The only problem was nobody knew they existed – most people interested in meeting Mickey would go to an online travel agent. Our challenge was to make people aware of, and get them to book with, Disneyland® Paris Direct.
With a strategy to put across their unique advantages:
Make Disneyland Paris® Direct the undisputed experts on all things to do with Disneyland® Paris.

What stood out from the very first meeting was that the Disneyland® Paris Direct holiday experts are actually based in the Disney® Parks. They pretty much share an office with Mickey, eat their lunches in Disney® Village and most have spent some time working on the rides, in the restaurants or at a Disney® Hotel. A travel agent sat at a desk in Ipswich has nothing on these guys.
Showing the public that it isn't a faceless corporate entity at the end of the phone line will hopefully make the "magic" feel not just "closer than you think", as the campaigns of many years past suggested, but you more approachable than you think, too.