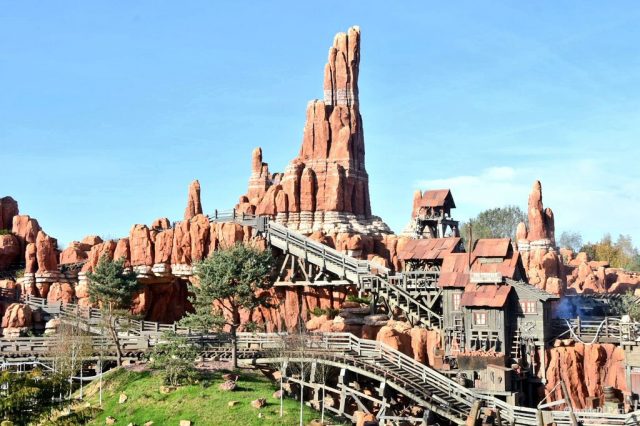 Frontierland has now been without its Big Thunder Mountain centrepiece for over a year, but the major enhancement project just hit a key milestone ahead of its re-opening next month: the Rivers of the Far West are refilling!
The enormous body of water at the heart of the Disneyland Park land started to slowly fill up again this week, with the photo by @InsideDLParis below showing a thunderous torrent pouring out from behind Rustler Roundup Shootin' Gallery.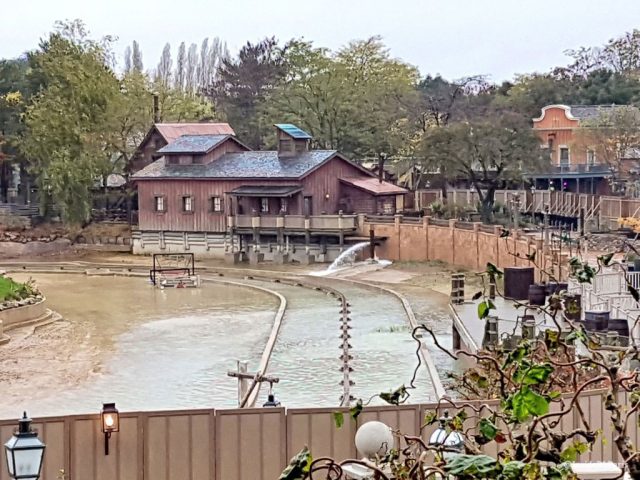 Already one day later, the riverboat tracks are almost underwater and the water is lapping at the shore of Big Thunder's island. Oddly, metal safety fencing still remains in place, now gradually being submerged.
Having closed on 2nd November 2015, the attraction and its surrounding landscape has been undergoing a huge refurbishment project to return its ochre glow and that of its railroad and lineside props.
For more about the project, see the recent in-depth article on the Experience Enhancement Plan.
The key "plussing" of the project will deliver a new special effects scene to the "dynamite" lift hill at the heart of the mountain, first seen at Disneyland in California.
Using projection mapping to simulate fuses racing toward an explosion at the top, it ends with a spectacular smoke cloud powered by big new tanks situated over on the shore near Pocahontas Indian Village.
Numerous other changes have also taken place, notably around the water splash area.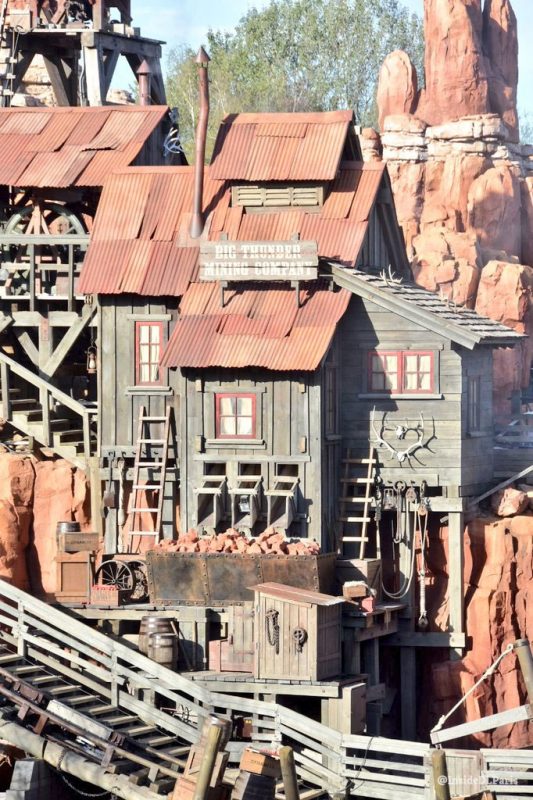 A whole load of new and refreshed props dress the area, including bright red sticks of dynamite to set up the new, more "explosive" storyline.
The excellent collage by @ThunderideBTM below shows the many changes to this spot over the years. Thankfully, the unweildy on-ride photo cameras have been significantly shrunk down during this project.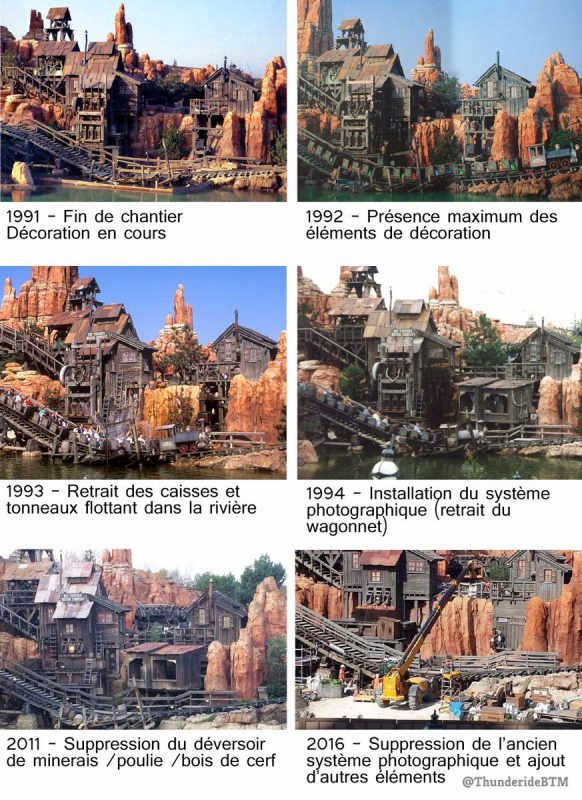 While the rivers are refilling, though, what of Thunder Mesa's other giant water feature?
The long-overlooked geysers behind Boot Hill near Phantom Manor were originally said to receive a full refurbishment and repair themselves, though this wasn't explicitly communicated anywhere to the public.
A video released about the Big Thunder Mountain project appeared to show a worker doing something on the area, at least (1:21).
Until the mid-2000s, this spectacular feature saw giant plumes of water shoot up into the air every few minutes, as "steaming" water poured out from the natural crevices.
This provided a key point of interest on a Thunder Mesa Riverboat Landing ride, which became all too sedate as the geysers became more and more overgrown. Will they finally be back in any kind of working order when the vast landscape re-opens?
There's now only just over four weeks before "the wildest ride in the wilderness" and its environs officially re-open to guests, on Saturday, 17th December 2016.
Photos: @InsideDLParis