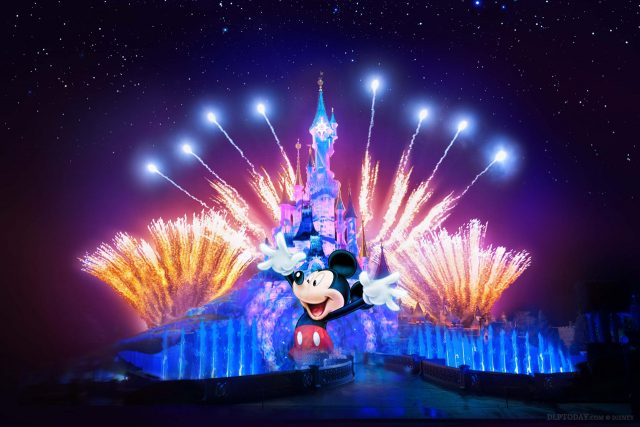 Here's a brand new promotional image depicting Disney Illuminations, the brand new nighttime spectacular which is scheduled to replace Disney Dreams! at Disneyland Paris from 26th March 2017.
And who's the star? M-i-c-k-e-y… Mickey Mouse, of course.
The image has been released this morning to help promote the resort's upcoming special offers for the 2017 season.
It was confirmed in last Monday's press announcement that this "new show, with dazzling lights, projections and breath-taking special effects, will be conducted by Mickey Mouse onto Sleeping Beauty Castle."
The only image accompanying that announcement, and published in the new 25th Anniversary brochure, however, featured Queen Elsa in the show's confirmed Frozen scene.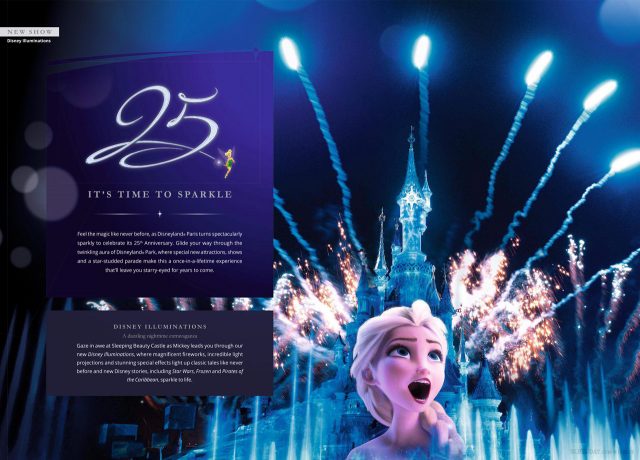 Even the 25th Anniversary video trailer released over the weekend didn't feature the upcoming show's protagonist, instead focusing on its Pirates of the Caribbean movie scene.
Interestingly, Disney Illuminations will mark the very first time Disneyland Paris has seen a nighttime spectacular or fireworks show based around Mickey Mouse.
Though he appears in scenes during Disney Dreams! of Christmas, which is due to return for what will likely be its farewell season this November, the main maestro himself has never been featured so heavily in projections on Sleeping Beauty Castle before.
As discussed in DLP Today's article deconstructing the show, it's expected that Disney Illuminations will share many similarities with Ignite the Dream at Shanghai Disneyland.
In that show introduced just this year, Mickey Mouse effectively plays the role of Peter Pan's shadow in Disney Dreams!, falling through a series of classic Disney musical numbers.
Both these shows share the esteemed Disney nighttime spectacular chief Steve Davison as their creator. There's no information yet who's leading Disney Illuminations for Paris.
• Previously — Disneyland Paris 25th Anniversary announcement: new attractions, shows & parade confirmed
• In-depth — Disneyland Paris 25th Anniversary deconstructed: Disney Illuminations
How trustworthy these promotional images are is debatable, but there's one final thing — notice the "Second Star to the Right" still atop the castle?
We'd discussed what could happen now to the Peter Pan icon, which required the entire top window to be practically reconstructed, but since there's been no attempt to hide it from these new images, perhaps it will find a place in Mickey's new adventure, too?