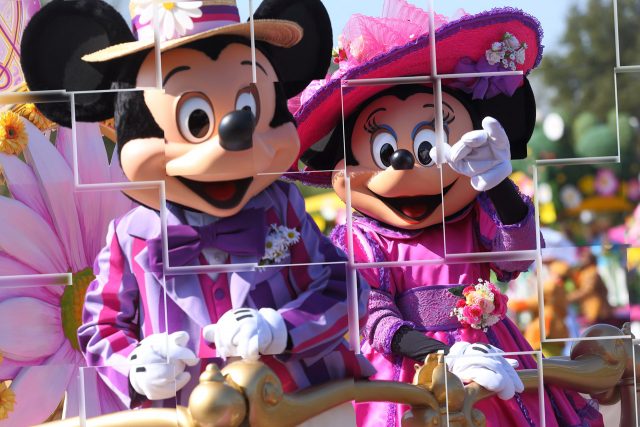 Beyond the main features of the 25th Anniversary, Disneyland Paris also announced two new events to be discussed: Mickey presents "Happy Anniversary Disneyland Paris" and The Starlit Princess Waltz. What can we expect from these, and other park entertainment throughout the next year?
"Cumbersome" might be the best way to describe these show titles. As two new entertainments, they feel awkwardly thrown into the mix of other 25th Anniversary attractions, as if the resort is very much trying to cover its bases. With such a heavy presence of Star Wars in the announcement, these two will likely placate character and princess fans that their "kind" of Disney is still very much alive.
There's so little to go on with Mickey presents "Happy Anniversary Disneyland Paris" that it's difficult to even form any excitement. The press release suggests a "new show", but other sources suggest a "cavalcade".
Could this be performed similar to the popular Disney's Spring Promenade event that took over the whole of Central Plaza at once, circling around to give everyone a view?
Remarkably, there's no sign a certain endlessly-redecorated Casey Jr. parade float in the 25th line-up — please, let's hope this event isn't it in just another new disguise.
The Starlit Princess Waltz sounds very much like the Royal Christmas Wishes show of last year's Christmas season. It shares the same location and even uses a photo of the show for its photoshopped promotional image.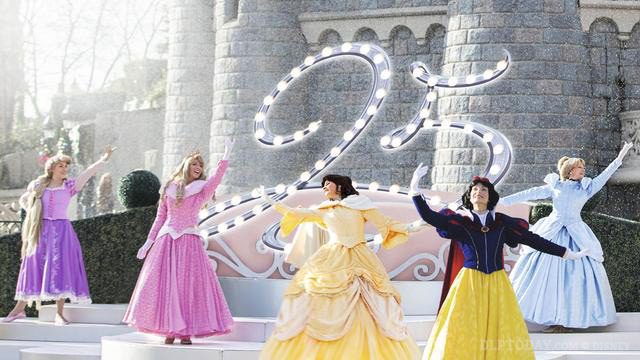 While Royal Castle Stage (Le Théâtre du Château) now hosts these seasonal shows again after years laying empty, it'll be a genuine bonus to see this large open-air expanse come to life all year-round again, particularly through the summer season when it has oddly still laid empty.
Does "Starlit" suggest the show'll happen in the evening or at twilight? It's not clear — the concept image is in daylight, and the translation of the French title "L'Étincelante Valse des Princesses" is actually closer to a "sparkling" princess waltz.
An extra surprise slipped into the Disney Parks Blog post: Mickey's Goodnight Kiss.
Labelled as sealing "a fairytale ending", this sounds very much like the concept tried a few times previously, most recently in summer 2008, when Mickey Mouse would stand atop Main Street Station and wish guests goodnight as they left the park.
It's an incredibly minor enhancement if that's all it is, of course, but it's this kind of little "sparkle" that completes the Disney experience. If Disneyland Paris wants to sit evenly alongside its cousins, this is exactly the kind of added life to the parks we need more of, sealing the renewed sparkle of the resort itself.
There's suggestion that this might see only the resort's second use of "talking Mickey", currently seen at Mickey and the Magician (below).
This particular Mickey Mouse also has the "new face" first introduced for Shanghai Disney Resort and slowly making its way around the world.
Will he make his second Disneyland Paris appearance here, on the Main Street Station balcony? And if so, since this is out on the park rather than on a closed stage, does this mean Mickey will get a consistent new-look across the resort for the 25th Anniversary, too?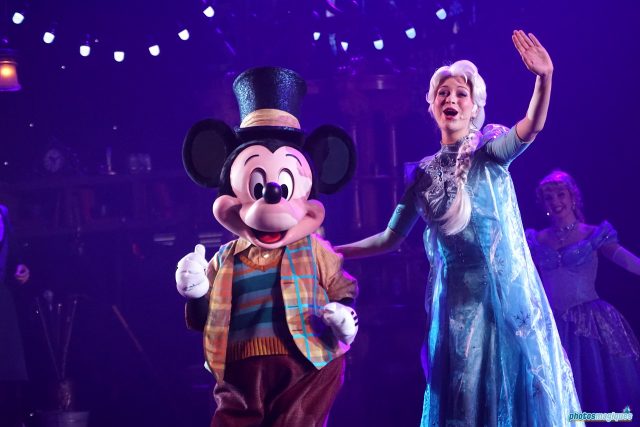 Notably missing from the entertainment schedule is The Chaparral Theater.
Last year it played host to the very well received original show Forest of Enchantment, before slipping back into its snowy Frozen Sing-along guise.
Perhaps the resort simply hasn't decided what it's doing with the theatre next year yet, but hopefully the park's biggest live stage venue will play a part.
Though the spectacular Mickey and the Magician over at Walt Disney Studios Park is finally satisfying the resort's need for a big and Broadway musical stage show, this is actually something which should be an important year-round requirement of each park.
Comparing the two shows, Mickey and the Magician features Beauty and the Beast, Aladdin, The Lion King and Frozen, whereas Forest of Enchantment featured Pocahontas, The Jungle Book, Tarzan, Tangled and Brave. Certainly a convenient lack of duplication, covering all bases between them. Let's hope it returns.
— Update: The Forest of Enchantment will indeed return, if only for a very brief second season, from 1st July to 3rd September 2017.
Certain not to return in 2017, however, is Swing into Spring. Normally running from early March to late May, the season would have clashed with the 25th Anniversary dates and entertainments.
Hopefully it will return again in future years — it seemed to have built quite a strong visitor reputation and was a much better compromise to make the park feel "new" each spring than the non-festivals of years past (Disney Magical Moments Festival anyone?).
Also apparently shunted from the schedule is Frozen Summer Fun. This half-hearted "season" failed to develop further this year from its first 2015 programme, which only featured a "Let it Go" scene in Disney Dreams! and a tiny Frozen Marketplace alongside the Frozen Sing-along stage show.
The new Disney Illuminations nighttime spectacular will have a Frozen scene as standard. Will Frozen Sing-along return to The Chaparral Theater beyond its run this Christmas? If not, what'll happen to the whole Cottonwood Creek Ranch area of Frontierland again?
Though not a new event, Jedi Training Academy will continue into 2017 at Videopolis Theatre in Discoveryland. Perhaps it's surprising Disneyland Paris didn't seek to mention this in its 25th Anniversary releases, to pad out those "two new Star Wars attractions" further, but then the stage event does have a very disappointing schedule in place for next year.
In a late change, a small announced closure in February, right in the middle of Season of the Force, suddenly became a series of long downtime periods through the next twelve months, including a sudden closure this Christmas — terribly poor planning for visitors already booked for this season hoping to experience it.
Jedi Training Academy will now be down from 3rd November 2016 to 11th January 2017, then from 5th May 2017 to 30th June 2017, and then again from 30th September 2017 to an unspecified date. That's not exactly great for "the place where Star Wars lives", is it?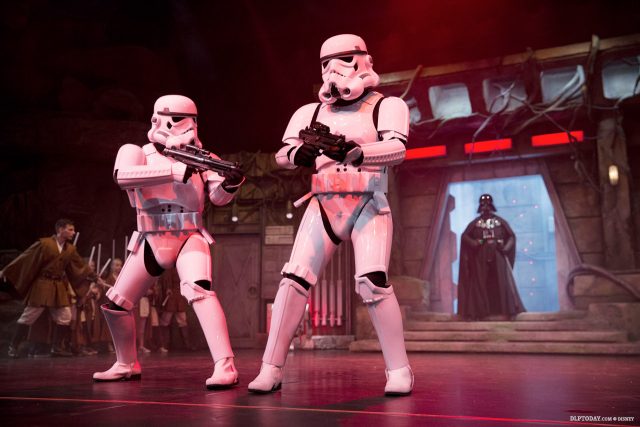 Finally, though we're of course talking about celebrating the original park's birthday, it is the entire resort's 25th Anniversary too, so it's a real disappointment that Walt Disney Studios Park doesn't have anything to show off.
Even during the 15th Anniversary we had the rolling High School Musical shows through the park. The park doesn't even have its own parade, since the demise of Disney's Stars 'n' Cars. Euro Disney group management seem to talk constantly about turning the park into a "full day experience" while still piling almost every single piece of seasonal entertainment into its bigger neighbour.
Even a modest investment would be nice to bring the place to life during the celebrations. Is something like the Red Car Trolley News Boys at Disney California Adventure really so much to ask? It would add massively to the overall park atmosphere.
Continue to: Experience Enhancement Project
New Shows & Park Entertainment