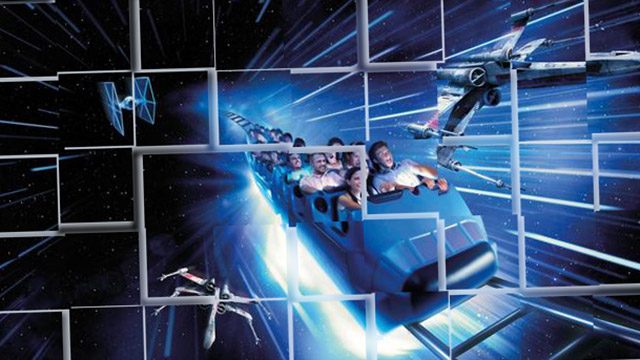 Failing to "flesh out" all the selling points of the new, genuinely "Star Wars" features of Star Tours – The Adventures Continue seems even more of a missed opportunity when we learn that, for real and for definite, our Jules Verne-inspired Space Mountain is basically going to be turned into one big Star Wars selling point itself.
Why wait for the real Star Wars Land when you can create your own from the barely-appropriate bones of a once-great icon?
The decision to apply a Star Wars theme to this landmark 1995 attraction, with its stunning exterior and giant Columbiad Cannon unique to Paris, is so laughable, so heart-sinkingly predictable, that for fans it risks overshadowing all the many hugely positive aspects of the 25th Anniversary on its own.
Sneakily, yesterday's press release didn't even see fit to mention that the attraction was a reworking of the existing Space Mountain: Mission 2, something only mentioned in Catherine Powell's later Disney Parks Blog piece.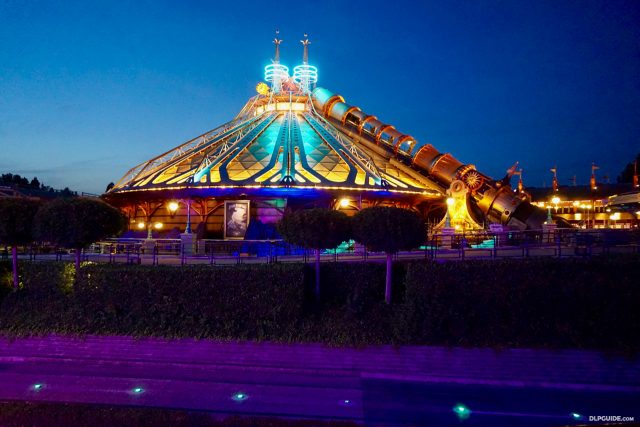 Many more casual visitors were already sharing the news of "two new Star Wars rides". How will they feel when they realise this one's just an ill-fitting overlay? Will they even care?
That's a troubling point: a remarkable number of people seem to genuinely not care that we'll be being fired out of a cannon inspired by Jules Verne's "From the Earth to the Moon" into a Star Wars interior show. They don't care about this storytelling faux-pas, they don't care how inspiring the attraction used to be. They just want something Star Wars, and now.
Can we blame Disneyland Paris for feeding this desire? Can we blame a resort that still needs every eurocent it can get from capitalising on such an international fervour for these films in this way?
Clearly, it was thought that the combined package of a new Star Tours and a Star Wars-splattered Space Mountain was a much stronger proposition than the one attraction on its own. The question now will be, for how long do we have to accept such a desperate brain-warp of an attraction concept?
The best answer would be "until Disneyland Paris can get its own, real Star Wars Land open". Until then, this stop-gap measure allows the resort to "own" the franchise just that little bit more. But when will it have the money to do that? Will we still be looking at a Baltimore Gun Club/Rebel Alliance mashup in ten years? It's not difficult to have a very bad feeling about this.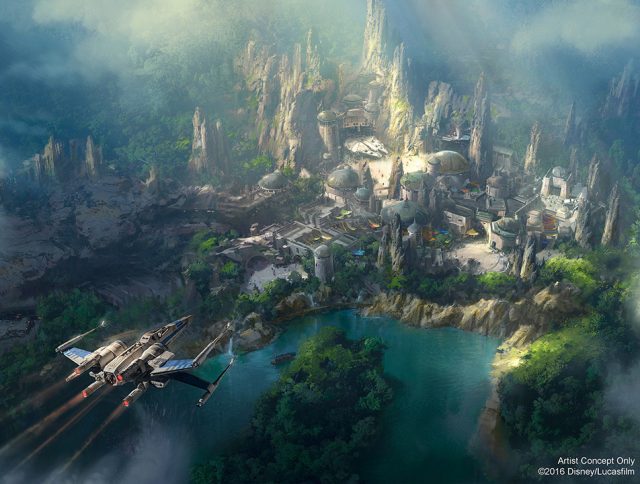 The Star Wars Land we're not getting (yet)
Hyperspace Mountain will return to Disneyland, California in November, having originally been a temporary overlay for that park's own Season of the Force. For Disneyland Paris, things are bit different from the start: there's no end date, no mention of the word "overlay". But so long as the Columbiad Cannon stays around (and it will), this can only ever be considered an "overlay".
A permanent overlay, then? But this raises an interesting point: how "permanent" is anything in Disneyland? The whole idea led by Walt Disney is for a park that constantly changes, evolves and (hopefully) improves. In 25 years, Disneyland Paris has already seen an enormous amount of evolution.
Mission 2 would be called a "permanent" ride too, but only as permanent as 12 years; not long in Disney park attraction lifetimes. Will the "Hyperspace" version live for as long? It's fair to say that even die-hard Star Wars fans will truly hope not.
The worrying thing is how much this kind of repurposing has become a current trend for Disney. Californian fans are currently aghast that their iconic Twilight Zone Tower of Terror at Disney California Adventure is being completely turned over to a Guardians of the Galaxy theme, just as that park's lands were starting to make sense.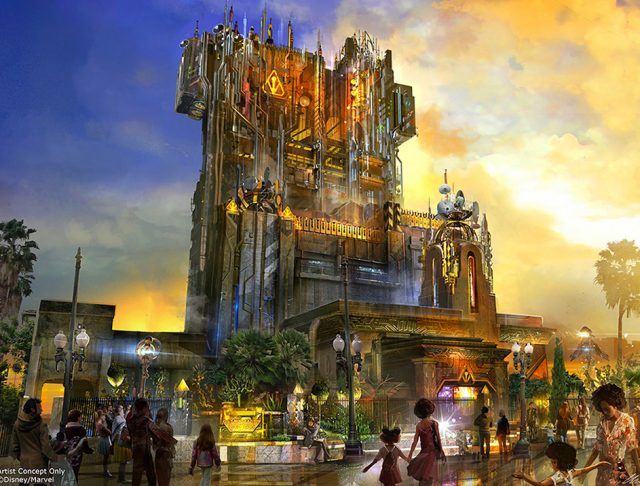 At least we're not getting… (yet)
Even the normally noble Tokyo resort has succumbed, with StormRider in the very Discoveryland-esque Port Discovery land of Tokyo DisneySea now scheduled to become a Finding Nemo-based adventure, complete with colourful undersea mural.
The difference with these, of course, is that even if they're not particularly popular changes in the fan community, they are full-scale transformations. Guests won't be walking through the same hotel lobby to get to "The Collector's fortress".
For Disneyland Paris, the decision sits uncomfortably alongside the labour of love being poured into the rest of the park. Why did they bother to so painstakingly restore the original lustre and vision of Adventure Isle or La Cabane des Robinson, and expect us to care deeply about that, only to make such a nonsensical change here?
Just last year, the first phase of refurbishment at Space Mountain: Mission 2 was celebrated with an event for fans and bloggers, and articles rejoicing in the history of ride. Having yet to hit California, it's likely Hyperspace Mountain wasn't even a consideration back then. What could the second phase of work have done to the ride instead?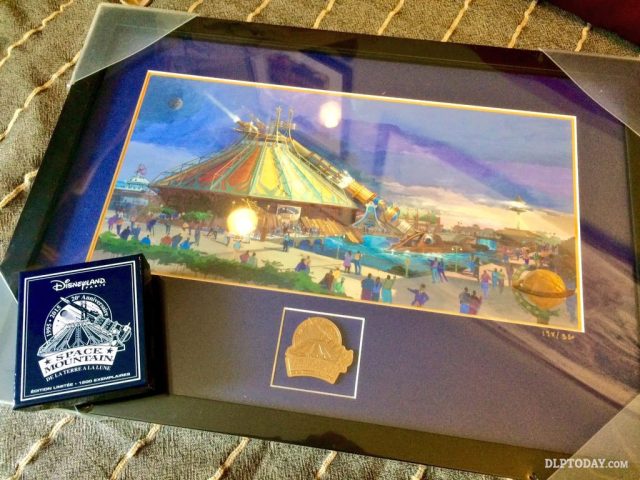 Commemorative 20th Anniversary memorabilia was released, featuring the attraction's original logo. Now that the resort has shown it clearly doesn't care too much about this history or story, why should we invest ourselves again in anything else?
All at once they're now asking us to be excited for a restored, reinvigorated and faithful Big Thunder Mountain at the same time as a hasty Space Mountain money-grab.
Yet, to make a controversial and deliberately reckless, cantankerous suggestion, maybe the Star Wars Hyperspace Mountain we're definitely now getting will actually be a better thing than the equally compromised Space Mountain: Mission 2.
While Star Wars might not make sense, at least it won't just be a poorer, soulless version of the original attraction. If we're going to have an attraction ruined and throw story out the window, hey — let's at least have it boost visitor numbers while doing it!
Hyperspace Mountain in California did get some really rave reviews. OK, it fits in much better over there in what is far more of a blank canvas of an attraction building, but we can at least be sure that the experience, from when we drop down inside the mountain to when we emerge in our now oddly Victorian-era loading station, will be a thrilling one.
Hyperspace Mountain (Disneyland, California)
It should be far more re-ridable too, especially if the promised new coaster trains manage to finally end the ear-bashing brain numbness of the originals; surely the number one reason why this roller coaster has never been just that bit more popular.
How will they explain such a wild transition of themes? Probably very similar to the current storyline, where the Columbiad Cannon as been "re-engineered" to point towards a new destination. We reach the top and get zapped across into "a galaxy far, far away". (Where'll they go next, being fired into Guardians of the Galaxy?)
Installing new trains at the same time as this Star Wars overlay will be interesting for us and more than a little awkward for the park. A concept design (below) showed them pretty much retaining a similar, slight Steampunk look, albeit with a number "3" — that will hopefully now never see reality.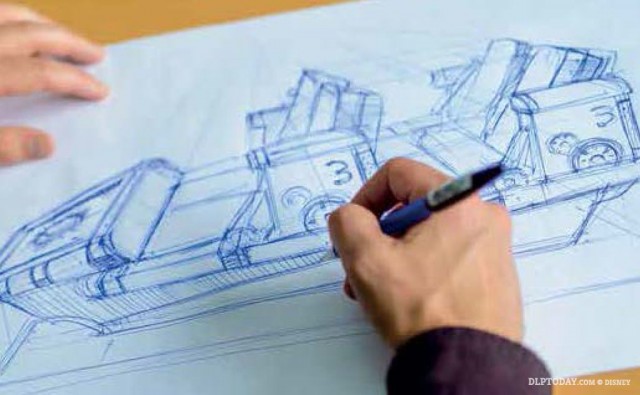 So will we have new, Jules Verne-inspired trains shooting through a new, Star Wars-inspired show, both launching at the same time? Talk about compromised.
Musically, if we're not allowed to hear Steve Bramson's Space Mountain: De la Terre à la Lune theme, exclusively created for the park in 1995 and criminally played out for less than 10 years, then at least John Williams' classic Star Wars march makes for a grander soundtrack than Michael Giacchino's totally misdirected "generic action movie" Mission 2 score.
Though let's be fair: Mission 2 made a few genuine improvements, such as a better, longer launch procedure and some neat projections and effects inside.
But by removing Steve Bramson's epic, stirring original soundtrack and repositioning the ride with an oddly modernised storyline and feel, all the soul and atmosphere of Space Mountain: De la Terre à la Lune was lost.
Even the sumptuous background area loop, including music from The Rocketeer, Krull, Christopher Columbus: The Discovery and John Williams' own Always (all conveniently lesser-known films that just happen to have beautiful scores), was simply and unceremoniously switched off.
It never mattered that the attraction was based on an 1865 novel rather than a blockbuster film. An important aspect of Disney parks is that they create their own stories and worlds; experiences that aren't bound within the over-familiar narratives of films we know like the back of our hands.
This allows the leeway and the narrative space for our own minds and imaginations to fill in the gap… answering why Big Thunder Mountain is out of control, why the bride haunts Phantom Manor or why The Hollywood Tower Hotel was abandoned.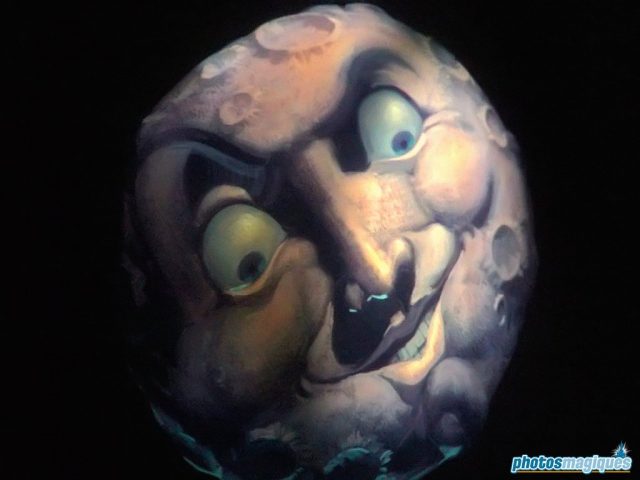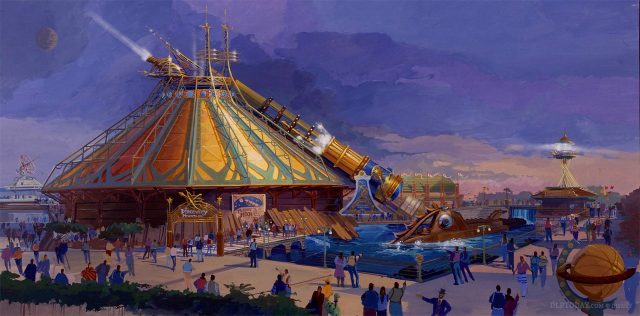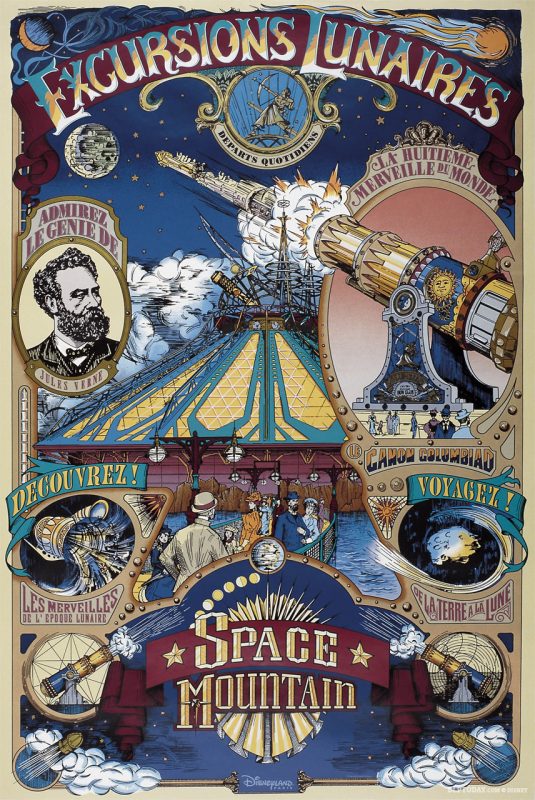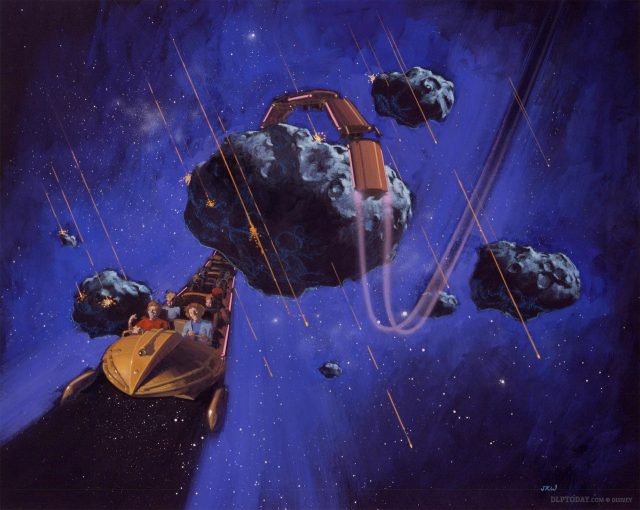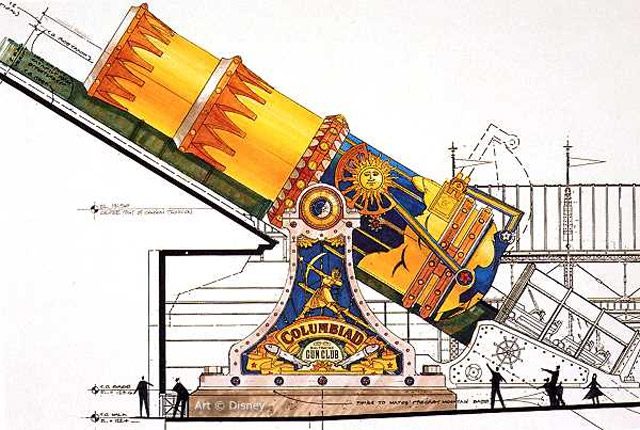 Space Mountain: De la Terre à la Lune
In Disney Parks, from the background music to the design of the paving tiles, things are done for a reason, to fit together. It's this cohesion which gives you that harmonious feeling that, briefly, everything is right in the universe.
Here, as long as the queue line may stretch, things are about to feel even more wrong.
Even as we may romanticise about Space Mountain: De la Terre à la Lune, though, it has to be admitted that even this experience, as it was built, wasn't quite perfect.
Besides the bumpy trains, the story wasn't quite fully realised and the pre-show comprised only an oddly modern warning video. Much of the deep desire to "bring back the moon" stems from an imagination of what Disney could achieve with the ride's solid foundations, if they put to use more modern effects and extra details to tell the story.
When the current ride sees its final launches to the "edge of the universe" on 8th January, we can at least be sure Mission 2 has run its course. It would be thoroughly odd to return to this weak "sequel" after what is bound to be a popular Hyperspace show.
At the same time, Star Wars Hyperspace Mountain will start to feel more out-of-place as time goes on and the initial excitement dies down. As an attraction, unlike Mission 2 which could have run and run, it will surely have a finite lifespan, even if we don't yet know how long that'll be.
So perhaps, this means a return to the moon — and that epic soundtrack, and coherent, timeless storyline — could now be one step closer… at the very same time as being one step further away (far, far away?).