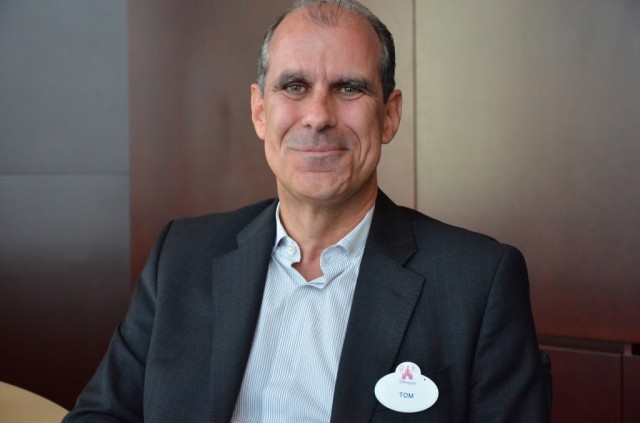 CEO, president, head honcho — however you say it, Disneyland Paris has a new guy in charge as of yesterday, 15th September 2014. Tom Wolber has begun his role as Président of Euro Disney S.A.S., with outgoing chief Philippe Gas heading for Shanghai Disney Resort as its first General Manager, a sure sign of Disney's satisfaction with his tenure here.
Tom is in fact making a return to Paris, having been a part of the Grand Opening team in 1992. Since then, he has held leadership positions at Disney Cruise Line, Disney Vacation Club and Walt Disney World Resort in Florida, most recently overseeing Orlando's 28 resort hotels and transportation network. Tom is German and speaks 4 languages: French, Dutch, English and German.
It may be notable that Euro Disney badges Wolber as having overseen a number of expansion projections including the Disney Dream and Disney Fantasy cruise ships and the masterplan for Disney Springs, the revitalisation of Florida's Downtown Disney. He arrives in Paris at a time of fevered rumour for expansion and revitalisation of our own resort, including attractions such as Star Tours 2, expansion of Walt Disney Studios Park and continued growth of Disney Village.
Departing president Philippe Gas will without doubt be remembered as one of the resort's most successful and charismatic CEOs. Arriving in September 2008 just as the global economic downturn bit and 15th Anniversary expansions such as The Twilight Zone Tower of Terror dried up, he took on a resort that was still all too often unreliable and erratic in the level of "Disney quality" it provided.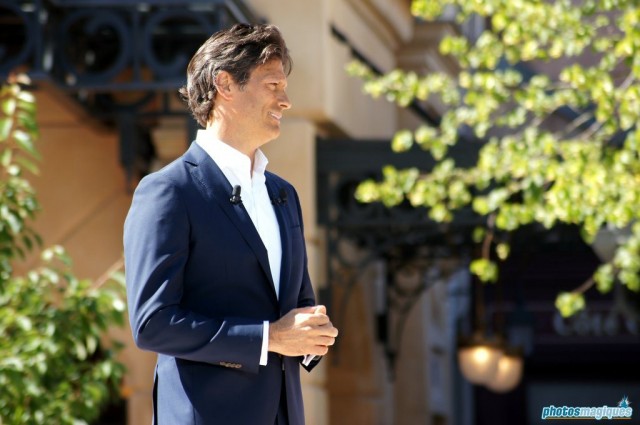 Six years later, the list of good decisions is so long as to be impossible to collate and attribute, but it certainly began in April 2009 with the renaming of Disneyland Resort Paris back to a strong and simple Disneyland Paris. The opening of the three lower-spec Toy Story Playland attractions in 2010 may have divided opinion, and gone almost unnoticed to the public, but this summer's grand Ratatouille: The Adventure unveiling proved a pivotal point for the resort and its second gate, expertly led from planning to construction to opening. Meanwhile, the 20th Anniversary of 2012 provided a landmark with Disney Dreams! — both its stunning quality and the adjoining extension of Disneyland Park operating hours continuing to equalise Paris with its international cousins.
Two new websites, new apps, new technology such as PhotoPass+ and the rollout of free wi-fi leaves plenty left to achieve, but huge ground gained. Better understanding of and communication with the fan community has been an icing on the cake, including better merchandise such as The Art of Disney on Demand and more one-off events like the 50th Anniversary of "it's a small world".
An enormous campaign of "cleaning the decks" with endless and huge refurbishment in almost every corner of the resort has coincided with a quiet plotting of future courses — the Villages Nature, Disney's own hotel expansion, Disney Village improvements and plenty rumoured for the parks. The horizon feels ever bigger, if not any closer.
What's needed now from a new president is to actually, at last, see those plans through. Countless times, grand visions have been drawn up for Disneyland Paris and its parks only to fall by the wayside. If Philippe Gas' reign was about steadying the waters and getting the ship up to standard, let's hope Tom Wolber can finally let this resort set sail.
Bring us that horizon, Tom.
• Press release 15/09/2014: Tom Wolber to assume leadership at Euro Disney (PDF)
• Press release 1/08/2014: Philippe Gas named General Manager of Shanghai Disney Resort, Tom Wolber, from Walt Disney World Resort, replacing him at Euro Disney (PDF)
Below: Official corporate video introducing Tom Wolber