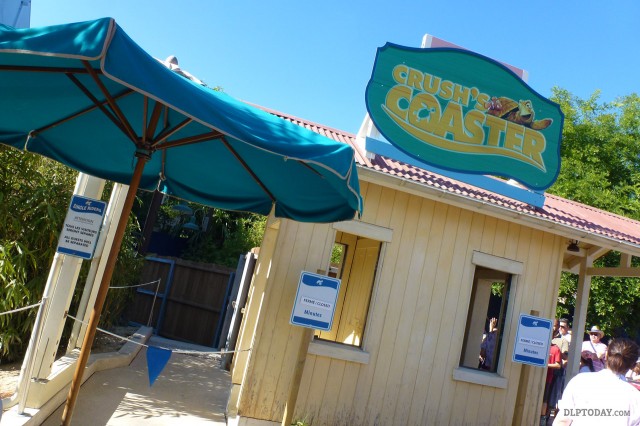 If you've visited Disneyland Paris (and you probably have, right?), then the queue for Crush's Coaster won't need any introduction. Not just its perpetual length and duration at any hour of the day and on any day of the year, but it's slightly soul-crushing lack of Disney magic or ingenuity in dealing with the low capacity of this popular roller coaster.
How can an organisation like Disney, which perfected the Fastpass (proved unworkable here), not do something to improve the waiting experience? So, they did: Crush's Coaster – The Game, an interactive smartphone game that can now be accessed via a dedicated wi-fi network within the queue area of the Toon Studio attraction.
Simply connect to "DLRPCRUSH" and the game should start right away in your browser. Using a fairly familiar format, the game sees you moving turtle Crush left and right with your finger to avoid obstacles such as rocks and jellyfish while collecting starfish. The wi-fi network can't be used to access any other websites or services.
The game is the latest initiative in a small package of improvements at the attraction following a general refurbishment earlier in the year. In June, a new entrance booth and extended permanent queue line was unveiled (pictured top).
Incorporating a new Single Rider queue, arguably the best idea of them all, the entrance was however opened in an unfinished state and remains unfinished to this date.
Though the flat "temporary signage" (a Disneyland Paris tradition in 2014) has now been replaced with a 3D relief version and some pendant lamps added under the canopies, the wooden cabin is still lacking details such as the lamps hanging from its marquee and the window shutters, not to mention essential elements such as the electronic wait time signs, all pictured in the concept art.
• Previously — Crush's Coaster introduces new entrance, improved queue and Single Rider line
A better investment were the series of three small billboards, pictured by @dlp_photos below, advertising fictional Finding Nemo-inspired businesses and causes with fun stylised illustrations of the characters — including a first appearance of Dory at the attraction.
Without doubt this kind of physical scenery and detail, albeit simple, trumps a smartphone game any day. How many people will bother to even connect to that network? How many people are really interested in playing a fairly rudimentary game? And isn't it slightly ridiculous for a theme park to invite paying guests to turn to their own smartphones to pass the time, in lieu of anything physical to keep them entertained?
No doubt, while physical scenery and a well thought-out, atmospheric pre-show area can last forever, this game will rapidly become a forgotten anachronism as phone technology and visitor tastes evolve. At this rate, probably before the entrance booth is finished.