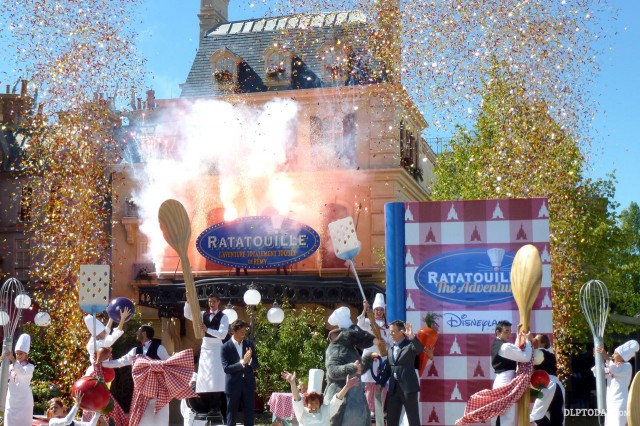 On Saturday 21st June 2014, Ratatouille: L'Aventure Totalement Toquée de Rémy became the latest E ticket entry in 60 years of Disney attraction history as Bob Iger himself, CEO of The Walt Disney Company, officially dedicated the new ride and La Place de Rémy.
DLP Today had the privilege of being there to experience the ceremonies first-hand and now, as Disneyland Paris prepares to open the area to the public this Thursday 10th July, we take you there. In pictures, video and lots of words in between, this is our complete retelling of the grand opening of Ratatouille: The Adventure at Walt Disney Studios Park.
Saturday 21st June 2014, 10:00am
It was all a bit of a blur. Six years of rumours, plans, construction and waiting (lots of waiting) had led to this. Walt Disney Studios Park was about to inaugurate its very first dark ride. Not a complete fix to all its problems, but a saving grace. A wholly unique, family E ticket experience that might at least, at long last, allow the park to sit less awkwardly on the same shelf as its ten cousins around the world. The final months and weeks of construction seemed to have flown by. Suddenly, it was ready to open. And there we were, in the queue for RC Racer.
With La Place de Rémy still cordoned off for preparations until 10:30am, a quick morning wake-up on the incongruous orange halfpipe seemed like a good way to pass the time. Given an incredibly limited number of places, our group for the day of just three fan sites was chosen to broadly cover the UK, France and rest of the world.
But as RC slowly cycled through load after load, we inched only painfully closer to Ratatouille beyond. To stop the perpetual screams interrupting the all-important ceremony, the queue closed behind us. Approaching 10:30, we had visions of being catapulted into the air, looking to the left and seeing the ceremony already underway. The official video peppered with faint cries of "Bob!" – "Bob!" – "Bob!" each time we swung into the air.
Because this wasn't just any ceremony. It was a Bob Iger ceremony. In Disneyland Paris.
News of the chief executive officer's participation had only filtered through the night before, kept hushed and uncertain until the moment he appeared on stage. It's impossible to know exact reasons, but easy to speculate why the Disney boss, he who spectacularly brought Pixar, Marvel and now Star Wars into the company, made his presence at the resort known. The Walt Disney company taking over 1.33 billion euros of Euro Disney SCA's longstanding debt in 2012 will be high on the list. Now Disney itself holds that debt, the only way they're going to fill that hole is to make this resort finally work. Now, they care.
And a development like La Place de Rémy is certainly the way to show it. Financed largely by a(nother) loan from The Walt Disney Company, walking into the area for the first time is a moment of pure delight. Through the giant blue Barrel of Monkeys tunnel at the back of Toy Story Playland, we just made it — the RC Racer wind still in our hair. From an empty lane in 2010 to a concrete construction site to a stunning, warm, colourful Parisian square, it's a classic Imagineering "architecture of reassurance" that feels more completely "Disney" than almost anything built in Marne-la-Vallée since 1992.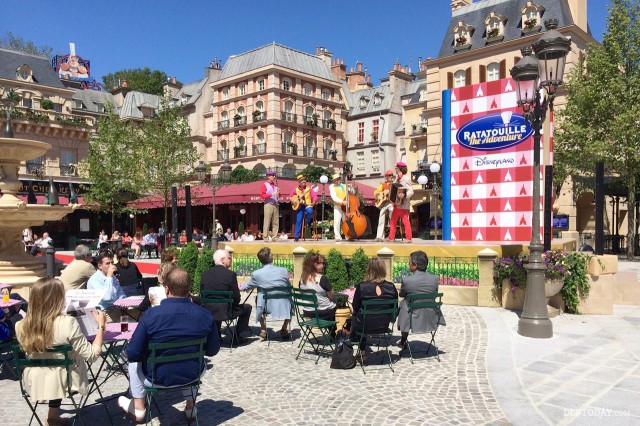 The blue skies certainly helped that feeling, perhaps a first for a Disneyland Paris press event, and extra place-settings for grand opening day made the area feel truly alive.
Beneath the towering Gusteau's billboard, red carpets led from Bistrot Chez Rémy and the attraction entrance to a temporary stage adorned with a giant "Ratatouille: The Adventure" cookery book. Tables and chairs with red gingham tablecloths filled the square, occupied by "extras" sipping colourful cold drinks. Amongst them, particularly next to the fountain, a host of key figures from across the Disney spectrum including creative executive Tom Fitzgerald and the Disneyland Paris Ambassadors, Jonathan and Antonella.
One particularly nice touch was a newspaper vendor handing out copies of "Le Journal", announcing the inauguration of Bistrot Chez Rémy.
A lively, suitably accordion-heavy live band played on stage as we found a spot to record the events unfolding, passing by more recognisable Disney faces such as Parks and Resorts chairman Tom Staggs and Disneyland Paris music director Vasile Sirli. The "real" press got the use of a press platform built into the back of the square, with all the technical teams stationed inside the Barrel of Monkeys tunnel. By Disney standards, this was actually a fairly small affair: all too often, events like this are almost automatically held on Central Plaza. As such a glorious backdrop, it was welcome to see La Place de Rémy — and more so, something inside the resort's second gate — taking centre stage for a change.
Before you knew it, the announcements rung out and the ceremony was underway.
Complete video: Ratatouille: The Adventure Grand Opening Ceremony
"Ladies and gentlemen, boys and girls, we are proud to welcome the chairman of Walt Disney Parks and Resorts, Tom Staggs, and the chairman of Disneyland Paris, Philippe Gas."
The suited suits took to the stage, walking the red carpet from Bistrot Chez Rémy, and Staggs spoke first in a mandatory attempt at the French language.
"Bonjour et bienvenue," the Parks and Resorts chief said, escaping the pitfalls of American Disney executives past. "Merci à tous d'être ici. C'est une grande plaisir pour moi d'être avec vous pour l'inauguration de Ratatouille Totalement Toquée de Rémy."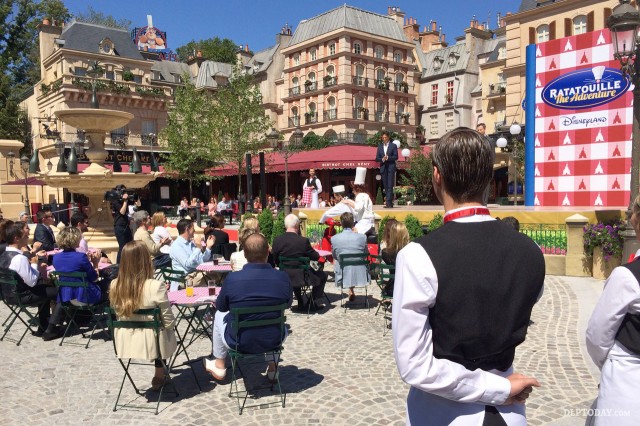 "You know, that wasn't bad Philippe!" concluded Tom to an applause from the audience, though Philippe jokingly rebutted his offer of continuing in French. "We're excited to dedicate La Place de Rémy," Staggs announced, as he pointed out the three pillars of the new area. "A restaurant, a shop, and the anchor of our land – an amazing attraction all based on the Academy Award winning film Ratatouille. The attraction takes us on an adventure from the rooftops of Paris through Gusteau's restaurant on ride vehicles that seem to have a mind of their own as they scurry through Gusteau's kitchen and dining room and ultimately deliver us in time for dinner as Bistrot Chez Rémy."
"La Place de Rémy celebrates one of the film's biggest stars, Paris – the culture, the architecture and of course the cuisine, and that's in keeping with Disney's long history in France. Walt Disney himself was inspired by stories from legendary French authors that became the basis for some of his made beloved films including Cinderella and Sleeping Beauty."
To a slightly rehearsed though not undeserved applause, Tom proposed "Philippe and I especially want to thank the many Cast Members and Imagineers, in Paris and around the world, who led their unique talents and expertise to this project. I think you'll agree they did a wonderful job."
"So you know, Philippe, all this talk of food has me a little bit hungry. Do you think we could get ourselves a table?"
There was Linguini's cue. The bumbling, red-headed "garbage boy" who saved Rémy — and who was saved by the little chef — burst into his first ever Disney park appearance on the back of a red moped racing around the square. Sadly, his appearances on this grand opening date were also to be his last, as there are no plans for a return. Though certainly a little camped-up from the Alfredo Linguini we remember in the film, his look was spot on (right down to the red sneakers) and mannerisms comically well-observed, particularly the way he awkwardly held one arm across his body.
A flurry of inexplicable giant utensils and vegetables saw the table prepared on stage, leaving Tom and Philippe to conclude they now only needed a chef – and the chairman of The Walt Disney Company. And so, casually side by side with Rémy, Bob Iger walked to the stage to complete the dedication.
"Bonjour mesdames et messieurs. It is wonderful to be here in this beautiful day in Paris, in this beautiful theme park," Iger began, not letting a second pass before clearly adding "…Disneyland Paris". "And I am extremely excited to show you what we have just built. One of the things that our company does best is to create great characters and great worlds, and then when we bring those worlds to life in physical form for our theme parks our guest enjoy them immensely and they are memories that we create that last a lifetime. I am really thrilled to be here because I want to share this great attraction with you. Last night we all had an opportunity to have dinner at our new restaurant and to ride the attraction, and it is fabulous – so we should get on with the show so you all get a chance to experience it."
Amongst the giant utensils, a pair of scissors was passed to the front and a giant gingham red ribbon bow was positioned before the dignitaries. A drumroll sounded, cameras rose into the air from every corner of La Place de Rémy and Bob Iger announced: "It is now my pleasure to officially dedicate the Ratatouille adventure – congratulations."
Fireworks exploded from the marquee of the attraction, sparkling confetti rained down, the stage performers danced as best you can with giant utensils and the Studios' long-awaited second fountain burst to life with a popping of champagne corks. A few minutes of rare photo opportunities followed, and then the land — and the attraction — were open to guests.
Walking around the square, every corner had some special kind of life breathed into it. An ice cream seller with an old-fashioned Parisian cart was scooping out free delights, a vibrant flower girl with ditzy hair handed out colourful blooms to passers-by, a mime artist roamed around the square causing mischief, a characaturist was positioned next to a miniature Parisian street art fair, a silhouette artist cut guests' silhouette from paper.
Live bands filled the area with music and some special "citizens of Paris" (former stars of the much-missed Ciné Folies Studio 1 shows!) danced in luminescent polka-dot dresses, with ambassador Jonathan gamely joining the fun.
With so much going on all around, we were seemingly one of the few groups to actually consider a ride on the attraction itself, Ratatouille: L'Aventure Totalement Toquée de Rémy.
Six years of waiting? Twelve if you count the years since the park opened for a family ride of this calibre. The verdict: all Totalement worth it.
An odd quirk was that, just after 4:00pm, there was a second opening ceremony for the benefit of a different set of cameras and mostly French press.
This time without Bob Iger, it saw Philippe Gas and Tom Staggs conduct basically the same dedication with Rémy and Linguini themselves doing the honours. The Ratatouille car from Disney's Stars 'n' Cars made an appearance where it was missing in the earlier ceremony, while the Parisian street guests took seats at the same tables and even the newspaper vendor reappeared!
Into the evening, as we tried to let it sink in that this mythical E ticket is at last a genuine reality, finished and ready to open to the public, the park stayed open until midnight with a "Ratatouille Summer Party" on La Place de Rémy.
While most soaked up the usual DJ and live musicians, we waited for the sun to set over this new corner of Walt Disney Studios Park, our first chance to capture it on camera coming to life with lights at twilight, as all the best Disney theme park creations do.
Bonus video: La Place de Rémy during the Ratatouille Summer Party
Bonus video: Toy Soldiers Parachute Drop during the Ratatouille Summer Party
Would this soirée mark a new dawn for Walt Disney Studios Park? Was there greater significance to Bob Iger's visit? Will it expand with more unique, top-quality attractions? Will there ever be a plan to bring the rest of the park up to this standard? Or will La Place de Rémy just be another piecemeal, well-imagined but dislocated themed corner of the park?
As Gusteau said… "Ah, but that is no match for wishful thinking. If you focus on what you left behind, you will never be able to see what lies ahead. Now go up and look around!"

• Photos Magiques — 40+ photos from the Grand Opening Ceremony
• Relive the whole Grand Opening weekend through our live reports
• More Ratatouille: The Adventure Grand Opening coverage
• Explore the new area with our original Ratatouille: The Adventure videos
• Look back through six years of Ratatouille dark ride news & rumours
• Subscribe to our YouTube channel for the latest Ratatouille videos