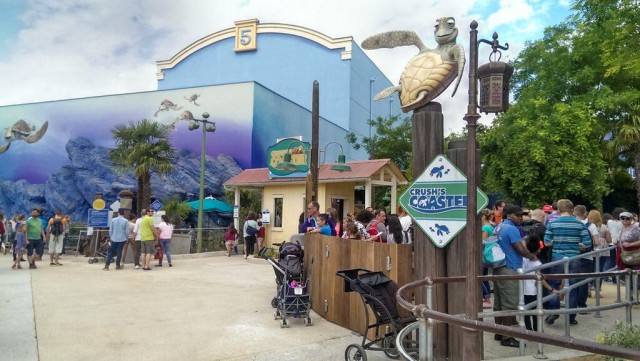 Streuth, it only took seven years after the attraction opened, this month back in 2007, but Crush's Coaster has finally seen some major queue and entrance improvements to alleviate its problematic over-popularity. As reported previously, the main improvement is the introduction of a permanent Single Rider line, but there's a more fitting new entrance building, too.
The whole entrance marquee has now been set back slightly, allowing more room for guest circulation in front. Designed as a wooden harbour-side shack like that you might see for a boat tour, with terracotta roof, peeling paintwork and rusted nails, the new kiosk and its improved queue lines came into use just this morning, captured by InsideDLParis.
Thankfully, InsideDLParis also reminds us that most of this isn't the final signage. Concept art leaked by DisneylandBerry, below, shows how the final marquee logo, electronic wait time indicators and other signs (hopefully window shutters too) will soon give this development more of the expected Disney quality.
It has no doubt been unveiled early due to the upcoming previews of Ratatouille: The Adventure beginning this week.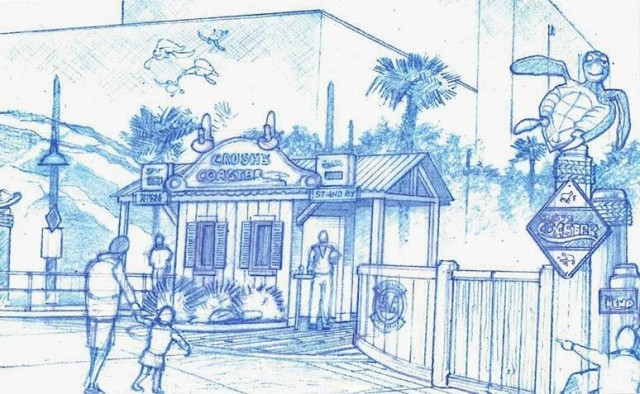 The original Crush's Coaster signage, Crush figurine and spinning turtle shell all remain.
Perhaps it was planned, but it was always an oddity that the attraction had such a nondescript entrance, especially opposite the elaborate Radiator Springs façades of Cars Quatre Roues Rallye. At busy times, the narrow path was frequently blocked by guests bunching in front.
For the queue line itself, the "improvements" are modest, that is to say: disappointing.
A first phase was completed when the attraction re-opened from refurbishment in April, when the iconic blue rockwork was also repainted for the first time, basically squeezing more turnbacks and barriers into the existing space at the side of Studio 5.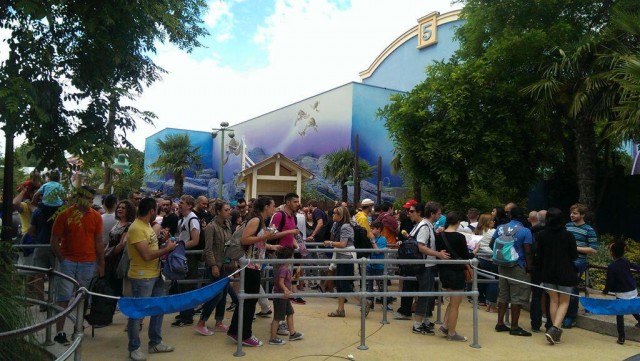 The second phase, opened today, makes permanent the barriers next to Flying Carpets Over Agrabah with steel railings and a wooden fence around the perimeter. It's certainly far less than ideal and does nothing to address how unattractive and, ultimately, boring the queue experience is; perhaps the worst in Toon Studio.
A saviour, then, could be the new Single Rider line. Leading from the left-hand kiosk entrance, this deposits you nicely on the left-hand side of the loading platform.
It remains to be seen what impact this will have on actual loading times, as Cast Members now have to both load groups and fill gaps with the turtle shells still moving. But it could suddenly put a ride through the East Australian Current back on the agenda for many fans, visitors and "dudes", who have long not seen it worth enduring the crushing queues.
With Finding Nemo to be followed by Finding Dory in 2016, perhaps the next task should be to finally find a cameo for a missing Pacific regal blue tang…
PHOTOS BY @InsideDLParis, CONCEPT VIA DisneylandBerry