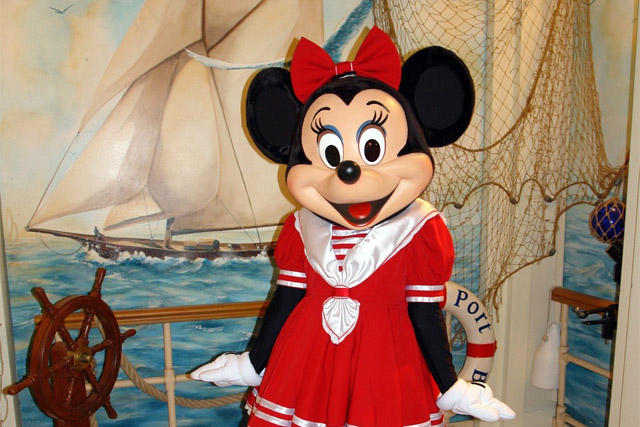 Here's a double Disney Character update with both good and possibly not-so-good news, depending on your view. First, the unconfirmed rumour that from November 2014 character meet 'n' greet locations will be removed from Disney Hotels.
This information seems to have first appeared in a tweet by @DisneyCharPhot on 10th November, then reiterated without a date by @DisneyMoi the next day, followed by a more precise date of 3rd November by @DLRPWonders just a minute later.
Rumour has it that as from early November characters will no longer visit the hotellobbies at DLP pic.twitter.com/MPDOQBE37i
— Disneycharacter Phot (@DisneyCharPhot) February 10, 2014
Starting sometime this year, characters will no longer be appearing at the Disney Hotels at #DisneylandParis!
— Disney-Me (@DisneyMoi) February 11, 2014
Starting November 3th 2014, characters will no longer be appearing at the Disney Hotels at Disneyland Paris!
— DLRP Wonders (@DLRPWonders) February 11, 2014
Obviously we must still treat this as a rumour, since Disneyland Paris has made no comment, but given the number of supporting claims and the fact that the Entertainment department is usually about as watertight as a pair of Captain Hook's tights when it comes to revealing information, it's quite hard to dismiss.
Note that the rumours state character dining such as the popular Inventions buffet at Disneyland Hotel would continue, and that it is only the character locations in the open lobby areas of each Disney Hotel which would not longer be used.
Why would Disneyland Paris do such a thing? Isn't being able to meet Mickey in your hotel lobby a real benefit of staying in those hotels? First, it might not be common knowledge that Disneyland Paris is something of an anomaly with having Disney characters in its hotels. Other Disney resorts around the world are more reserved: characters only appear at their hotels, if at all, in restaurants and dining events, with the only similar exception we can find being California's Disneyland Hotel, which advertises occasional characters in the lobby.
There's another side to the story that's more surprising, though, as apparently it has become a genuine issue that some non-paying visitors and locals walk through the resort and around its hotels, meeting the characters without paying a cent. With that in mind, it's probably a good decision to reserve the characters to places where only paying guests can meet them.
The story might have a silver lining, too, as Poppy the Monkey on magicforum suggests character numbers will simply be displaced from the hotels to Disneyland Park Extra Magic Hours:
"Hotel Guests are not going to lose out too much, ALL the Characters you could of met in your hotel will now be ready to welcome you exclusively in the Disneyland Park during the Extra Magic Hours.  So instead of just having 2 or 3 Characters to meet in your lobby in the morning, you will most likely be able to meet alot more throughout the park – imagine all the Characters usually hanging out at the 6 hotels (Disneyland Hotel will not be affected) will now converge on the park to prepare for the day, before all the regular Guests even arrive."
— Poppy the Monkey, magicforum
And it's in the parks that we find our really good news.
Since the start of this year, the Entertainment department has been trialling organised queues for characters. No more pushing, shoving or mobbing: guests are simply organised into a proper line and asked to wait their turn. And it appears to be working.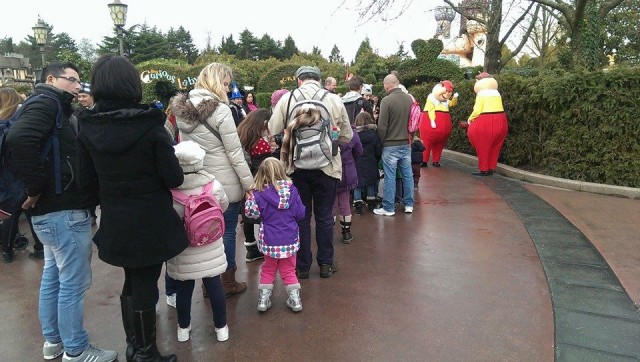 Just this morning, @DisneylandPfans captured a queue of visitors waiting patiently to meet Goofy on Main Street, PixieDust.be reported it working well in their latest update, while InsideDLParis has shared snaps (above) of numerous working queues since this initiative began in early January.
It's fair to say that if you skimmed any number of Disneyland Paris reviews, especially those comparing with other resorts, the disorderly character appearances would always be consistently mentioned. Could it finally be a thing of the past?
This is without doubt one of the most welcome recent developments for the parks. And such a minor change: an extra character minder here, a polite "please join the queue!" there. If only park managers could continue through the whole experience of being in the parks with the same fine tooth comb and fix a few other similar niggles for us…