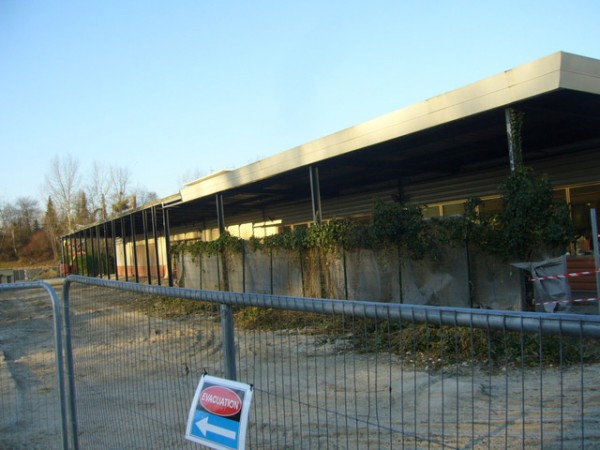 Hard to believe now that, just a month ago, all was quiet on the Ratatouille dark ride construction site as Disneyland Paris awaited the necessary funding. Then, on 10th January, it came: a €150m package from The Walt Disney Company, and this long-awaited Toon Studio addition was finally go! Just 10 days later the site was cleared of all its remaining trees, and now more movement to ensure Rémy is ready to go vertical in the next few months. It's surprising how much room you need to make for a rat.
An unsurprising move is the removal of the awning along the side of the "Imaginations" Cast Member building, caught in this series of photos by Disney Central Plaza's Mouetto. This was where, from 2002 to early 2009, our studio trams would drive up alongside the building allowing us to get a glimpse inside at the "real working costuming studio". Reflecting the ethos of the original park this, of course, was not a real film studio costuming workshop but that for the entertainment Cast Members of the resort itself. Now perhaps symbolically, as the park stumbles towards a redefined identity, it is falling to make way for our new Pixar hero.
Elsewhere, changes are more unexpected. Given the effort Walt Disney Imagineering went to providing a ready-and-waiting Parisian street next to Toy Story Playland, and that they had already moved the Studio Tram Tour route for that very expansion, you might be surprised that the road is in the process of moving again. While the 2009 re-route gave plenty of room for the Ratatouille showbuilding, this new road, pushed ever further back, will allow construction vehicles easier access to the site.
A mysterious stone foundation could be seen disappearing into the trees in our previous update. Now the road looks laid and almost ready to open. The attraction is scheduled to re-open as soon as this Saturday. And yet still, the Dinotopia "set" remains…
Mouetto has also shared photos of the vacant corner in front of the Costuming building, where it is expected the attraction's associated toilets will be built. And, from the elevated viewpoint of Toy Soldiers Parachute Drop, another element of the original Tram Tour already (or, at last) taken away to Euro Souvenirland: the green Pearl Harbor aircraft hangar.
The fact that much-needed toilets could be built here without eating into the operational Costuming workshop might add meat to the rumour that the attraction's gift shop, rumoured to go into this existing building, won't be ready at opening. Nevertheless, all this side of the hastily-christened "Studio 4" is still to be hidden, somehow, behind a new series of Parisian façades.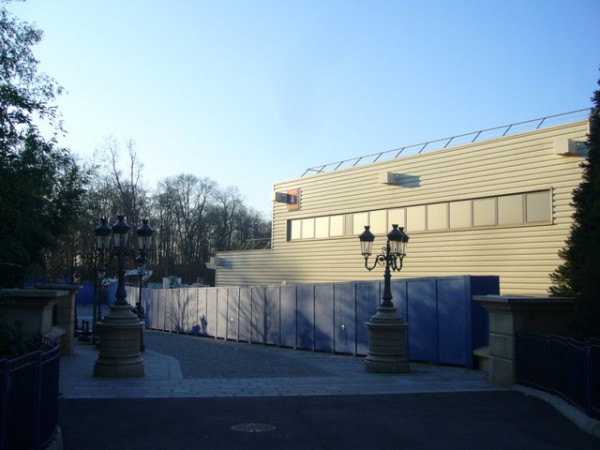 Soon we'll all be able to feel a little less guilty about visiting Paris without actually visiting Paris…