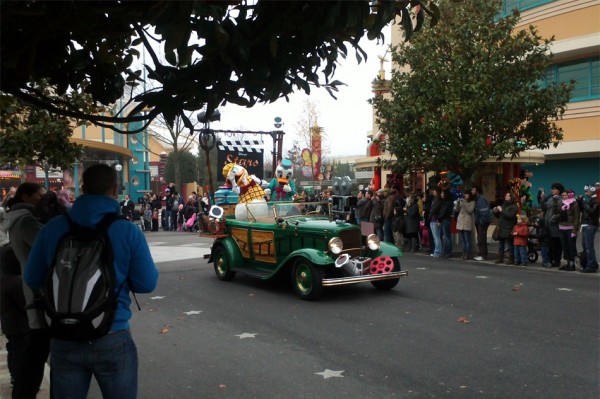 They're going the wrong way! It seems like the set-up for a classic something-goes-wrong Disney attraction, but the diversion of Disney's Stars 'n' Cars at Walt Disney Studios Park you see above is actually entirely planned. Since May this year, in fact, the plan has been for the part-parade, part-show event to become a simple linear cavalcade, passing on its original Production Number show stop at Place des Stars. From Friday, the "logistical issues" which had delayed the change were finally overcome when Donald and Daisy led the parade down Rue George Méliès toward Backlot for the very first time.
Disney's Stars 'n' Cars now follows the park's original parade route, entering in Toon Studio between Flying Carpets Over Agrabah and Animagique, passing past Disney Bros. Plaza and exiting between Rock 'n' Roller Coaster starring Aerosmith and Disney Blockbuster Café, without stopping. This is the first time the whole parade route has been used since Disney Cinema Parade ended its run way back in March 2008. Though guests no longer get to see the fun 10-minute musical production starring the cast of characters and their drivers, running the parade right through the park immediately allows almost twice as many people to catch a front-row glimpse of the stars.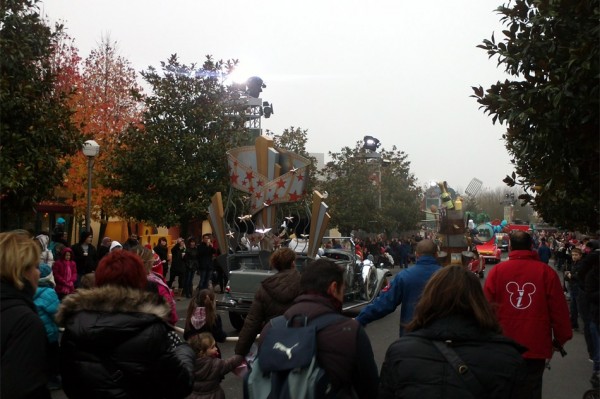 We noted at the event's arrival in 2009 how the small, low-level Place des Stars stage wasn't really suitable for a "main event" like this, allowing so few people to get a good view, which must had led to many poor guest experiences. The only downside of this extended parade run is that the twelve cars appear exactly as before, only with Donald and Daisy taking the lead while Mickey and Minnie provide the finale behind 2010's added Ratatouille car. Without any dancers or action in-between the vehicles, or a stage show to provide a raison-d'être, does the cavalcade stand up as a parade on its own?