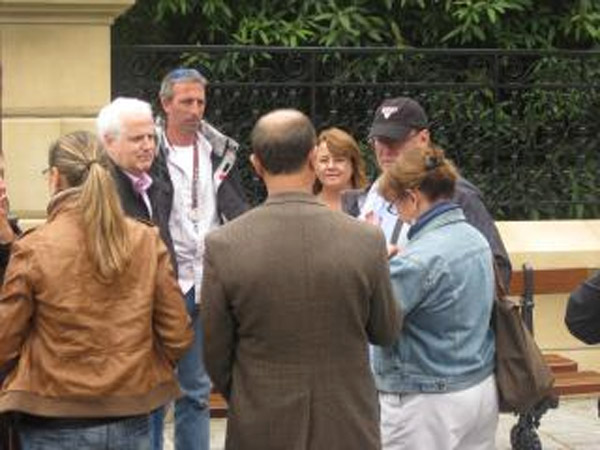 We might have expected to see John Lasseter in Disneyland Paris this month, with Cars 2 opening across Europe. After all, he's dropped by the Parisian resort several times in recent years since becoming Principal Creative Advisor for Walt Disney Imagineering. But yesterday, the Pixar creative chief wasn't just spotted anywhere in the parks — he was spied on the new Ratatouille road, alongside Toy Story Playland, site of that proposed dark ride. Mr. Freddy of Disney Central Plaza provides the proof, above, showing that John didn't just stumble into the area by accident, like most people passing through the Playland. He's joined either side by Tom Fitzgerald, Executive Vice President and Senior Creative Executive, and Chrissie Allen, Senior Show Producer, both of whom were present on the opening day of Toy Story Playland and have been key figures in the development of Walt Disney Studios Park.
From above, new activity can even be seen on the construction site behind the Costuming building. The huge trees in the centre of the site will at some point be removed, to be replaced by greenery in a more fitting scale around the Parisian façades.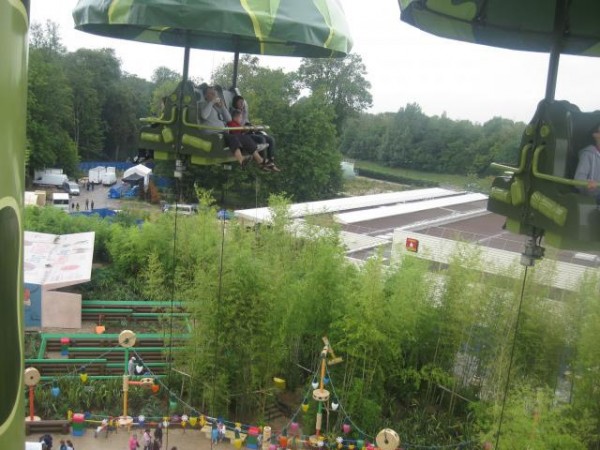 So, are we looking good for go? Just last weekend, (unconfirmed) word began spreading that funding for the ride had finally been secured. As far as Imagineering and the resort's management are concerned, the ride seems to have been green-lit for quite some time but as with all major projects, Euro Disney SCA has to agree funding with investors. Back in May, highly detailed concepts were found at the local town planning office in Chessy. The latest is that construction should start this year and take 18 months, with interior elements (such as props, décor) possibly even already being built!
Let's hope John has a suitably cheesy Hawaiian shirt ready for 2013 — and meanwhile, we'll see you in the Toy Soldiers Parachute Drop queue…
Check back on previous Ratatouille dark ride news here and see the concept art here.