At last, it has landed! The official website of the New Generation Festival has belatedly opened this evening, two days later than originally promised. We were posting progress updates on Twitter over the past few days and it seems that this new website is very in tune with the latest social media, too.
But first, the main page: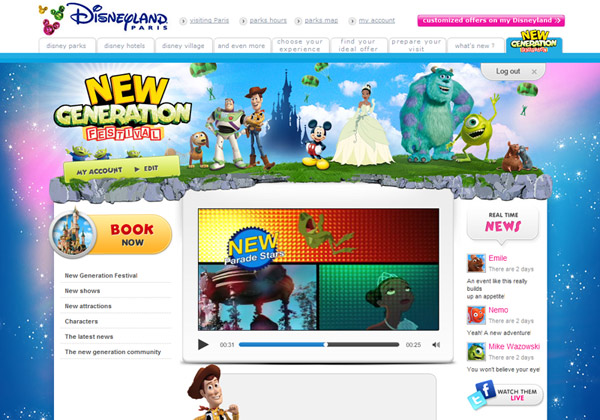 As we revealed, the first "plus" of this new website is that it's actually integrated within the regular Disneyland Paris website, not standing alone as a Flash minisite (that'll inevitably get forgotten about) like the Mickey's Magical Party or 15th Anniversary efforts. And there's another big plus: the use of Flash animations is kept to a minimum, mainly just used within the page for videos.
The design is indeed quite similar to the new Casting website launched a year ago, with a clean white background and three columns for information. Graphics are crisp and colourful; it's a definite step up.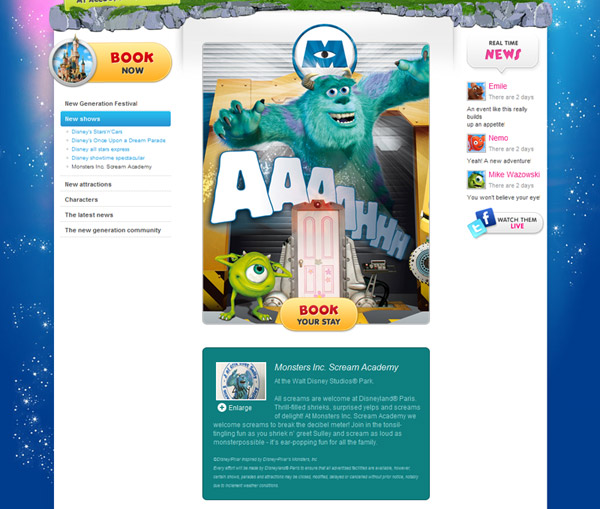 Each "new show" has its own page, with a large image at the top and a snippet of information below. The website pushes the "book" button on each page very heavily — far more heavily than we're used to from Disneyland Paris — with the whole of the main image (above, Sulley and Mike) linking to the official site's Hotels page.
Clicking the "Enlarge" link doesn't enlarge the image but actually opens a short 30 second video about each new feature in a pop-up within the page: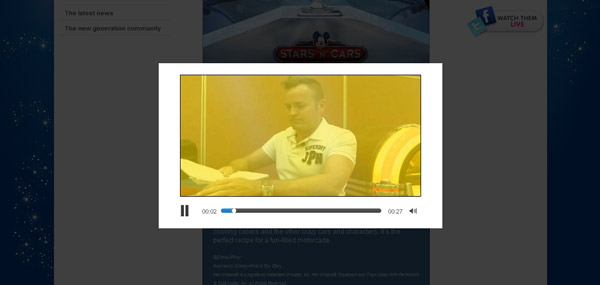 The "new attractions" section doesn't have much to share yet, except for stating slightly more specifically that Toy Story Playland is due to open "late Summer". There's no mainpage for Toy Story Playland itself, each of the three new attractions are simply listed in the menu with separate pages: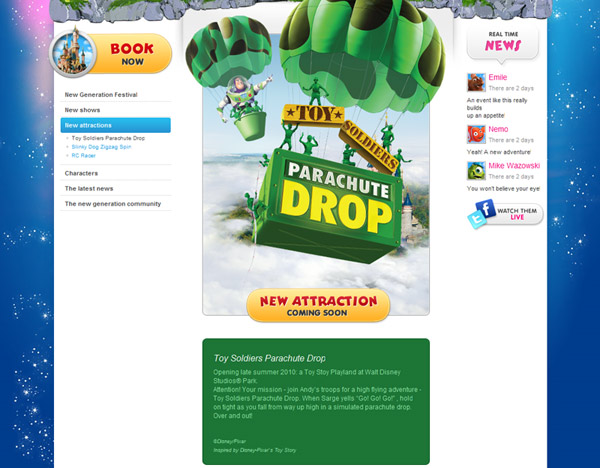 The next area is where all that newfangled Twitter and Facebook stuff comes out to play. We've long been confused, baffled and dismayed the Disneyland Paris hasn't set up its own account on these social networking services, or even on something like YouTube. Walt Disney World and Disneyland have hundreds of thousands of "fans" or followers (Disneyland over 1.2 million) on these services, whom they can address directly with news, photos and offers.
Whilst this new website embraces that idea, it doesn't appear to be putting it to much good cause. The 'Characters' section gives you unique pages for each of the 'New Generation characters'…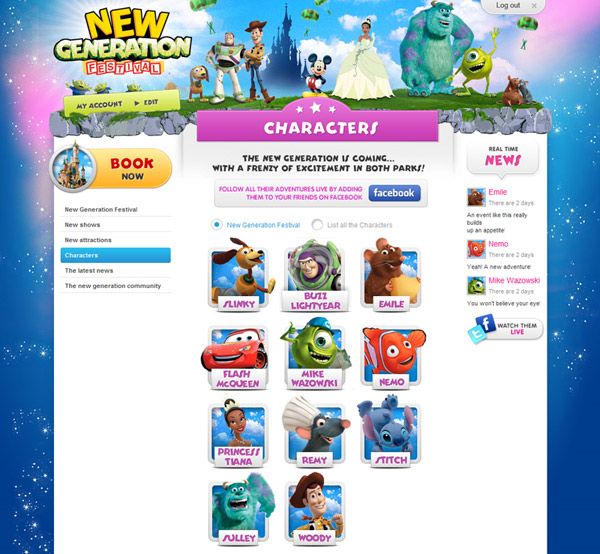 The pages mimic Facebook to present a profile for each of the stars, complete with live Twitter status updates. So far, only a few of the characters have updates posted — below, Mike Wazowski says "You won't believe your eye!"…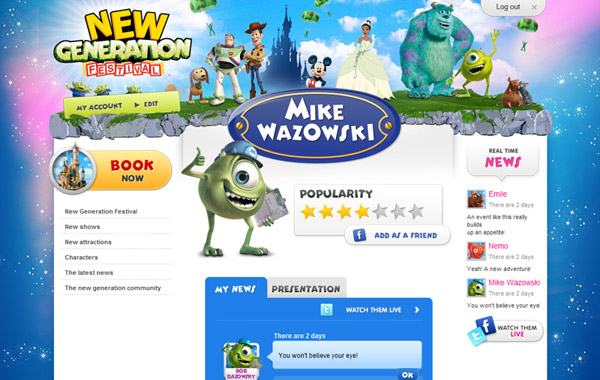 This networking game is probably the "hook" of the website that would, in the past, have been filled with a Flash-based minigame, designed to get people to visit more than just the once.
You can also choose to see "all the Characters" for a wider (and quite random) selection of stars…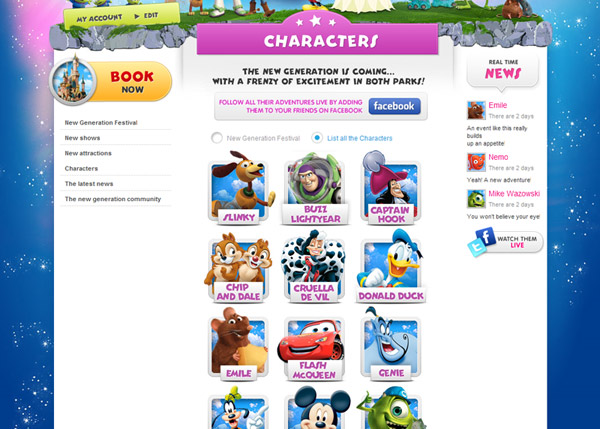 The people behind the website have been busy setting up accounts for each of the characters involved. Here's an example of Lighting McQueen (listed by his French name, Flash McQueen, on the UK site) on Facebook and Twitter.
All good fun, and a good way to build some affinity with the "star" characters of the coming year, but with such a large number of characters it remains to be seen if these accounts will all be updated right throughout the year — not to mention how they'll manage the difficulty of serving different languages.
One section that may well become a great source of more worthwhile updates is the "latest news" area. Not since the 15th Anniversary blog has the resort had a space like this to share official news updates with the general public. This is very welcome indeed.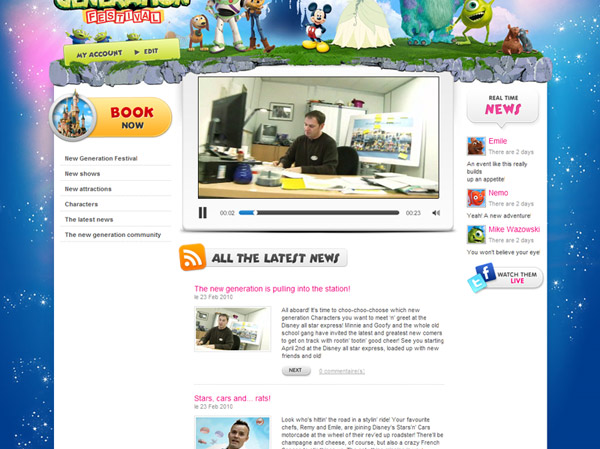 It's all pleasantly Flash-free and comes with a good selection of backstage videos — more on those soon.
The final section strays back into the hit-and-miss land of social media. Click the "register" button at the top of the site and you'll then have the chance to "create your profile", including uploading a photo and setting information like your "favourite place at Disneyland Paris" and whether you have an Annual Passport.

Near the end of this form you can choose to make your profile public. Doing so seems to make it viewable as part of the "Fan Community" pages… are they trying to take over from magicforum?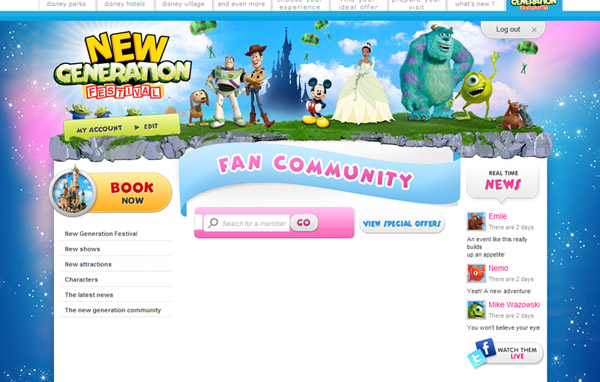 In fact, this again currently seems to be lacking reason. At the time of writing no "fans" appear to have added their profile to the directory, and the "search for a special offer" function is confusing — what are we searching for? It's hard to see what all this is meant to achieve that official Disneyland Paris pages on Facebook couldn't, much more successfully.
Visit the New Generation Festival website here.
Images © Disney.