For many of us, in the UK, Ireland, Belgium, the Netherlands, Spain and Portugal, this is the week. In just a few short days, we get to see a brand new, traditionally-animated Disney musical on the big screen. At one time, that would have been unthinkable. It's almost too much to bear.
And, for those lucky enough to follow that up with a trip to Disneyland Paris from April onwards, they'll also get to see the film's modern-thinking heroine in person. To tease us for that event, another new photo has been released of the star peering from the Castle balcony, just as she does in the film…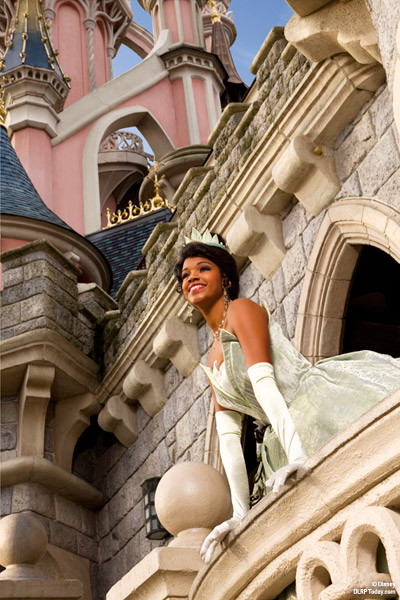 This follows the first photo, featuring Prince Naveen, released a couple of weeks ago.
To get yourself even more hyped up for the film, what better way than hopping over to DLRP Magic.com, where our interviews host Jérémie Noyer has taken a diversion from Disneyland Paris to the Walt Disney Animation Studios in California, to talk with Mark Henn, supervising animator of Princess Tiana herself!
In this fascinating insight — which, don't worry, is spoiler-free — Mark talks about the challenge of animating Disney's first princess to progress on-screen from a little girl to a grown up adult… not to mention a small green frog. He also discusses the very modern personality flaws of both Tiana and Naveen, how Lady and Tramp served as inspiration for the film's "look" and what role he's already preparing to take for Disney's next traditionally-animated feature, Winnie the Pooh.
This is the perfect lead-in for the film — Enjoy! ›
Image © Disney.