The two pillars appeared at the weekend behind the first set of fences, connected onto the English queue of Stitch Live!, in the space between the Walt Disney Television Studios roof and a tree to the left of the building. One tree from this spot has already been removed.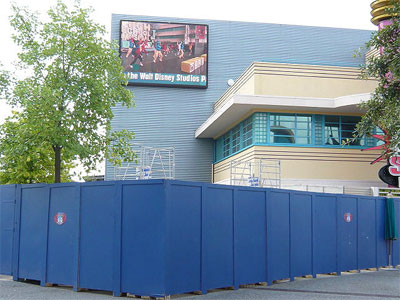 Writing on the pillars confirms they're moulded concrete. Whilst some initial reports suggested they could be connected to form an arch, their height and size matches quite neatly with the supports for the existing queue canopy.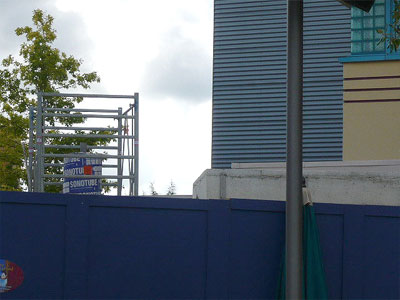 This canopy, which actually curves slightly outward from the building in line with the circular Place des Stars, could actually be being extended using the pillars to provide an entrance to Playhouse Disney.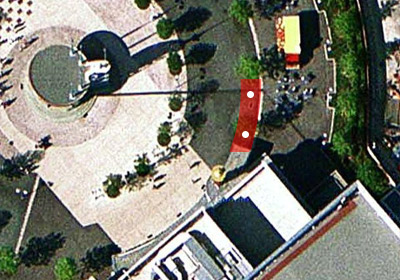 White dots are the pillars — could the canopy be extended similar to the red space?
Placing the entrance to Playhouse Disney: Live on Stage here, further out from the building, would also help to "fill in" this corner of the courtyard that now looks unlikely to receive the long-proposed addition of Soarin' any time soon.
The only barrier for Handy Manny still to overcome — how do guests queueing on the left to see Mickey Mouse Clubhouse and friends bypass those guests exiting from Stitch Live on the right? Stay tuned…
— Consult our previous articles for more diagrams showing the placement of this new show, due to officially open in March/April 2009.
[Pictures: Mousy.be]