If you've had a chance to look through the merchandise at Tower Hotel Gifts yet, you'll know that Disney characters dressed up in the recognisable maroon uniforms of the Hollywood Tower Hotel bellhops are more than just slightly popular. But so far, we've never been able to meet… a life-size one.
Step up to the elevator doors, Goofy! Disney's infamous disaster zone is undoubtedly the perfect fit for the accident-prone hotel, now arriving every day this Summer next to the dried-up fountain for photos and autographs with his fans — in the full Tower of Terror costume.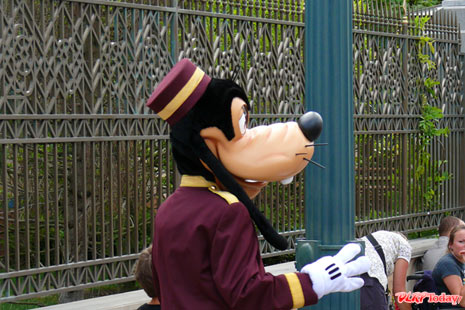 "Aw gawwsh, which way is the hotel again?!"
Pins, plushes, T-shirts and more have all been dedicated to Disney characters dressed as bellhops over the years at the other two Hollywood Tower Hotels in California and Florida. Never before though, has one worn the costume for real. Another "petit exclu" for Walt Disney Studios Park!
Though times are not published in advance, you should be able to find Bellhop Goofy to the left of the attraction entrance every afternoon at the Studios, with appearances often right up until the park closing time of 7pm.
[Pictures: DLRP Today.com]