As it happens — and as you'll no doubt see in the pictures below — not a lot.
But let's begin with the latest slab of news from the Production Courtyard construction site that suggests something might be happening. Guigui on the French forum Disney Central Plaza has reported that the first new supports are in the process of going up behind the blue fences, news which is backed up — though unfortunately not yet in photos — by another member.
Mr.Freddy says it seems as if the supports could form some kind of arch, and that — somewhat bizarrely — this, the only visible sign of new construction, is quite far from the actual entrance to the attraction — which will be the former 'Disney Channel CyberSpace' post-show area, the production stage next to Stitch Live!'s theatre.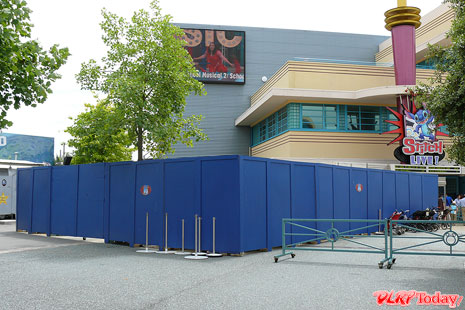 The photos below from just a few weeks ago show the general state of progress under and around the two sets of blue construction fences.
One set is connected directly to the English-language queue area for Stitch Live!, and has attracted strong suggestions that this work could in fact be to extend the queue here, rather than add an entrance for Playhouse Disney: Live on Stage. You can see in the following pictures that the decorative metallic plates around the concrete canopy have been removed, as if it is about to be extended.
Below, the view under the second set of fences at this revealed nothing more than weeds and remnants from the Studios' past — un-themed CCTV cameras, anyone?
Since Playhouse Disney: Live on Stage is not due to officially open until the start of a new celebration in April 2009, the slow progress doesn't need to be a worry. And as always, we can only imagine what has happened inside the building, by now…
[Pictures: DLRP Today.com, 16/07/08]